President Trump gives out sandwiches, handshakes in Florida while surveying Hurricane Irma damage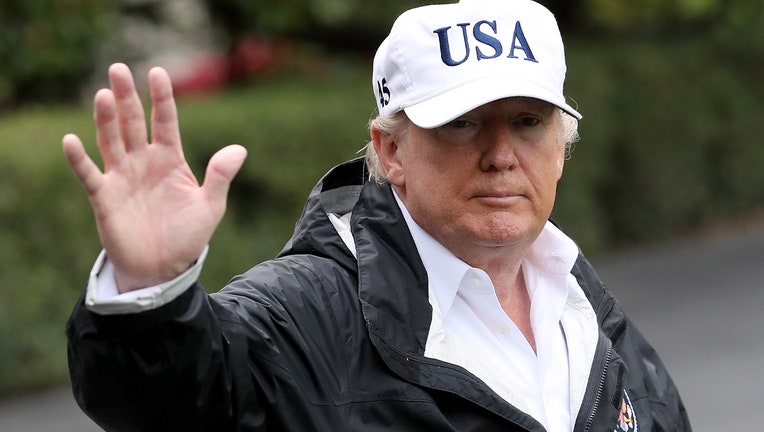 article
NAPLES, Fla. - (AP) -- President Donald Trump doled out hoagies and handshakes in the sweltering Florida heat on Thursday as he took a firsthand tour of Irma's devastation and liberally dispensed congratulatory words about the federal and state recovery effort.
Trump, who was in and out of the state in less than three hours, got an aerial view of the water-deluged homes along Florida's southwestern coast from his helicopter, then drove in his motorcade along streets lined with felled trees, broken traffic lights and shuttered stores on his way to a mobile home community hit hard by the storm.
RELATED: Virginia company receives overwhelming response to Hurricane Irma relief drive
Walking along a street in Naples Estates with his wife, Melania, the president encountered piles of broken siding and soggy furniture heaped on front porches, and residents who were happy to get a presidential visit.
"We are there for you 100 percent," Trump said before donning gloves and helping to hand out sandwiches to local residents from a lunch line under a canopy. "I'll be back here numerous times. This is a state that I know very well."
Trump earlier met with federal and state leaders in Fort Myers, where he was brimming with enthusiasm for the state and federal response effort.
"It's a team like very few people have seen," he said. Quoting back from Gov. Rick Scott's praise for the federal government's responsiveness, Trump added: "As Rick said, we have been very, very fast, and we had to be."
RELATED: 8 dead, over 100 evacuated from Florida nursing home due to intense heat, loss of power
The president couldn't resist injecting a political flavor into his visit, telling reporters in Fort Myers that he was hopeful that Scott, a two-term Republican, would run for the Senate, where Democrat Bill Nelson is up for re-election next year.
"I don't know what he's going to do. But I know at a certain point it ends for you and we can't let it end. So I hope he runs for the Senate," Trump said.
Trump's visit offered him the chance to see how people are coping with Irma's aftermath and how the Federal Emergency Management Agency is responding. Many Florida residents remain swamped and without electricity. Nearly 2.7 million homes and businesses, about 1 in 4 Florida customers, were still without power Thursday.
But as Trump's comments about Scott suggested, politics wasn't far from the surface in Florida, the largest and most pivotal state in recent presidential elections. Trump defeated Democrat Hillary Clinton in Florida last year by about 1 percentage point.
RELATED: Irma wrecks tourist spots in Caribbean, but spares Disney
Vice President Mike Pence, who joined Trump on the trip, promised Floridians: "We're with you today. We're going to be with you tomorrow and we're going to be with you until Florida rebuilds bigger and better than ever before."
Trump's trip to Florida was his third in less than three weeks to the storm-ravaged South.
After Harvey struck Texas, Trump drew criticism for having minimal interaction with residents during his first trip in late August. He saw little damage and offered few expressions of concern.
On his second visit, to Texas and Louisiana, he was more hands-on. He toured a Houston shelter housing hundreds of displaced people and walking streets lined with soggy, discarded possessions.
This time, Trump made sure to connect with a community in recovery. He hewed toward hearty handshakes and enthusiastic promises rather than hugs and tears, but he was well received by people grappling with the storm.
RELATED: Irma's girth and path made for a bizarre storm surge
As Trump passed out food with Pence and the first lady, people thanked them for coming and seemed more interested in selfies than sandwiches. One man yelled, "Make America Great Again!" Another told Trump that he had "married well."
Trump told state officials and first responders that his administration is trying to keep people "as happy as we can under the circumstances. In many cases, they've lost their homes and it's a tough situation."
Florida's southwestern coast is a haven for retirees seeking warm weather and beautiful sunsets across the Gulf of Mexico. Many communities are still cleaning up or without power or air conditioning.
In Lee County, which includes Cape Coral and Fort Myers, the Florida Emergency Management Agency said 66 percent of the area's 290,000 electrical customers were still without power Wednesday. Widespread outages led to long lines outside of the relatively few stores, gas stations and restaurants that had reopened.
The situation was even worse to the south in Collier County, home to Naples. Days after Irma passed, almost 80 percent of homes and businesses were still without electricity, and floodwaters still covered some communities entirely.