Police investigating after car stolen from Walmart parking lot with dog inside
WASHINGTON - A D.C. woman has been reunited with her pet after she says her car was stolen with the dog in the backseat. 
According to a police report, officers responded to the 300 block of Riggs Road around 7 p.m. on Aug. 20 for a report of a stolen vehicle. 
The victim told the responding officers that she had parked her car in the Walmart parking lot and was in the store for about 20 minutes before she came out to find that her vehicle was gone. 
She said a witness came over to her and said two suspects had hopped into her car and sped off going west on Riggs Road, NE. 
The victim said the car was off when she went into the store and that she had her car keys with her at the time the mini bull terrier, Kodak, was taken.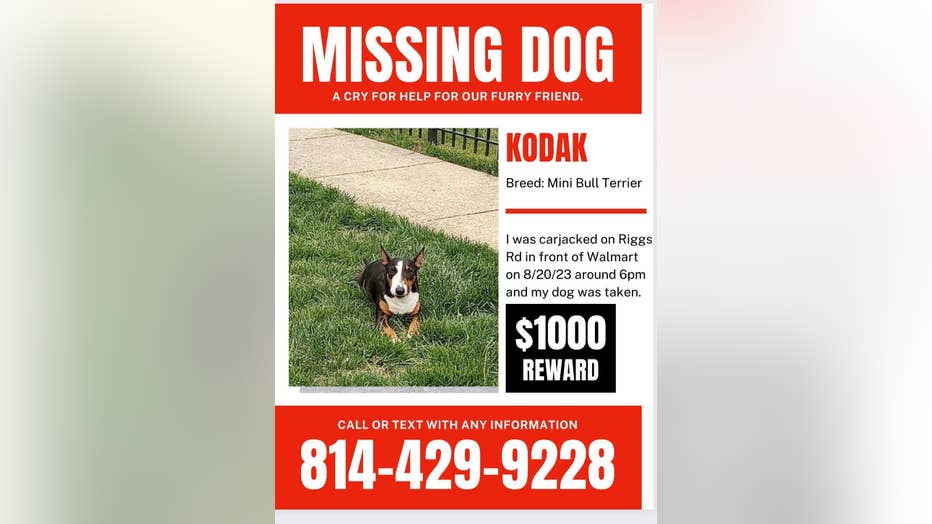 "On Sunday, August 20, 2023 I was at Walmart when I was carjacked. But my dog was left in the car and now his missing," the victim told FOX 5 in an email. "He has been missing for days now and I need him to come home." 
Police said Wednesday that the dog was found safe at a shelter in the area and the car was also recovered. No suspects have been identified at this time. 
Anyone with information on this case or the whereabouts of the dog should call 814-429-9228 or contact MPD.