Ozzie Corson, Doug Wilkes celebrate 40 years at FOX 5
WASHINGTON - We're recognizing a pair of very special anniversaries at FOX 5 as we celebrate two of the best - Ozzie Corson and Doug Wilkes!
Ozzie and Doug work behind the scenes at WTTG and are both marking 40 years at the station.
Ozzie began as a video editor for the evening news before working as a photographer and technician out in the field. He moved back inside to edit for the morning show, and currently works as a media asset coordinator who helps retain video the station needs for future stories.
Some of his favorite projects over the years include covering The Jacksons, and working on features like Cocaine Alley and Nation Under Siege – which focused on drug enforcement in different parts of the U.S.
"If I really had to do it all again I would still come back into broadcasting," Ozzie said. "It's a great career!"
Photojournalist Doug Wilkes says he still loves coming into work every day. He said he rarely knows where each day will take him or who he will meet. "It's not the big events, and it's not the small events. It's just like, I meet so many different people."
Meeting people from all across the spectrum of life is what it is all about, he said. "Some of them are highfalutin, pretty well known. Just as interesting are the people that I've met who nobody knows."
Doug said he found his way into the news industry during his last year of college when he took an internship at a television station so he could stay in school and be eligible for the swim team! From those early days in Erie, Pa. – all the way to Washington, D.C - he's racked up numerous White House awards and has met every president since Ronald Reagan!
Neither could have imagined the advancements in technology currently in use in the field of television news today – from going live from virtually anywhere, to using a completely digital workflow.
Congratulation to you both on 40 years – and to many, many more!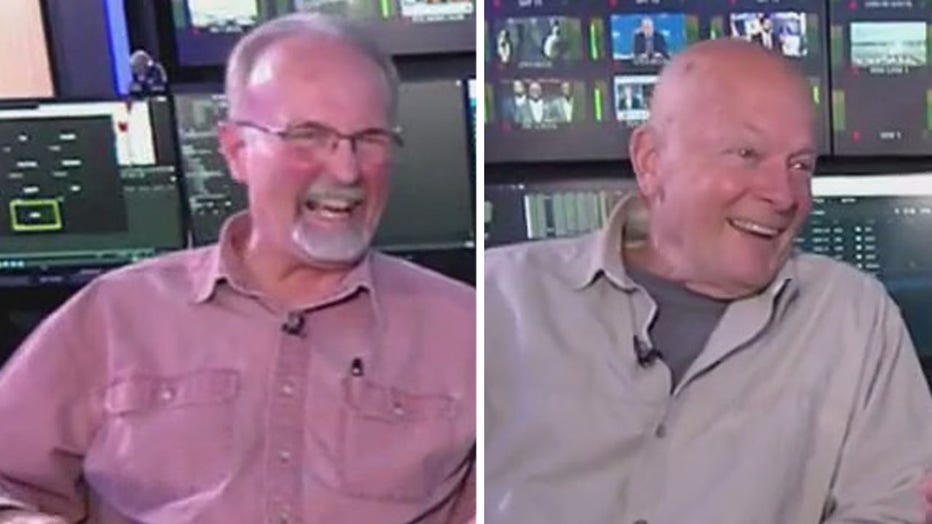 Ozzie Corson, Doug Wilkes celebrate 40 years at FOX 5