New MCPS student performance data shows improvements
ROCKVILLE, Md. - Montgomery County's superintendent introduced new student performance data on Monday, highlighting gains in student performance since the COVID-19 pandemic shut down schools in 2020.
The new data comes as MCPS leaders continue their campaign for a larger operating budget. The recommended, proposed FY24 MCPS budget, announced in December, is $3.15 billion. It's an estimated 8.1% increase from the current operating budget.
Superintendent Dr. Monifa McKnight called it a time of "reconstruction" for MCPS.
She highlighted Monday where MCPS is doing better. For example, pre-K to 12th-grade student enrollment grew from the dip it took after the pandemic hit, going from 160,564 students in 2021 and 158,232 students in 2022 to 160,554 students in 2023. The school system recorded a high of 165,267 students in 2020.
MCPS showed Stabilizing Literacy for All Students in Reading by Grade 3 data as rebounding, along with MCPS students outperforming overall state performance in geometry and algebra. The school district also said the graduation rate is slowly rising.
RELATED: Youth overdose deaths increased by 120% in Montgomery County
Dr. McKnight was asked what evidence she has that more money yields better results.
"You can only gain when there's an investment," she responded. "I mean, we see that in everything that we do in terms of how we live our lives. And I think that investing in public schools and in public education should be and has been, what I must say in Montgomery County, has yielded the results of being a branded, successful school system over time." 
The same data highlighting MCPS improvements also shows significant gaps exist among certain student populations. 
For example, the graph that shows reading stabilization also points to Hispanic/Latino students performing the lowest in Reading by 3rd Grade —  both before and after the pandemic. Overall numbers display a gain in the On Track for Gradation category, however, Hispanic/Latino students are still showing the lowest rates both before and after the pandemic as well.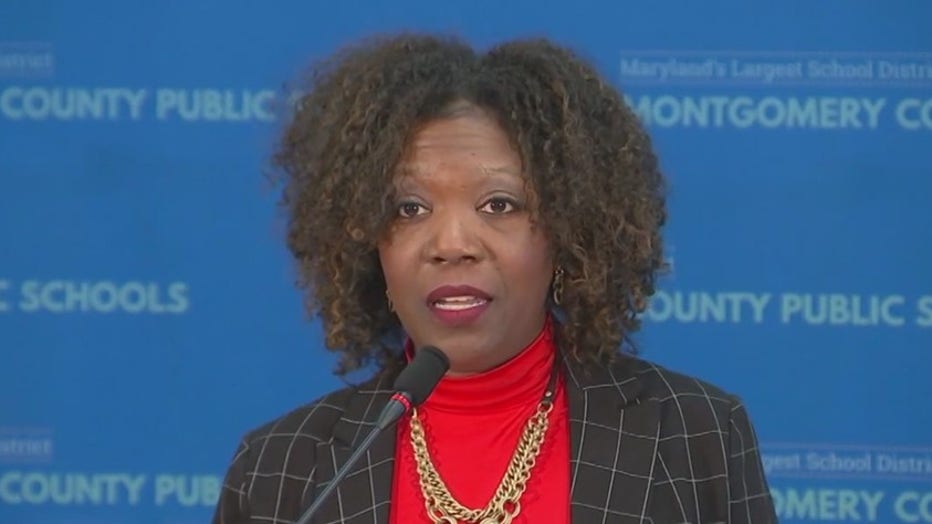 FOX 5 asked how much additional funding would go to that student population's needs.
"When we look at our Latino students and where they may fall in FARM rates, that's a direct indicator that that's an investment that we should invest in to support that student group moving forward," the superintendent responded. "So, those are examples of how we would look at those accelerators and think about how we're placing those accelerators strategically."
MCPS explained the proposed FY2024 budget includes $47 million in "accelerators to support the diverse and growing needs of our students while rebounding from the effects of the pandemic." 
A slide on these accelerators noted $2.1 million would be reserved for early childhood education, expanding pre-K and providing additional inclusive classrooms for children with disabilities. In another example, around $3.4 million would go toward removing all costs for AP and IB exams. And another $5 million would go toward tutoring services.
The superintendent told FOX 5 that other matters that need to be addressed with this budget that hadn't been addressed before include teacher recruitment.
READ MORE: Montgomery County implements color-coded system for announcing school delays, closures
The Montgomery County Council is expected to approve the board of education's operating budget in May 2023.
Separately, the county council's Education and Culture Committee is also looking at a 17.4% increase in the Capital Improvements Program regarding MCPS, which is around an additional $62,000 from what the county already approved. MCPS explained this money goes toward construction and the building of new buildings. 
FOX 5 has learned that inflation and supply chain issues have really impacted the CIP budget.
Maryland is expected to release state student performance data on Tuesday. Dr. McKnight says she did not know yet how the MCPS data released differs from state data.
She echoed the importance of sharing data – and sharing it ahead of the Council Education and Culture Committee meetings. She agreed with the new committee chair's calls for transparency and accountability, saying the previous data was limited.
"It was limited because we've been working under very different, not normal conditions," Dr. McKnight said. "And there were so many impacts happening in our community as it related to COVID-19, social-emotional wellness needs. And we were not even consistent at the state level in types of the data we were submitting because of all the changes that were happening. And so now – getting back to that results in us actually defining for our community how we're defining that line of college and career readiness with benchmarks from elementary all the way through high school, and beyond high school is exactly what we're doing.
FOX 5 was told that it's too early to say whether any of these budget increases would increase taxes.