Montgomery County implements color-coded system for announcing school delays, closures
MONTGOMERY COUNTY, Md. (FOX 5 DC) - Montgomery County Public Schools has implemented a new color-coded process for informing students, parents and staff when weather requires a delay or closing, and when a closure might justify a shift to virtual instruction. 
MCPS has six operational status options, which will now be reported by these color-coded messages:
Green: Normal operations
All schools and officers are open on time
Yellow: Two-hour delay
Schools will open two hours later
Blue: Early closing
Schools will close two and a half hours earlier
Orange: Schools closed/Offices open
Schools are closed, but school and administrative offices are open
Red: School system is closed
Schools and offices are closed
Purple: Virtual learning day
Virtual instruction will take place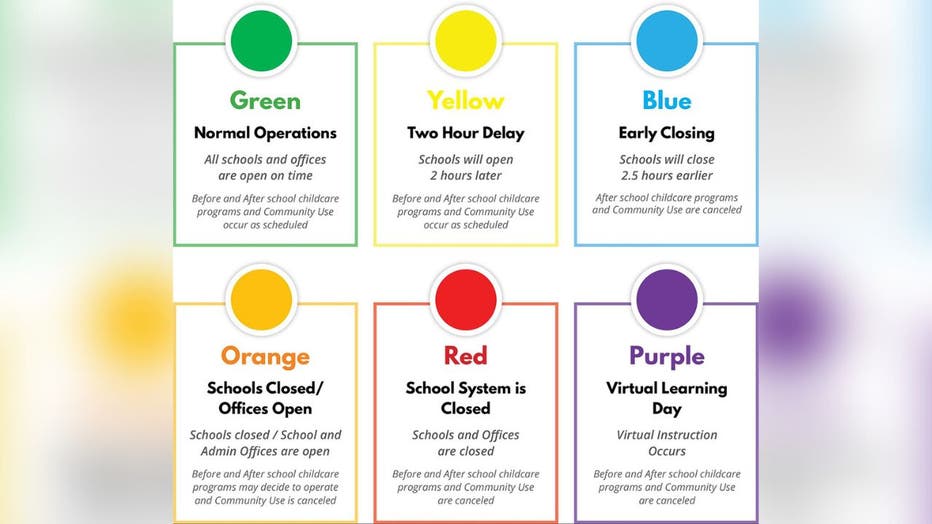 In making a decision, MCPS says their leaders review information from national and local weather experts, local emergency management officials and the operating status of other government and neighboring school districts. 
Code Purple, which will indicate a shift to virtual learning, will ensure teaching and learning continues during weather emergencies. The Maryland State Department of Education (MSDE) has provided this opportunity to local school systems, and the Montgomery County Board of Education approved the virtual plan during its Jan. 12 business meeting. 
READ MORE: Montgomery County Public Schools considers virtual learning on snow days
MCPS says they will follow these steps to let students, families and staff know their plans:​
A "Get Ready" announcement (meaning weather is imminent) will be made district-wide.
The decision to offer virtual learning will be made by noon the day before any potential weather.
Student Well-Being Teams will contact identified students and families as a reminder about virtual start times.
Schools will message families to remind them that it is a required school day and how to log in to classes.