Multiple Fairfax County businesses damaged after building fire
ANNANDALE, Va. - An investigation is underway into a two-alarm fire that broke out Sunday morning at a building housing multiple Fairfax County businesses.
Fairfax County Fire/Rescue say crews responded around 7:00 a.m. to the scene in the 7200 block of Columbia Pike in Annandale, after a passerby reported seeing smoke coming from the building.
Crews arrived to the scene and noticed heavy smoke coming from the roof and all four side of the building, which is home to four businesses.
Images from the scene showed the heavy engulfing the area.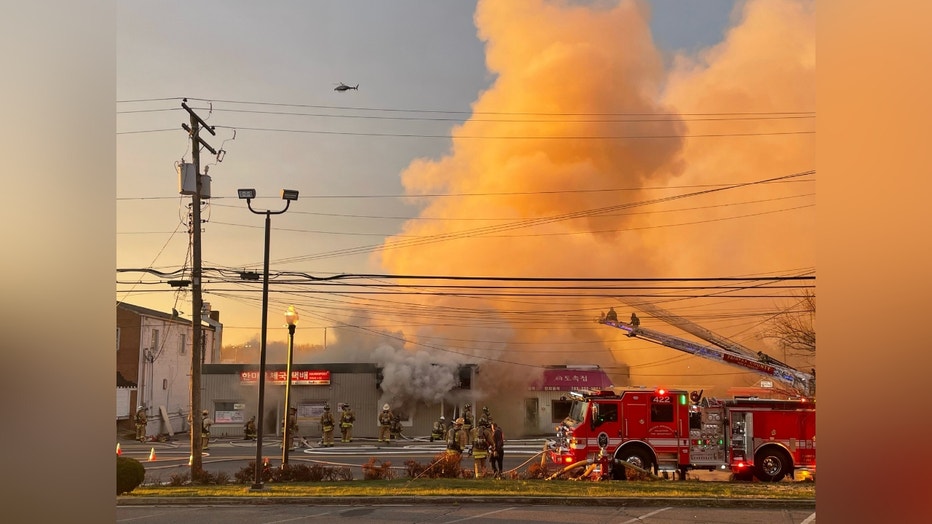 (PHOTO: Fairfax County Fire/Rescue)
Crews were able to bring fire under control around 11:30 a.m., but said a small gas fire was still burning inside the building.
Officials from the area's gas company are working to access and shut down that gas line.
Fire investigators say that part of the building's roof collapsed during the battle. They have not revealed the full extent of the damage to the building.
No injuries have been reported and no one was inside the building at the time of the fire, according to fire officials.
All lanes of Columbia Pike have been closed between John Marr Drive and Backlick Road as crews work the scene.
Fire officials say they expect to remain in the area for an extended period of time.
Investigators have not revealed what caused the fire.
This is a developing story. Stay with FOX 5 for updates.