Montgomery County introducing bill limiting who can carry guns
ROCKVILLE, Md. - Legislation was introduced Tuesday to limit who can carry guns in public places in Montgomery County.
FOX 5's Maureen Umeh says special exceptions will reportedly be made for police, security guards, and business owners.
Download the FOX 5 DC News App for Local Breaking News and Weather
Whether you have a permit or not, the bill seeks to prohibit people from having guns within 100 yards –  a football field's length away – from locations identified as spaces for "public assembly."
Montgomery County Council President Gabe Albornoz introduced Bill 21-22 as the lead sponsor of the legislation on Tuesday. 
"Chief Jones noted, one of the potential unintended byproducts of this policy moving forward is people with more weapons," he said. "When some sort of conflict arises, and you enter a gun into a conflict, often tragedy results. And I believe guns create infinitely more problems than they ever attempt to solve."
Councilmembers Tom Hucker and Andrew Friedson are co-sponsors, and there area other council members who expressed their support and gratitude for the legislation during Tuesday's hearing.
Expedited Bill 21-22, according to the text, would:
·       Prohibit the possession of firearms in or near places of public assembly, within certain exemptions
·       Remove an exemption that allows individuals with certain handgun permits to possess handguns within 100 yards of a place of public assembly
·       Generally amend the law regarding restrictions against firearms in the county
County leaders also say the exemption for current permit holders would be removed under the new bill.
"Criminals are still unaffected," said Andrew Raymond, co-owner of Engage Armament, a firearm shop located in Rockville, MD. "We have some of the most stringent gun control laws in the country right here in the country, and you just said that violence what, doubled? So is the answer more laws? Is that really the answer?" 
"Let's say you're a witness to an organized crime case, or you were a witness to a very serious violent crime and you've been threatened," he said, offering examples of the problems he sees with the bill. "These people, had under the old regime, a good, substantial reason, and now they're going to be disarmed."
Raymond and his team argue the bill is illegal and are concerned the definition of "public assembly" is too vague.
"The biggest issue is what's defined as public assembly. So, because we don't have a lock gate on our parking lot, the parking lot is considered a place of public assembly even though its private property," said Engage Armament employee Deryck Weaver.
The introduction of Expedited Bill 21-22 "Weapons-Firearms In or Near Places of Public Assembly" comes after Maryland Governor Larry Hogan recently announced the state of Maryland would now be following a recent Supreme Court decision out of a case in New York: New York State Rifle & Pistol Assn. v. Bruen, Superintendent of New York State Police.
In that case, the Supreme Court overturned a requirement that an applicant show "proper cause" to obtain a firearm license.
SUBSCRIBE TO FOX 5 DC ON YOUTUBE
"…In light of the ruling and to ensure compliance with the Constitution, I am directing the Maryland State Police to immediately suspend utilization of the 'good and substantial reason' standard when reviewing applications for Wear and Carry Permits…" Governor Hogan wrote earlier this month.
In a Monday press briefing and again on Tuesday, Council President Gabe Albornoz expressed his concern for greater access to firearms, although, the county is experiencing an increase in firearm-related crimes.
The Montgomery County Police Chief and States Attorney also joined Albornoz in their virtual news conference, noting gun violence nearly doubled in the county this year. The States Attorney said he hopes this bill will help address random crime. The police chief raised concerns of seeing more tempers flare and people turning to firearms.
"I think there are some establishments in the public space that these guns should not be permitted. Whether it's schools being one of them. We can also talk about where alcohol is served in these types of establishments because I don't think alcohol and guns is a good combination," Chief Jones said on Monday.
"Sometimes things can escalate out of hand very quickly," Montgomery County State's Attorney John McCarthy added. "The presence of guns in these circumstances - in these kinds of assemblies - when something is not premeditated, not by design. But somebody just loses their temper and has access to a handgun in the kind of settings that the President's bill addresses, I think we can reduce random violence as well."
RELATED: Maryland sees surge in applications for wear and carry gun permits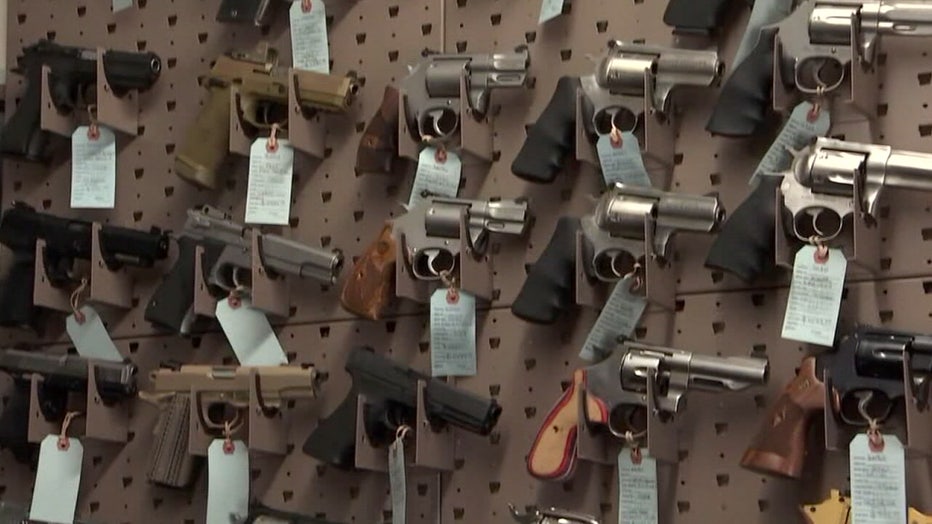 Maryland State Police (MSP) confirmed that since the recent Supreme Court ruling to Monday, they've received 7,165 applications for gun permits compared to 1,014 applications received from June 23 – July 11th of last year.
MSP also confirmed as of July 8th, there are 2,144 active handgun permits in Montgomery County compared to 40,534 statewide.
A public hearing on Bill 21-22 is slated for June 26th.