Mom says student shot outside KIPP DC College Prep was targeted for his Air Jordans and iPhone
WASHINGTON - A grieving mother spoke out for the first time Wednesday about her son being shot outside KIPP DC College Preparatory school in Northeast.
The woman is still shaken. She doesn't want to reveal her identity because she is scared. Police have not caught the shooter.
She told FOX 5 that the teen who shot her son targeted him because he was wearing Nike Air Jordan sneakers and had an iPhone.
She says her son is at home, recovering from two gunshot wounds: One in the stomach, the other in his arm.
Around 1:30 p.m. Monday, the victim was standing outside KIPP DC Prep school – where he is a student. Suddenly, his mom says a gray SUV drives up – two teens jump out, and demand her son give them his Air Jordans and iPhone. 
He takes off running. That's when she says one of the teens opened fire.
The school was put on a temporary lockdown. Medics drove the teenage victim to a hospital, and as of Wednesday night, he's relieved to be back home with his family.
But his mother is concerned because her son is hurt.
He's home recovering and relaxing, but he still is in pain and healing," she told FOX 5 through a crack in her door.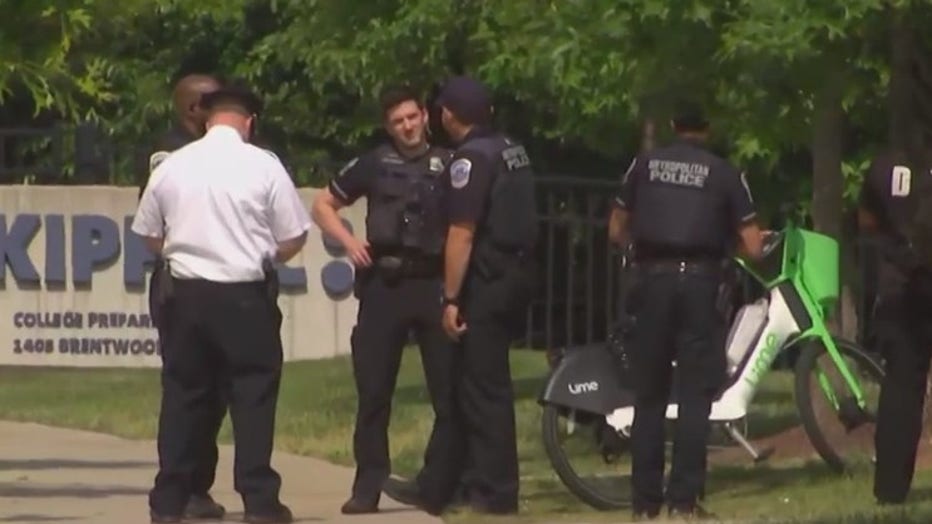 She added that she wants the suspect/s to "just stop." 
"I mean why? These kids are trying to go to school," she said. "They're not trying to fight or do anything violent, especially my son. He's not a violent kid. He's a straight-A student."
D.C. police are searching for the gray SUV captured on surveillance video – last seen on Mount Olivet Road NE.
As for the teen who was shot, his mother says he will graduate in a couple of weeks, walk across the stage, and go off to college.