Michigan 4th grader called 'big footed' and teased at school sets world record with her size 10.5 feet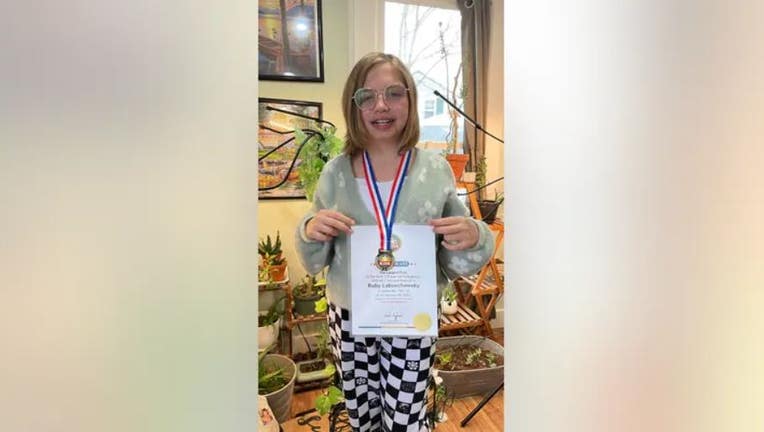 article
A Michigan 10-year-old is beaming from her head to her 10.5-inch feet, after achieving a world record this month for a physical characteristic that caused her to be ridiculed at school.
But wearing a size 10.5 shoe as a fourth grader doesn't faze Ruby Labuschewsky of Jonesville, who said people "definitely notice" her big feet.
"She has been called 'big footed' and teased at school about that," her mother, Hanna Labuschewsky, told Fox News Digital. "She is very resilient and not a whole lot affects her."
The girl is actually proud of her larger-than-average feet.
"I just like them because, you know, they also mean I'm tall," the 10-year-old told Fox News Digital. 
"All of my friends are short," she playfully said. "So I get to 'short shame' my friends for being short, even though they're my friends."
The girl and her mom, who wears a size 11, realized that having large feet at such a young age is actually special. 
So they investigated the possibility of breaking a Kids World Record (KWR) for the biggest feet in her age category — but no one her age had ever entered.
LOUISIANA BASKETBALL COACH BREAKS WORLD RECORD FOR LONGEST HOOP SHOT EVER
"We found the record for a 10-year-old, but at the time, she was nine," Labuschewsky said. "I didn't see any clear record for a 9-year-old, so we submitted it in her category, which was actually the 7-to-9-year category."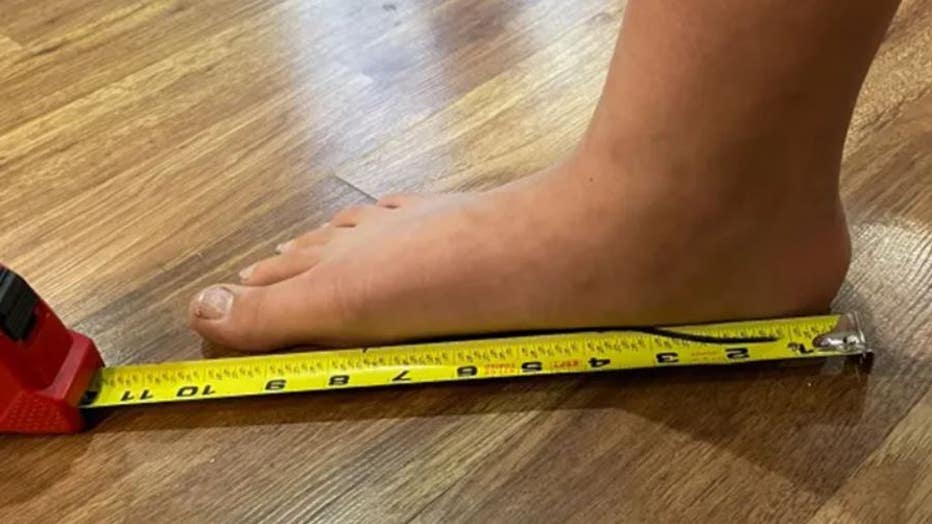 Labuschewsky sent in images to KWR of her daughter Ruby's foot size from multiple angles. (Hanna Labuschewsky)
Kids World Record gives kids a place to explore their interests with "unbridled enthusiasm and creativity, while working toward a concrete goal," according to the KWR website.
Potential record breakers can be ages 4 to 16 and categories can range from the longest time hula-hooping to the fastest time solving a Rubik's Cube — and everything in between.
Entrants must provide video and photo evidence of the record attempt, measure the results and have adult witnesses take part in the process. 
ARKANSAS STUDENT DRESSES AS HER 2ND-GRADE TEACHER FOR SCHOOL 'SUPERHERO DAY': 'MELTED MY HEART'
"It was a series of pictures [of Ruby's feet] next to a measuring tape with several different angles," Labuschewsky said.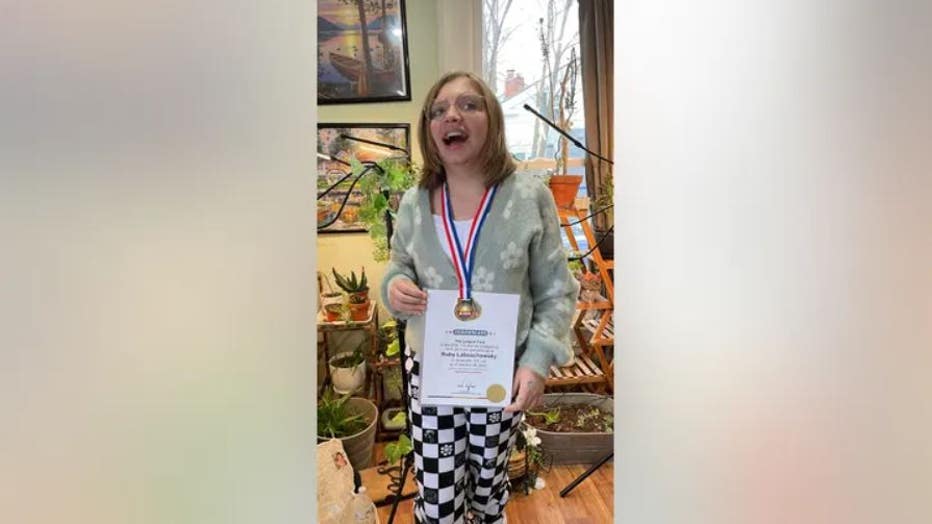 Ruby Labuschewsky was "super excited" when she learned that she had broken a world record for the largest feet in her age group. (Hanna Labuschewsky)
The record attempt must be "adequately challenging, measurable, safe, ethical, moral and legal," according to KWR.
Kids can even create their own category, as Ruby Labuschewsky did when she discovered no one had entered their feet in her age category.
MAN ATTEMPTS FREEDIVING WORLD RECORD, BECOMES LIFELESS UNDERWATER AS OTHERS RUSH TO HIS AID
Once they submitted the entry, it took about four to five weeks for the application to be reviewed, the mom said. And then they waited.
"We checked on it about every day at first and then probably didn't check it for about a week," Labuschewsky said. "Then, we checked it [again], and it was approved."
When she told her daughter the good news, the girl jumped up and down with joy and was "super excited," she said.
"I was extremely excited," young Ruby told Fox News Digital. "At first I didn't think it was real. I was like, 'Mom,' and she said, 'I'm being serious.' I was screaming." 
The girl said she was particularly happy to prove her brother Carter, 13, wrong.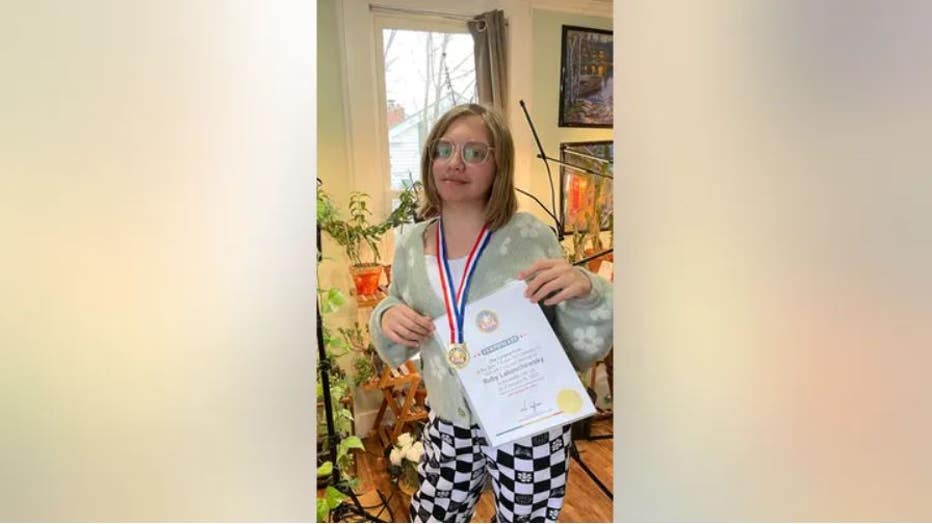 Ruby Labuschewsky's brother, Carter, did not think she was going to win, so when she did, she enjoyed proving him wrong. (Hanna Labuschewsky)
"My brother thought I wasn't going to get it," she said. "So, I screamed and I said, 'Carter, I got it.'"
Amid all the excitement, there are few challenges to wearing size 10.5 shoes at age 10, the mom explained.
"Ruby Is very fashionable and artsy," Labuschewsky said. "It's hard to find kid-themed or artsy shoes when you get into adult sizes. It just gets so plain. It's harder to express yourself and Ruby is very expressive with her outfits. She wants to wear what she wants to wear and refuses to [accept] that her feet are too big. She's going to find a way."
The girl describes her personal style as "downtown girl" or "grunge."
GIANT 2,554-POUND PUMPKIN BREAKS NEW YORK, US AND NORTH AMERICA RECORD AS 'HEAVIEST PUMPKIN'
"The shoes I'm wearing right now are Converse and I really like these shoes, and I'd say I like skater type shoes," she said.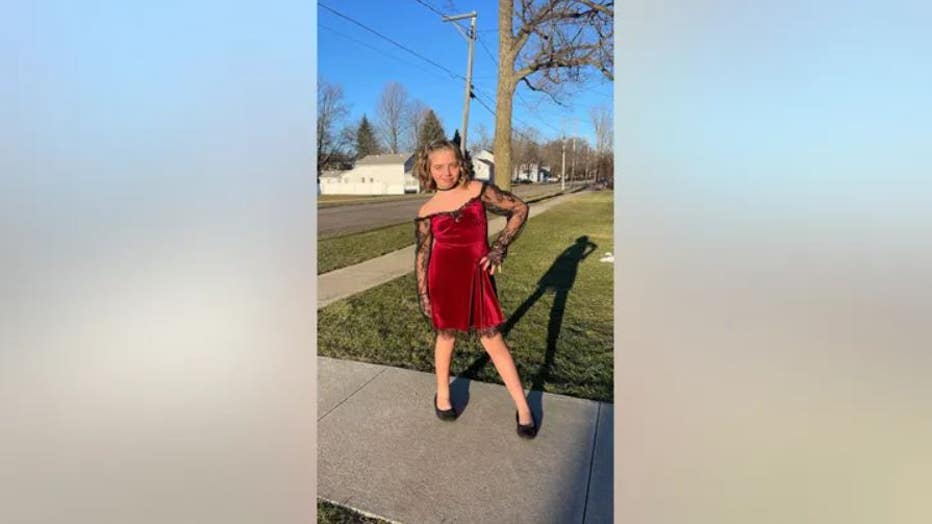 Ruby Labuschewsky loves fashion and said she'll always find a way to make her outfits work in spite of her big feet. (Hanna Labuschewsky)
The girl said she usually doesn't have a problem walking into a store and finding her size — which has recently gone up to 11.
Turning 10 and going up half a shoe size since achieving the KWR for biggest feet has prompted Ruby and her mom to try and break the current record for the next age group. It's a record they think she can break.
"Since she turned 10 at the end of February, she is now in a new age bracket and is actually wearing size 11 shoes. The current record for 10- to-12-year-olds is 10.5," Labuschewsky said. 
"So, we are again awaiting the approval process for the new record," added the mom.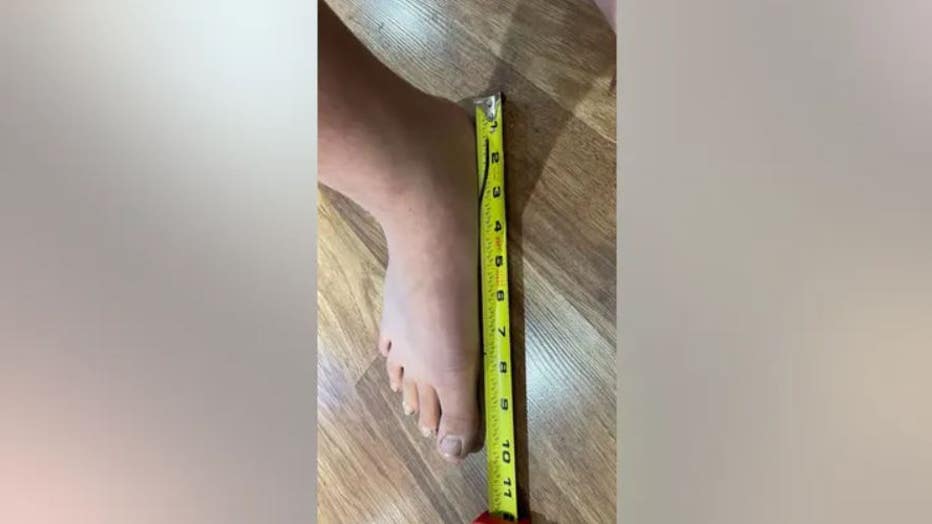 It took Labuschewsky and her daughter five weeks to figure out if the girl's feet were record-breaking. (Hanna Labuschewsky)
The 10-year-old said she has been enjoying her celebrity status around town and in school — a bit like she imagines life is like for her favorite star Jenna Ortega, she said.
"Yesterday I was in the bathroom and someone said, 'Are you the one I saw on the news? and I said, 'Yeah,'" the girl said. "The lunch ladies said, 'I saw you on Facebook' and they gave me extra sauce packets and then today they gave me three extra scoops of broccoli. Next, are they going to give me two pizzas?"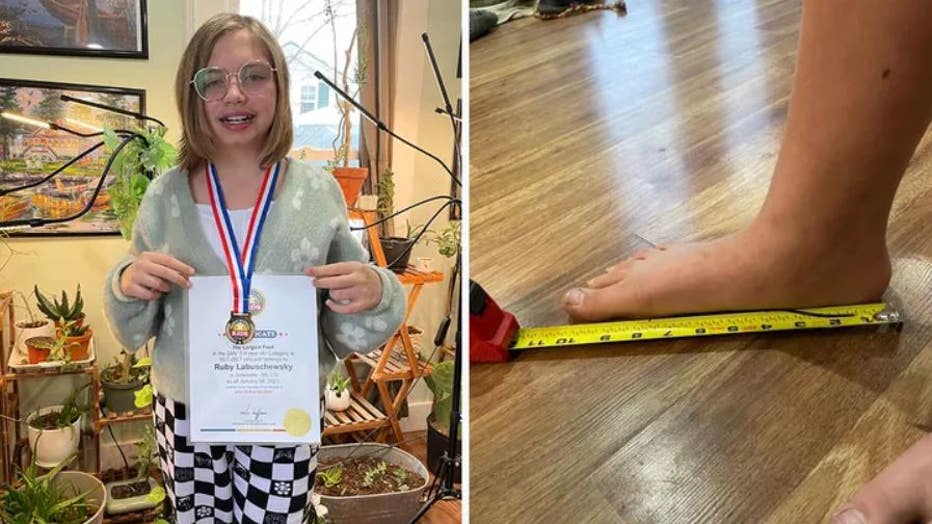 She has her official KWR certificate posted on the family refrigerator. 
She plans to display it in her room soon. 
She said she would tell other kids to celebrate their special characteristics, even if they are different from others.
"Embrace yourself," young Ruby said. "Because you can't change yourself."