Metro maintenance will limit late-night service for next 3 weeks
WASHINGTON - Metro riders throughout the D.C. region may want to plan ahead for service disruptions in the coming weeks.
WMATA announced Friday that late-night Metrorail service will be reduced on weeknights for three straight weeks while the agency performs "critical" maintenance work on its tracks. 
Trains will run on a single track on the Blue and Blue+ lines between Foggy Bottom and Arlington Cemetery, and between Foggy Bottom and Ballston on the Silver and Orange lines. 
READ MORE: Metro announces partnership with DC police to enhance safety
According to WMATA, crews will replace busted grout pads over the course of three weeks. 
The repairs will begin at 10 p.m. and train service will be reduced to every 26 minutes on the four lines. Trains will gradually transition from the end of the lines starting at 9 p.m. until all trains are operating every 26 minutes by 10 p.m.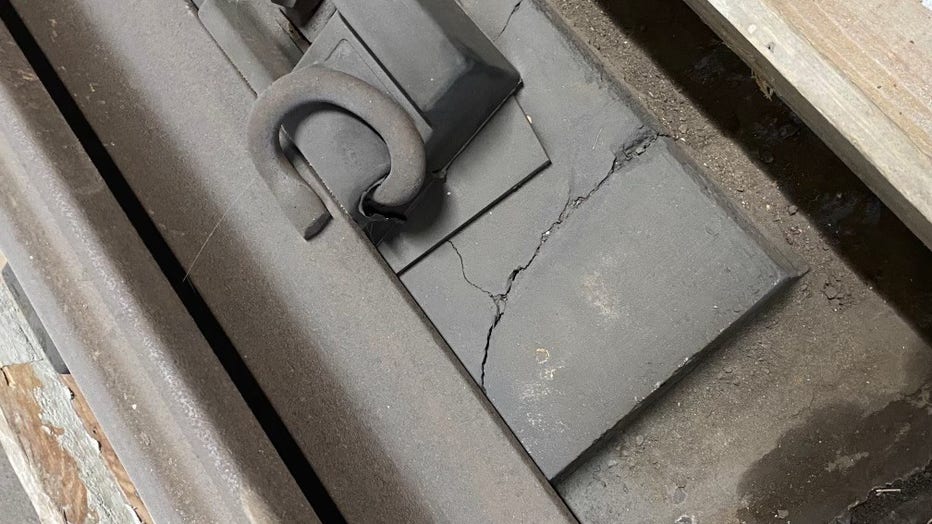 Busted grout pad Photo Credit: WMATA
Ridership after 10 p.m. only accounts for about 4% of total ridership system-wide, which WMATA says minimizes the impact to customers and allows more work to get done.
Family of man dragged to death at Dunn Loring Metro station wants answers
Metro will offer riders additional strategic buses on selected routes as an alternative. Orange and Silver Line customers may also consider the 38B Metrobus which operates between Farragut Square and Ballston. 
The maintenance work is set to begin Monday, Feb. 27, and will continue on through Friday, March 2. The following week, repairs will take place March 6 – 9, and again on March 13-16.
Check Metro's Trip Planner to find additional Metrobus alternatives.