MCPS students now allowed to bring Narcan to class
GERMANTOWN, Md. - Word is starting to go out this week that it's now okay for students in Montgomery County Public Schools to carry Narcan as a means to save the lives of classmates who overdose on fentanyl-laced opioids.
MCPS and county health officials are offering additional Narcan training sessions and free samples in the weeks ahead. 
The new policy has just gone into effect. Superintendent Monifa McKnight signed it on May 1.
Dr. Patricia Kapunan is the chief medical officer for MCPS. He said Narcan has been used inside county buildings 15 times this school year, administered by school nurses, and in one case a responding Montgomery County EMT. 
The new guidelines were implemented following the near-death overdose of a Quince Orchard High School student earlier this year in a McDonald's bathroom across the street from campus. A fellow student stepped in to save their life. 
"We understand that this is something that our students have been engaged in, wanting to be empowered in, and if they are carrying Narcan in school, we want to let them know they are not going to get in trouble for that,"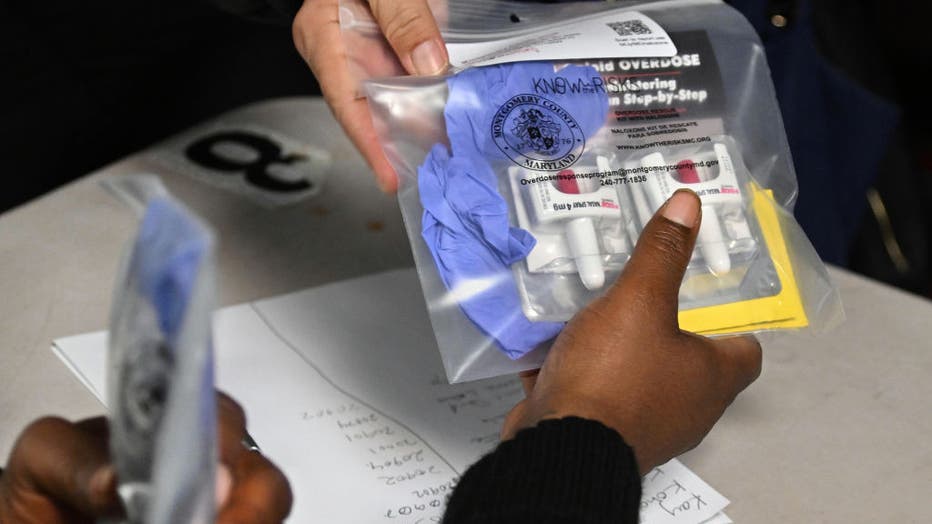 SILVER SPRING, MD- FEB 25: Fentanyl forum attendees could visit a table where Narcan kits were being offered free at Northwood High School in Silver Spring, Maryland on February 25, 2023. Montgomery County Schools, like other area systems, has seen a
The new MCPS guidelines coincide with a dramatic increase in the use and abuse of fentanyl-laced opioids. Mark Hodge is a county health department official and a parent of two teens. 
"We don't know what's in anything anymore. So, you think you're just getting something that's going to get you slightly high, but it's going to kill you," Hodge explained. 
Montgomery County health officials are now saying they're treating the distribution of Narcan as they did COVID testing kits.
"Imagine... Replace the rapid test kits that we deployed and worked with our partners to get in the hands of those individuals who needed them, we've replaced them with Narcan," said Dr. James Bridgers, another Montgomery County health officer.
"For me right now, what's most important is how we can help our students, our young people, understand why this is such dangerous behavior," said Dr. Mark Cohen, principal of Seneca Valley High School. "This is behavior that will, not may but will, alter the course of their lives forever."
The next MCPS health and wellness fair is this Saturday at Seneca Valley High School. Students and parents are able to receive Narcan training and free supplies, plus advice on how to learn to talk to each other about substance use and abuse and overall mental health issues.