Maryland man's distaste for go-go music leads to $100,000 lottery win
CAPITOL HEIGHTS, Md. - A Maryland man's dislike of go-go music led him on a journey to a $100,000 lottery prize! Here's how it happened.
Kenneth Matthew of Laurel stopped at an Exxon gas station in Capitol Heights earlier this month to buy some lottery tickets.
He knew the clerk there, and knew they were a big fan of go-go music. Matthew wasn't a fan.
When he walked in, the distinctive, conga-driven, D.C.-specific offshoot of funk was playing on the store speakers. But while the two didn't share the same taste in music, they always shared a good-natured exchange about it whenever Matthew stopped in.
READ MORE: Virginia woman wins lottery twice in one week: 'I'm in shock'
Matthew told lottery officials that he usually plays the Ravens X5 instant ticket game, but that day he thought about playing the 100,000 Ca$h scratch-off. The top prizes were bigger than they were on his usual game, but so was the price tag, $30 a ticket compared to just $5.
As Matthew thought about which to buy, the clerk said something that gave him that extra nudge. "When you come in and buy that ticket, I'll turn the go-go music off," Matthew said the clerk told him.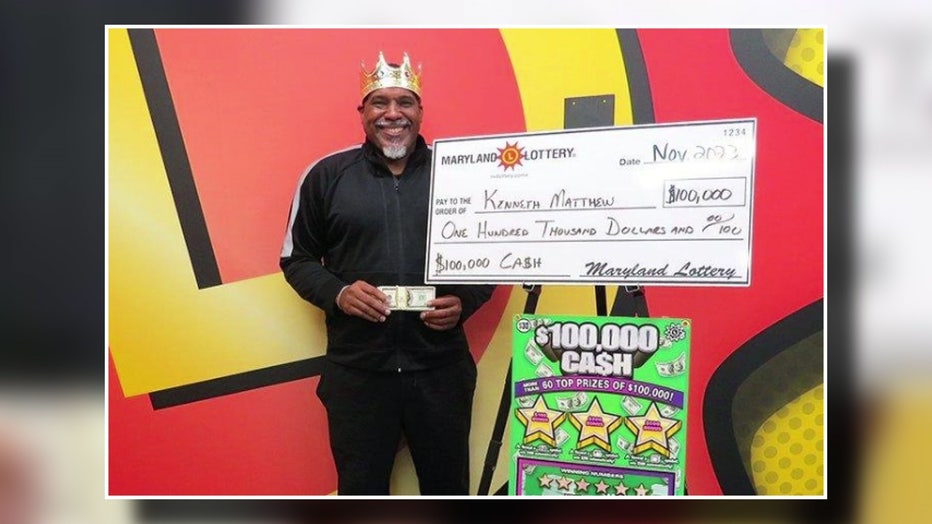 Maryland man's distaste for go-go music leads to $100,000 lottery win (MD Lottery)
That was the only motivation he needed. He bought the $100,000 Ca$h scratch-off.
After he scratched it, he checked it on his smartphone app and thought he had won $1,000.
It wasn't until a friend checked it later that he realized he won the game's grand prize of $100,000.
Matthew says he plans to help his daughter pay for her college education with the winnings. "It's a blessing. It's a blessing," Matthew said to lottery officials. It was his biggest win by far.