Local beaches report dip in Labor Day tourism
BETHESDA, Md. (FOX 5 DC) - We're seeing people on the road and in the skies this Labor Day weekend. But some preliminary data shows the number of people traveling to our area's beaches might be slightly down this year.
In Delaware, the Dewey-Rehoboth Beach Chamber of Commerce is reporting a little bit over a 10% dip in the number of weekend rooms thus far this year compared to last year.
There's some nuance here: 2021 and 2022 were great years for local beaches, the Chamber of Commerce told FOX 5.
At those stages of the pandemic, it was much easier to travel to a beach, or domestically, than get on an airplane.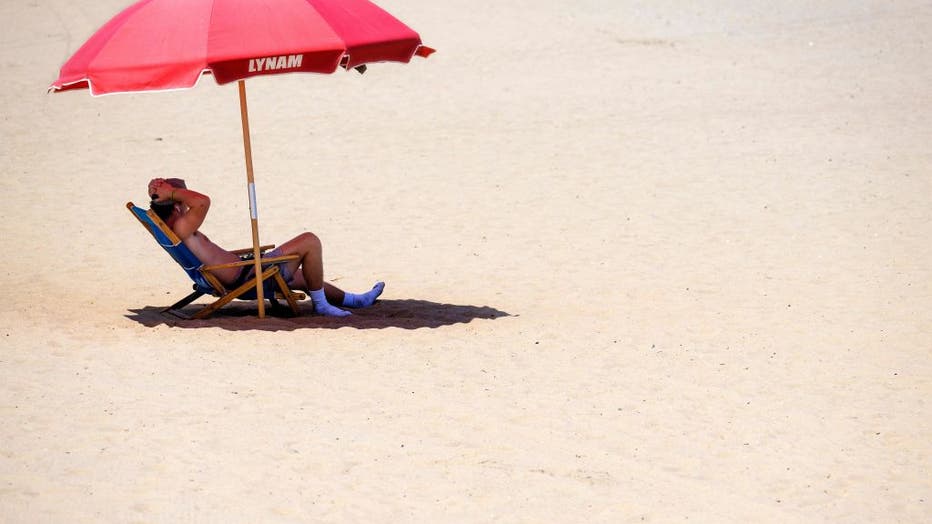 A lone beachgoer finds shade under an umbrella at Rehoboth Beach, Delaware, on July 28, 2023, as the National Weather Service announced "oppressive heat" throughout the weekend. July is on track to be the hottest month in recorded history, scientists
According to Transportation Security Administration figures nationwide, more people are flying.
TSA reported more people on airplanes every day but one this August compared to August 2022.
Carrie Lingo with the Chamber of Commerce says this so-called "revenge travel" where people can now fly with more ease, especially internationally, has an impact.
"Our conversation at the chamber is that it's a combination of both the economy, but that overseas travel has opened up. I think it's the combination of the two, which is why we're seeing it down a little bit," Carrie said.
FOX 5 spoke with Kristina Lingo, who's related to Carrie, and is a rental agent for Jack Lingo Realtor in Delaware.
She says they're happy with the year they've had, understanding some of the other factors at play, adding that 2021 and 2022 were so strong, that this year looked more like 2019.
"It's gone back to pre-COVID days is what we like to refer to. Everything's open, you can travel, you don't have to get tested to travel. The cruise lines are back open. A lot of people are doing that again. Inflation, taxes are another factor, so all those kind of go into play," Kristina said.
There's also the economic question. Polls suggested people weren't traveling, or were planning on spending less if they did travel over this summer.
Jungho Suh is a professor who students the tourism economy at George Washington University.
He says the domestic travel industry rebounded big in '21 and '22, but has slowed this year.
He also says, right now, generally, many traveling internationally are willing to spend more.
"It is primarily impacted by all the things we discussed, the economic conditions such as inflation, cost of living hike, and higher transportation prices, higher transportation and travel costs, etcetera. So that affected a lot," Suh said.
At those Delaware beaches, there's optimism for September and October.
Carrie Lingo told FOX 5 they're bolstering the number of events there, and are expecting early-summer sized crowds during the next few months, as they hope to finish the year strong.