Lamar Jackson says he has requested trade from Baltimore Ravens
BALTIMORE - Lamar Jackson said Monday he has requested a trade from the Baltimore Ravens.
In a series of tweets, the star quarterback said he requested a trade as of March 2. On March 7, the Ravens put the nonexclusive franchise tag on Jackson and said they were still hopeful they could reach a long-term deal with him.
That version of the franchise tag allowed Jackson to negotiate with other teams, but it also gives Baltimore a chance to match any agreement he makes.
Also Monday, Ravens coach John Harbaugh spoke about Jackson at the league's owners meetings in Phoenix.
"I haven't seen the tweet. That's an ongoing process," Harbaugh said. "I'm following it very closely, just like everybody else is here, and looking forward to a resolution. I'm excited, thinking about Lamar all the time, thinking about him as our quarterback. We're building our offense around that idea."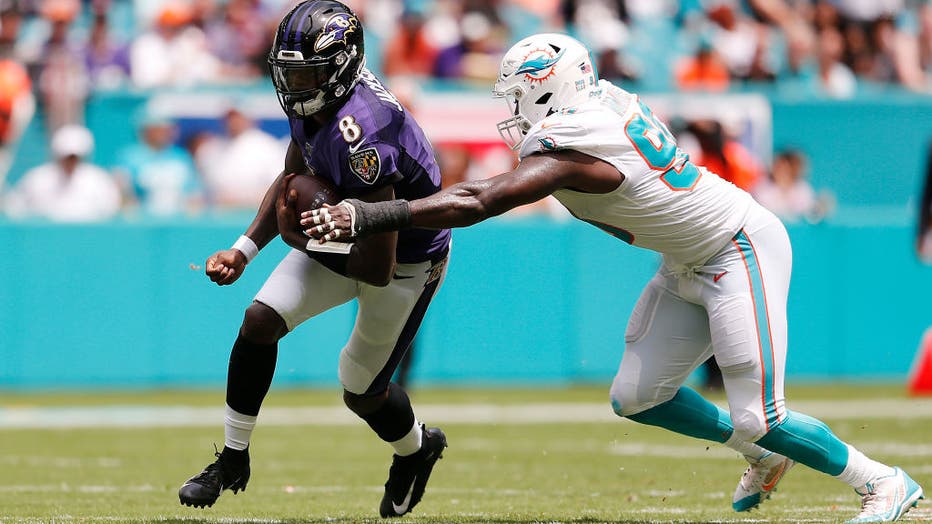 Lamar Jackson, No. 8 of the Baltimore Ravens, breaks a tackle from Charles Harris, No. 90 of the Miami Dolphins, at Hard Rock Stadium on Sept. 8, 2019, in Miami, Florida. (Photo by Michael Reaves/Getty Images)
Jackson, the 2019 NFL MVP, doesn't have an agent. His passing and running ability make him one of the game's most unusual stars. At age 25, he already is one of six quarterbacks in NFL history with 10,000 yards passing and 4,000 rushing.
Jackson has been hurt at the end of the past two seasons, and the Ravens haven't reached the AFC championship game with him. If he remains with Baltimore, he'll have a new coordinator. The Ravens hired Georgia's Todd Monken for that position after the end of last season.
Follow Noah Trister at https://twitter.com/noahtrister
___
AP NFL: https://apnews.com/hub/nfl and https://twitter.com/AP_NFL
© 2023 The Associated Press. All rights reserved. This material may not be published, broadcast, rewritten or redistributed.