Jane Fonda spends night in jail following arrest at climate change protest in DC
WASHINGTON (FOX 5 DC) - Jane Fonda is spending the night in the D.C. Jail after being arrested for the 4th week in a row following a climate change protest Friday, according to a spokesperson.
"It's not the first time I've spent the night in jail," Fonda told FOX 5.
RELATED: Jane Fonda returns to civil disobedience for climate change
The longtime actress and activist has temporarily moved to D.C. for the sole purpose of staging a climate change protest every Friday at the U.S. Capitol, where it's a misdemeanor violation for protesters to block the entrance. Police have put Fonda in plastic cuffs and taken her to jail for the last three weeks, but she's hasn't had to stay overnight yet, until now. 
Fonda will turn 82 in December.
"I think I may be in jail for my 82nd birthday," Fonda said.
Last week, actor Ted Danson joined her for her rally and this Friday she expected actress Catherine Keener and Patricia Arquette to join her.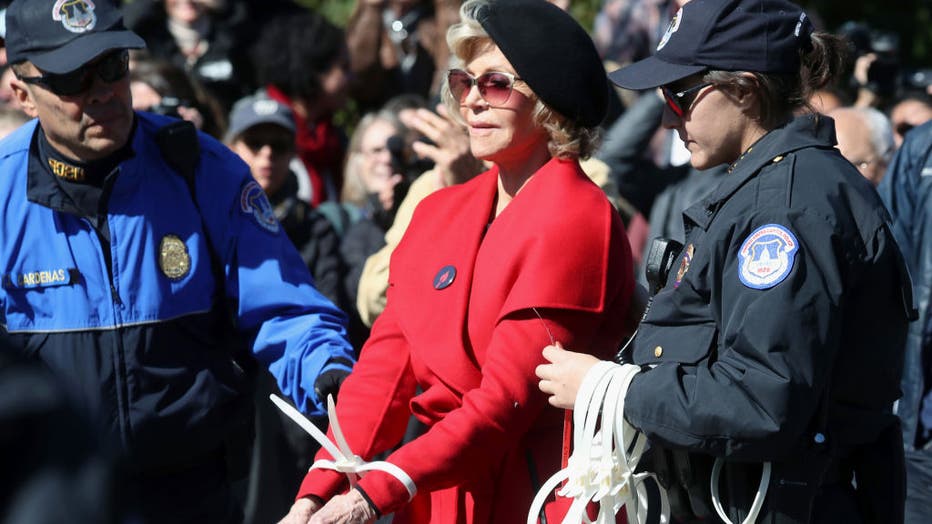 WASHINGTON, DC - OCTOBER 18: Actress Jane Fonda is arrested for blocking a street in front of the U.S. Capitol during a "Fire Drill Fridays" climate change protest and rally on Capitol Hill, October 18, 2019 in Washington, DC. Protesters are demandin
She dismissed critics who say she's getting arrested for the performance.
"Those people are always going to attack that way," she said. "The best way to attack a celebrity is to say, 'Here she is doing it for their own glory or promotion or whatever.' It doesn't matter. Those people don't matter. It doesn't matter. Good people know. I could be doing a lot of other things besides getting out there. And I'll be there if it's snowing, raining, sleeting, hurricane, it doesn't matter. I'm going to be there."
 
The dire warnings about global warming are relentless. A new study out this week says the number of people threatened by flooding triggered by climate change is three times higher than previously thought with close to 300 million at risk in the next three decades.
 
Fonda believes leaders won't take action without public pressure. 
 
"The only way is to have massive numbers in the streets protesting on an unprecedented scale," Fonda said.
 
FOX 5 asked if she believes there will be enough of that pushback and outrage to inspire change.
 
"Yes I think so," she said. "As more and more people recognize this is not something that's going to happen in the future. This is right now."