It was a 'dispute over sauce': 16-year-old girl stabbed to death near U Street McDonald's
WASHINGTON - After deliberating for nearly two-and-a-half hours, a D.C. Superior Court magistrate judge decided to hold a 16-year-old girl at a secured juvenile facility in D.C. at least until her next hearing on Friday.
The teen from Waldorf, Maryland is charged with second-degree murder (as a juvenile) among multiple other serious charges, in connection with the stabbing death of another 16-year-old from Waldorf, Naima Liggon. 
It was a "dispute over sauce," Judge Sherri Beatty-Arthur told the court, ahead of her decision.
FOX 5 learned Monday that a group of young people drove from Maryland to a party in D.C. before stopping at the 24-hour McDonald's by U and 14th Streets Northwest.
It was said in the juvenile proceeding, that an argument began in the vehicle, apparently over sweet and sour sauce. It then turns physical. The teens at one point exited the vehicle, and a fight broke out right outside the U Street McDonald's.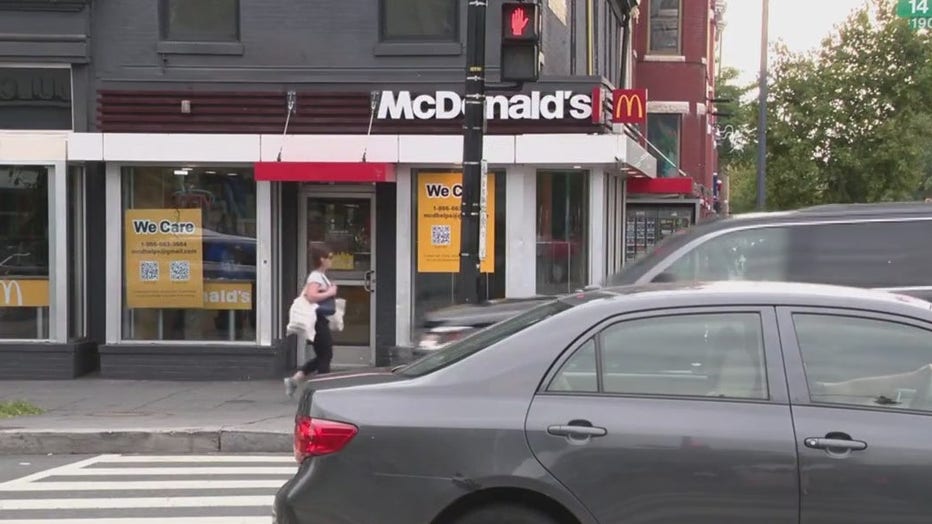 An attorney for the teen charged claimed self-defense. They said that the teenage suspect was jumped in that fight. However, the prosecutor claimed the fight was over with when surveillance video allegedly captured that same teen suspect lunging at least once toward the victim, around the time Liggon went back to the vehicle.
This happened at around 2:10 a.m. Sunday. 
Liggon was stabbed in the abdomen and torso and pronounced dead at Howard University Hospital.
"Naima was a beautiful, smart, funny, and unique young lady who loved life. She was loved and admired by so many people. Naima loved music and the arts, basketball, and she was shaping up to be a master barber. She had just been hired to work at Krispy Kreme as a doughnut specialist and was preparing to get her drivers license," said Naima's mom, Joy Liggon. "The impact of this senseless loss has affected our family, our friends, and our community. Naima will never see her prom or her graduation. We will not get to see her graduate from college or get married or have kids." 
"She was a beautiful person. My son's friend," said neighbor Rickey Graves Jr. "She was the first friend he met when he arrived here. It's just – it was a shock for us because she's a beautiful person. She had a great personality, always laughing – a lot of laughter. Her mom – very friendly, beautiful people. So, I'm just shocked that this kind of thing would happen to her."
"Listen to your parents," said Graves when asked what he and others can take away from this. "Check in with your friends, and sometimes we've got to stay away from things we know we shouldn't – people, places we shouldn't be around."
Graves told FOX 5 his son was too upset to speak.
Liggon was one of three teens killed in D.C. this past weekend. 
While there is a curfew on D.C.'s books, the fatal stabbing came a little before D.C. police are expected to begin targeted curfew enforcement in several selected areas starting Friday, Sept. 1. 
The U Street Corridor is on that list.
Residents and neighbors have been furious with the violence seen around the U Street Corridor. 
One community leader claims that violence spilling over – and an open-air drug market deeper into the Shaw neighborhood has forced multiple businesses to close down just this past year alone.
A Charles County high school principal announced counselors would be on hand at Thomas Stone High School to help students deal with this tragedy. 
Monday was their first day of school for the 2023-2024 school year.
"This is not the news a principal ever wants to share, let alone the day before we start a new school year," said Thomas Stone High School Principal Shanif Pearl in a statement to the high school community. "I ask that you please keep Naima's family, friends, loved ones and our school community in your thoughts and prayers."
READ THE FULL STATEMENT:
"Dear Parents, Guardians and Staff:
I am deeply saddened to share with you the news about the tragic loss of a Thomas Stone High School student. This afternoon, we learned about the passing of Naima Liggon. Naima passed earlier this morning and news of her passing has been made public. My thoughts and prayers go out to her family, friends, loved ones and all who knew her.
We will have additional counselors and staff at school tomorrow to provide support to any student or staff member who needs help processing the news of Naima's passing. I do not have any additional details about Naima at this time. This is a heartbreaking and tragic time for our school community.
This is not the news a principal ever wants to share, let alone the day before we start a new school year. I ask that you please keep Naima's family, friends, loved ones and our school community in your thoughts and prayers. If you or your child need help with grief counseling or any other assistance, please let me know.
Sincerely,
Shanif Pearl
Principal"