I-95 Shutdown: Dialysis patient stranded on Virginia highway has new kidney after transplant
FAIRFAX COUNTY, Va. - Anthony Oden is very thankful to be alive. He is living with a new kidney - and is in improved health. But one year ago neither of those things looked like they were in his future as he sat trapped along with hundreds of others on an icy stretch of Interstate 95 in Virginia.
In January 2022, Oden and his fiancée were in Richmond to see if he was a match for a much needed kidney transplant. The couple hired a driver to bring them back to Fairfax County for his dialysis treatment when disaster struck.
The couple spent nearly two days stuck in the chaos that surrounded the I-95 shutdown in Virginia after a winter storm snarled traffic.
A year later, the ordeal is still a very emotional topic for Oden to discuss. "I can't help but to get choked up because so many people have helped me in the past, helped me get to where I am today," he told FOX 5's Melanie Alnwick through tears Wednesday. "All I can do is thank God," he said. "I'm just so thankful."
He said he was not aware of the impending weather conditions and tried not to panic as the situation worsened. He told FOX 5 it was a blessing when Good Samaritans from Virginia helped the couple from their vehicle to safety.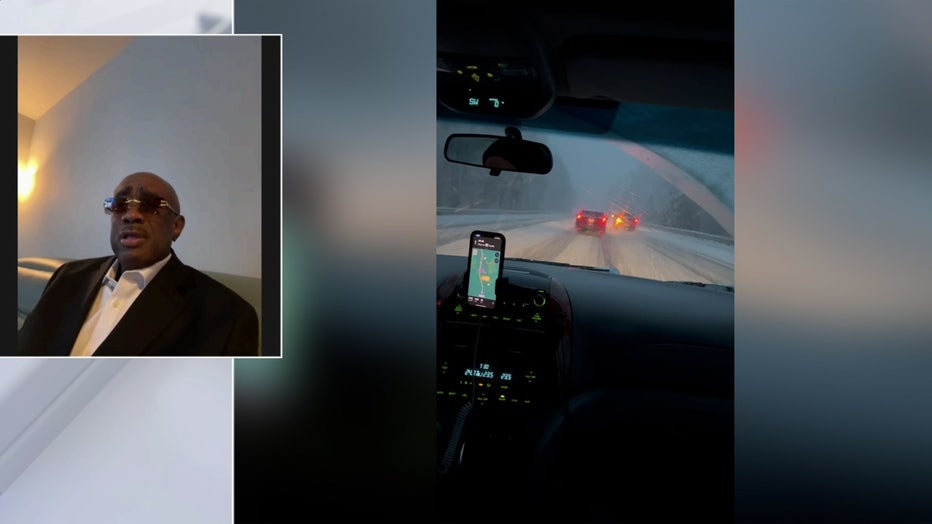 Oden says he welcomes better communication from Virginia transportation crews as part of improvements made in the aftermath of the storm. But he says you won't catch him on that stretch of highway if another storm is expected.
Oden says he continues to take medication and has regular medical appointments for his new kidney and is in much better health overall.