I-270 sinkhole: No time estimate for lanes to reopen, officials say
GAITHERSBURG, Md. - Officials say there is no estimated time frame for lanes to reopen on Interstate 270 following closures related to a sinkhole that has caused traffic problems for commuters around the Gaithersburg area.
Download the FOX 5 DC News App for Local Breaking News and Weather
The sinkhole was reported Wednesday on southbound I-270 prior to I-370. Repair work has closed the two right lanes of the highway. 
The sinkhole formed after an underground corrugated drainage pipe failed. Crews stuck a camera down that pipe Thursday to assess the damage and were seen cleaning grass and branches on the side of the highway to get to the bottom of the pipe. 
MDOT's Spokesperson Charlie Gischlar says the state regularly inspects these pipes. 
He referred to this issue as the system showing its age. He tells FOX 5 some of these pipes are 50 to 70 years old. 
"This was a corrugated pipe. We did get a lot of rain the other night and thankfully, it was held to the right shoulder and into the right lane a little bit," Gischlar explained. "We think we have it contained so at this point, we don't need to take any more lanes. We're hoping we can go ahead and initiate this repair quickly and get lanes open as soon as possible -- at least one, if not both." 
SUBSCRIBE TO FOX 5 DC ON YOUTUBE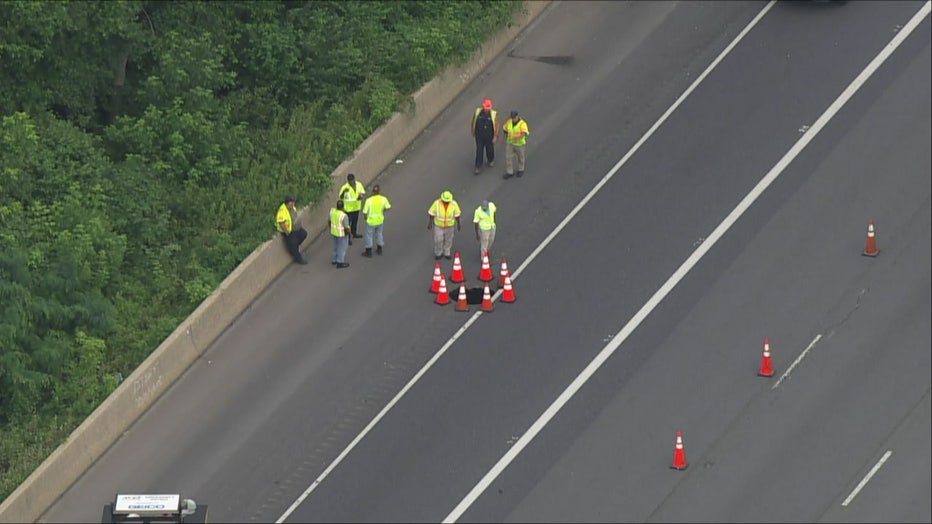 MDOT does not have a timeframe for when the lane closures could lift. Transportation officials are adjusting traffic signal timing on MD-355 (Frederick Road) and urging commuters to use an alternate route until repairs are complete.
Approximately 190,000 vehicles on average use this section of I-270 each day, officials say.