Howard University men's basketball earns first NCAA tournament bid in decades
NORFOLK, Va. - Get your dancing shoes ready! The Howard University men's basketball team are going to the NCAA Tournament for the first time in over three decades!
The Bison beat Norfolk State University 65-64 in the Mid-Eastern Athletic Conference (MEAC) Tournament Championship game in Norfolk, Virginia on Saturday afternoon.
The game was a thrilling back and forth match up that came down to the last seconds. Neither team led by more than six points during the game which featured 15 lead changes and 11 ties.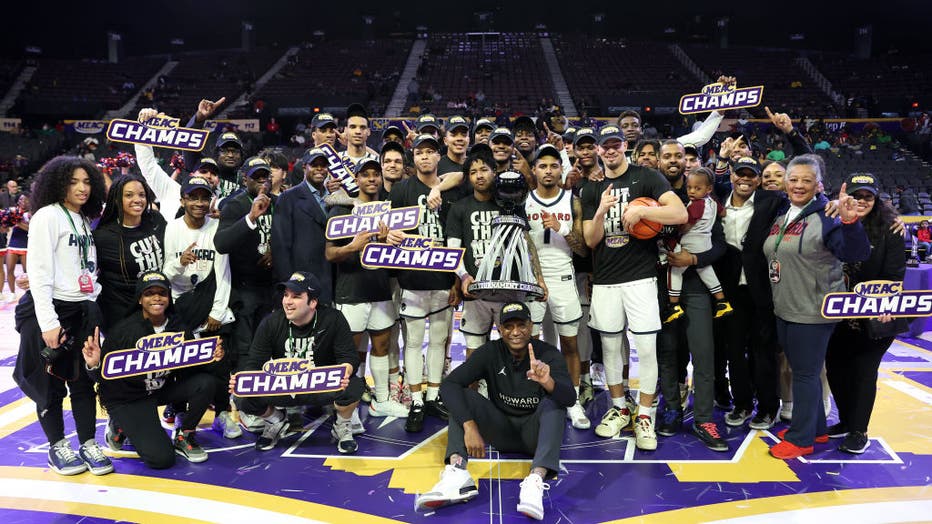 NORFOLK, VIRGINIA - MARCH 11: The Howard Bison pose after defeating the Norfolk State Spartans to win the 2023 MEAC Men's Basketball Tournament Championship at Norfolk Scope Arena on March 11, 2023 in Norfolk, Virginia. (Photo by Tim Nwachukwu/Getty
The Bison were down 4 points with a minute left, but they continued to fight hitting a three pointer that brought them within one point. 
They then forced a turnover, hit two free throws to take the lead, and sealed the win with a defensive stop in the final seconds.
The win gives Howard its first NCAA men's basketball tournament birth since 1992, which was also the last time before this season that the Bison won the MEAC Tournament and regular season title.
READ MORE: 'We know that there's a bigger impact': Howard University swim team makes history
FOX 5 spoke with Art Crowder, who was a freshman on that 1992 team, about what this season's achievement means.
"It was great. I mean, to see this happen, I was waiting for so long," Crowder said beaming with pride. "31 years is a long time, and I just thought it would happen more. So I was really happy about them winning. I'm really proud of the team and the players. It's just, wow! It's so exciting that they finally did this."
He added that he hopes the team's appearance in the NCAA tournament can elevate the university and its basketball program.
On Sunday, the Bison learned that they will be the 16 seed in the West Region. 
They will head to Des Moines, Iowa on Thursday to take on the West Region's number one seed the Kansas Jayhawks.
The Associated Press contributed to this report.