Damar Hamlin hit could cause shared trauma experience for viewers, mental health expert says
Emotions remain high nationwide after Buffalo Bills safety Damar Hamlin collapsed during Monday night's NFL game.
FOX 5 reports what many watched happen to Damar Hamlin Monday night can lead to what is called a shared trauma experience that can cause acute stress.
The world was watching and now potentially navigating anxiety, nervousness, and even anger about certain aspects along with confusion and shock.
Dr. Nicole Mavrides, a board-certified adult and child and adolescent psychiatrist, says she too saw what happened at Monday night's football game and as a seasoned mental health professional was shocked. She urged parents and people to use straightforward and simple terms when discussing the incident.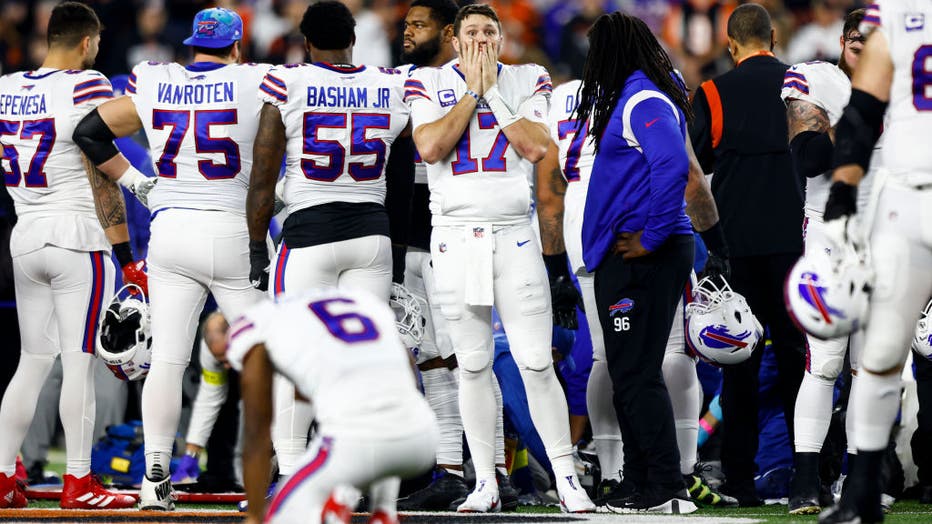 Josh Allen #17 of the Buffalo Bills reacts to an injury sustained by Damar Hamlin #3 during the first quarter of an NFL football game against the Cincinnati Bengals at Paycor Stadium on Jan. 2, 2023, in Cincinnati, Ohio. (Photo by Kevin Sabitus/Getty
She also noted this is extremely uncommon and an unlikely occurrence.
Mavrides says the following are steps to take right now for everyone impacted by what they saw happen to Hamlin: Take time for yourself. Turn off alerts on your phone. Temporarily disconnect from technology. Focus on family activities, including walking, reading a book, and relaxing.
The medical community is also pointing out that what happened Monday night is rare. Student-athletes shouldn't fear the sport they play based on what they saw happen.