Group wants Mattel to scrap new Hello Barbie doll due to privacy concerns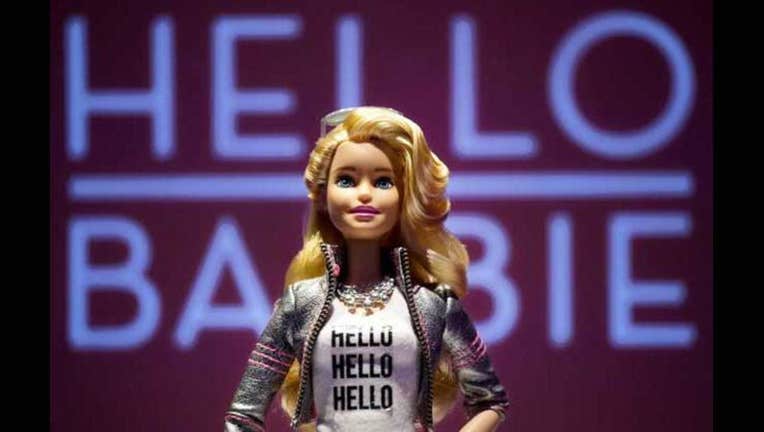 article
A new interactive Barbie doll is drawing some privacy concerns among critics.
The Hello Barbie doll has voice recognition software that will basically allow children to engage in conversation with the doll.
The toy, which is Wi-Fi-connected, has an embedded microphone that can record children's voices with a press of a button on the doll. The audio is then transferred to a server where it is processed to form the doll's responses.
"Mattel is committed to safety and security, and Hello Barbie conforms to applicable government standards," said Mattel said in a statement to the Washington Post.
The advocacy group, Campaign for a Commercial-Free Childhood, has launched a petition asking for Mattel to scrap the doll. The petition, which is directed to Mattel CEO Christopher Sinclair, writes:
Dear Mr. Sinclair,
We call on you to stop production of "Hello Barbie" because it is a significant violation of children's privacy. It records and transmits a child's speech to computers for analysis to reveal "all of [the child's] likes and dislikes." The doll's subsequent communications to the child are modified based on the data collected.
As a father yourself, we trust you understand the fundamental dangers. Children naturally confide in their dolls, and reveal a great deal about themselves when they play. It is wrong for Mattel and your technology partner ToyTalk to record, transmit, and analyze these intimate conversations (and others within range of "Hello Barbie" microphones) for use—or misuse—by Mattel, ToyTalk, or any entity that might intercept or access the data captured by the doll and/or your computers.
In addition, "Hello Barbie" undermines creative play by insuring that Mattel—not the child—will be driving the play and relationship. In fact, Mattel claims the toy will "deepen that relationship girls have with [Barbie]." The goal is for the child and "Hello Barbie" to "become the best of friends." As I'm sure you know, healthy cognitive, social, and emotional development requires relationships with real friends—not artificially generated corporate messages created after listening in on anyone within range of Mattel's microphones.
Please show your leadership and concern for the health and safety of children and families by immediately ending all marketing and production of "Hello Barbie."
What are your thoughts about this doll? Let us know what you think on our Facebook and Twitter pages.