George Mason University students protest Gov. Youngkin selection as 2023 commencement speaker
FAIRFAX COUNTY, Va. - George Mason University students protested on Tuesday over the school's decision to invite Virginia Governor Glenn Youngkin to speak at the 2023 spring commencement. 
After several organizations on campus, including the George Mason Democrats and BLACC Mason, requested the university replace Governor Youngkin as commencement speaker — it appears the school will move forward with its initial plans. 
Of the 36,000 students enrolled at GMU, about 100 of them gathered on campus on Tuesday, demanding that GMU President Greg Washington cancel Gov. Youngkin's spring commencement speech.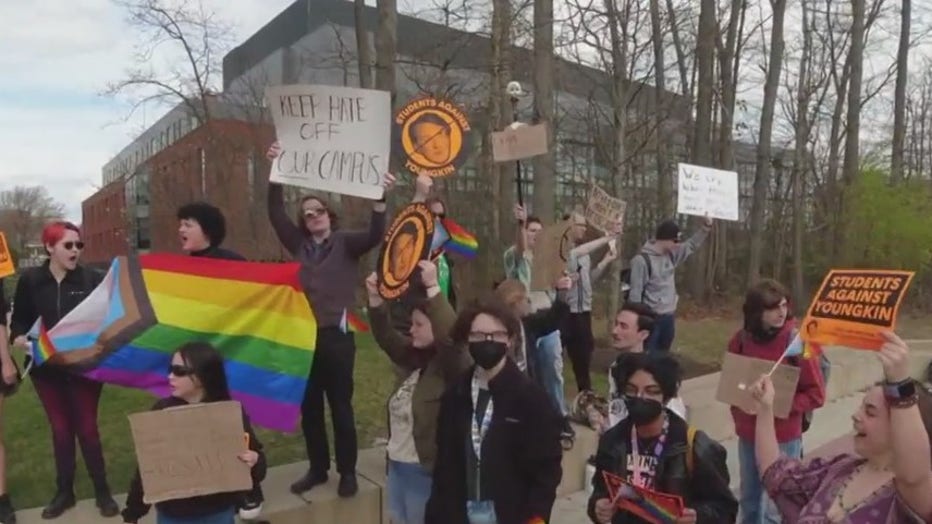 A Change.org petition opposing the school's choice doesn't seem like it's swayed administrators, despite garnering over 6,000 signatures.
For two hours on Tuesday, students were singing, shouting, waving Pride flags and protesting Gov. Youngkin and his policies on transgender students.
Youngkin released model policies for Virginia's public schools last September that rolled back some protections for students and centered parents in decision-making. The policies require students to use facilities that correspond with their sex assigned at birth and require parental permission for students to use another name or pronoun in the classroom.
"It is harmful and disrespectful to the many students who continuously shape GMU's community to bring in an individual who has also neglected the needs of Virginians," senior Alaina Ruffin stated in her petition. 
Others believe the governor "actively promotes discrimination and hate."
On Monday, GMU President Gregory Washington released a statement on the issue, saying the school has a long tradition of supporting free speech. 
"That support extends to each person who gives a commencement speech. And no speaker can take away from our diversity," the statement reads. "At Mason, diversity is about more than just looking different, it's about believing differently, thinking differently, expressing differently, and having the environment in which to do so. At Mason, that environment extends to every student, staff and faculty member. It also extends to governors."
Washington went on to say that he supports those students who are making their voices heard, and applauds their courage and commitment to advocate for themselves and their communities. 
However, he says he doesn't believe the university should silence the voices of those whom they disagree with "especially in this forum where there is no imminent threat present as a result of the disagreements."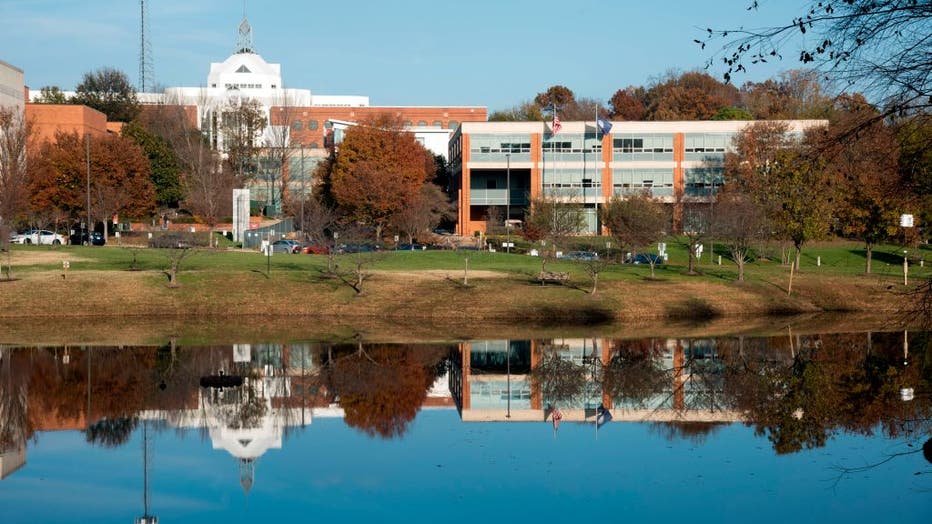 Campus of George Mason University, Fairfax, Virginia. (Photo by: Education Images/Universal Images Group via Getty Images)
The governor's spokeswoman released the following statement to FOX 5 about the commencement:
"Governor Youngkin looks forward to addressing the 2023 graduates of George Mason University and celebrating their tremendous accomplishment."
Youngkin is scheduled to speak to GMU's class of 2023 at EagleBank Arena on Thursday, May 18.
Youngkin will join a long line of Virginia governors who have spoken on campus including Tim Kaine, Terry McAuliffe and Ralph Northam.