George Mason University students start petition to remove Gov. Youngkin as 2023 commencement speaker
FAIRFAX COUNTY, Va. - George Mason University announced Thursday Virginia Governor Glenn Youngkin will speak to the graduating class of 2023 at its spring commencement in May. In response, some students have created a petition to have him removed as the speaker.
Senior Alaina Ruffin doesn't want the governor to show up to her graduation at all.  
Ruffin started a Change.org petition Thursday, demanding the university ensure Youngkin does not attend or speak at the commencement ceremony. 
"As a Patriot and prospective alumna of George Mason University, I and my peers do not want the memories of our graduation day to be tainted by an individual who has harmed and continues to harm the people he serves," Ruffin's petition reads. 
So far, more than 5,300 people have signed it. 
"Selecting a speaker that has passed anti-trans legislation, promoted the abolishment of racial equity curricula, and restricted the availability of literature in public schools is an intentional target towards historically marginalized communities comprising Mason," Ruffin wrote. "It is harmful and disrespectful to the many students who continuously shape GMU's community to bring in an individual who has also neglected the needs of Virginians."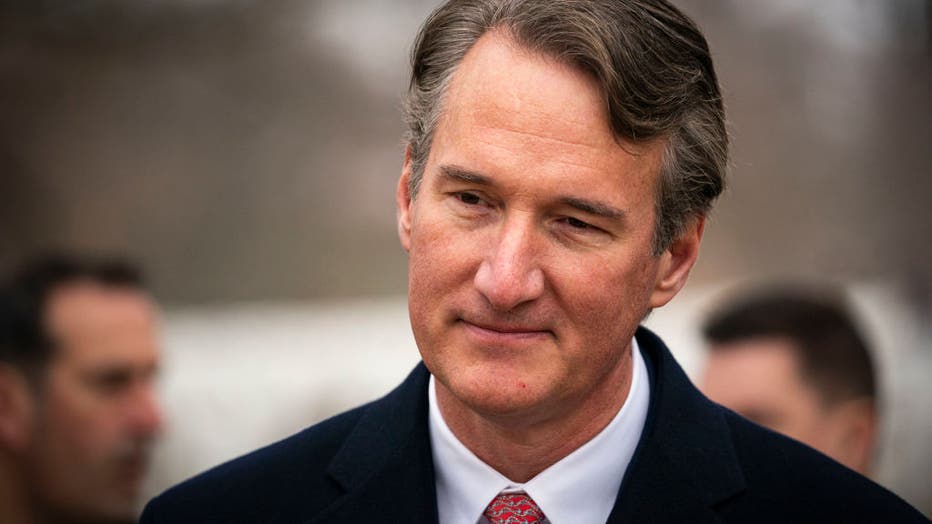 ARLINGTON, VA - DECEMBER 18: Virginia Governor-Elect Glenn Youngkin greets visitors in Section 60 at Arlington National Cemetery, on December 18, 2021 in Arlington, Virginia. The 30th annual "Wreaths Across America" project places wreaths on the more
The senior's sentiments were echoed in a separate statement issued by BLACC Mason, GMU's Black, African-heritage, and Caribbean coalition. 
"It is our responsibility as members of this community to stand up against bigotry and intolerance," the organization wrote via Instagram. "We must demand that our administration acts and removes Youngkin as the commencement speaker. We cannot allow our university to provide a platform for someone who actively promotes discrimination and hate."
GMU's student government weighed in on the issue, releasing a statement calling the university's left them "disappointed, devalued, and disturbed."
FOX 5 spoke with one of the groups opposed to Gov. Youngkin speaking at the school, which is the largest 4-year public university in the Commonwealth. The George Mason Democrats say, that while it is common for the sitting governor of Virginia to deliver a commencement address, they feel that Gov. Youngkin is different because of the policies he supports.
"Of course, in a society, we need to hear out peoples ideas, however when those ideas directly target people on this campus, it enrages people who came here to find a better life," said the group's president, Vikentiya Buonaspina. "He's the duly elected governor of the commonwealth, yes, however there are 40,000 students here who pay tuition and many of those students, including myself are queer, and we're upset about this decision."
Other student groups tell FOX 5 they are frustrated over not being consulted on the decision for who should be their commencement speaker.
Another Change.org petition has been launched in support of the governor. It currently has more than 115 signatures. 
FOX 5 spoke with the president of George Mason College Republicans, who support the governor coming to GMU. Joe Szymanski says he is excited about the opportunity to hear from the governor, and disagrees with the characterization that Youngkin's policies are anti-LGBTQ.
He adds that he respects the ability for those who oppose Youngkin to speak out, but says there is a long line of politicians from both parties who have come to the campus for big events.
"To be able to see a Republican governor come to Mason for the first time in a long time is exciting, and I was very excited to hear that," Szymanski said. "A commencement speech is something that's very typical for a governor of any state to go to the largest public school in the commonwealth of Virginia. That's not an atypical thing whether that person's a Republican or a Democrat."
In a statement about the decision, the school cited its history of inviting members of both political parties to its campus, adding, "Mason is committed to serving as a public forum that welcomes all Virginians, where opposing views can be expressed freely and respectfully in an intellectually and physically safe environment."
GMU President Gregory Washington also spoke about the decision, saying Youngkin's "drive for lifelong learning and his entrepreneurial mindset" is what the school cultivates in all of its graduates.
Youngkin, despite the backlash, remains scheduled to speak to GMU's class of 2023 at EagleBank Arena on Thursday, May 18.
The governor's spokeswoman released the following statement to FOX 5 about the commencement:
"Governor Youngkin looks forward to addressing the 2023 graduates of George Mason University and celebrating their tremendous accomplishment."
Youngkin will become the latest sitting Virginia governor to address Mason graduates, joining past governors Jim Gilmore, Mark Warner, Tim Kaine, and Terry McAuliffe.