Former US Capitol Police Chief faults federal officials for Jan. 6 riot
Former U.S. Capitol Chief of Police Steven Sund is ringing the alarm bell about security at the Capitol in his new book "Courage Under Fire," which talks about what went wrong in the lead up to the January 6 riot at the Capitol, and who is to blame for the unprecedented incident.
In the book, Sund sharply criticizes federal agencies like the FBI for dropping the ball on January 6. He also warns that something like the riot at the Capitol could happen again.
"I am concerned that something like this could happen again. The security structure on the Hill is so, has such political oversight, it doesn't allow a chief of police, a person with significant security experience to make the decisions they need to make," Sund tells FOX 5. "Instead, you've got a politically aligned capitol police board, four oversight committees that are politically aligned making decisions and creating influence over a police department that had disastrous results on January 6."
Sund describes that the acting Secretary of Defense at the time, Christopher Miller, restricted the resources that the National Guard needed to assist local law enforcement with controlling an event like the January 6 riot, despite some federal officials expressing safety concerns about the Capitol in the days prior to the riot.
The former U.S. Capitol Chief of Police also criticized the FBI, the Department of Homeland Security (DHS), and the Department of Defense (DOD).
READ MORE: Virginia rapper who posed on SWAT truck during Capitol riot sentenced to 5 months in prison
"I've done a number of major events in Washington D.C. Many of these events have had far lesser of a threat stream than what we are now seeing existed on January 6. The FBI would have called an executive meeting, would have put out an intelligence briefing with DHS, would have at least set out a conference call to have the analysts tell the chiefs, 'hey this is what we're seeing.' None of that occurred. Didn't get warnings from DHS. None of the things that were put in place after September 11 to prevent such an incident," said Sund.
Despite the criticisms of federal officials and their handling of safety concerns, Sund said he could not be prouder of the D.C. police agencies that came together on January 6 to help with the riot.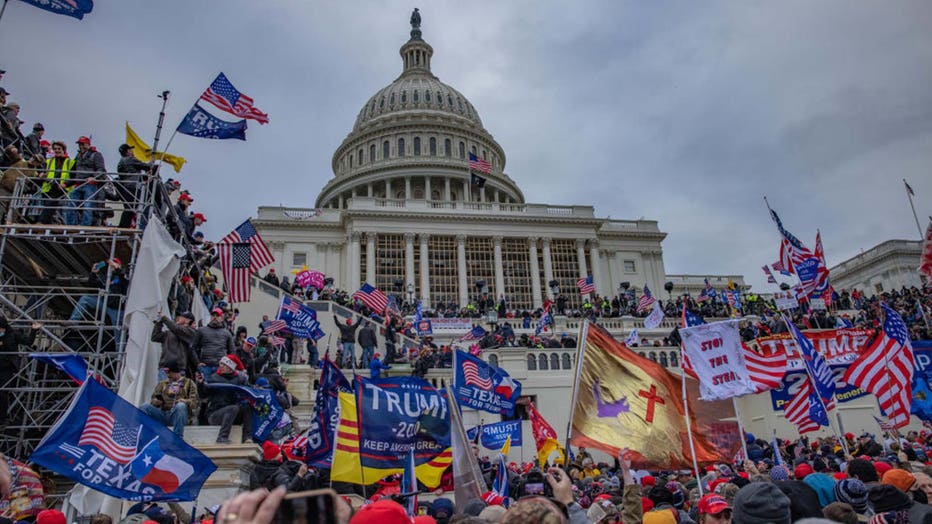 FILE - Rioters storm the United States Capitol building on Jan. 6. (Evelyn Hockstein/For The Washington Post via Getty Images)
FOX 5 also asked Sund if he had any regrets about that day.
"I tried to get assistance ahead of time. On the day of when I was waiting 71 minutes to get approval for bringing in federal resources, I was calling law enforcement, and even some of those were federal law enforcement who were coming to my aid. I called every single person I could, to bring assistance to my men and women who were battling all around the Capitol to protect members of Congress. I don't think there was anything else I could do," Sund explained to FOX 5.
READ MORE: Jan. 6 committee withdraws Trump subpoena
"Courage Under Fire" was released on Tuesday. The release comes just three days shy of the second anniversary of the January 6 riot.