FedEx Field COVID-19 screening and testing site to open Monday, officials say
LANDOVER, Md. (FOX 5 DC) - Vanessa Pearson of Prince George's County says she has all the symptoms for COVID-19. She says she even has a doctor's order to get tested but is having trouble finding a testing site—and she may not be alone. 
Some residents across the D.C. region tell FOX 5 it's been a confusing process. 
CORONAVIRUS RESOURCES: Everything you need to know about COVID-19 in the District, Maryland and Virginia
Pearson is 62 and since Saturday's she's had a fever, shortness of breath, and diarrhea.
"I have difficulty breathing, headache, on-and-off nausea," said Pearson. "I just think there needs to be more accurate information for people like me on for where to go."
Like hundreds of others in the area, Vanessa started experiencing severe symptoms, but you can't just be tested if you think you have COVID-19. Pearson had to meet certain criteria of symptoms based on CDC guidelines and had to get a doctor's order. 
According to the Prince George's County Health Department, these are some of the locations you can go to for screening and COVID-19 testing:
MedStar Health Urgent Care Hyattsville
301-276-8800
Only through an E-visit via Mestarhealth.com
Tele-visit- No appointment needed
24/7 doctor will screen via Skype
Health Choice Family Clinic and Urgent Care  
Health Choice Family Clinic and Urgent Care
Landover
301-955-3136
No appointment needed for walk-ins – appointment suggested
Walk ins 9 a.m. – 6 p.m.
Kaiser (For Kaiser patients)
FedEx Field in Landover, with the assistance of the National Guard, will be ready to receive patients on Monday, Wednesday and Friday from 10 a.m. to 3 p.m., by appointment only. The site opens to patients on Monday, March. 30.
"What we're hoping this site will do is expand capacity and allow us to see additional patients and really relieve some of the strain that we know is sure to come for our emergency centers and urgent care centers," said Angela Alsobrooks, the Prince George's County Executive.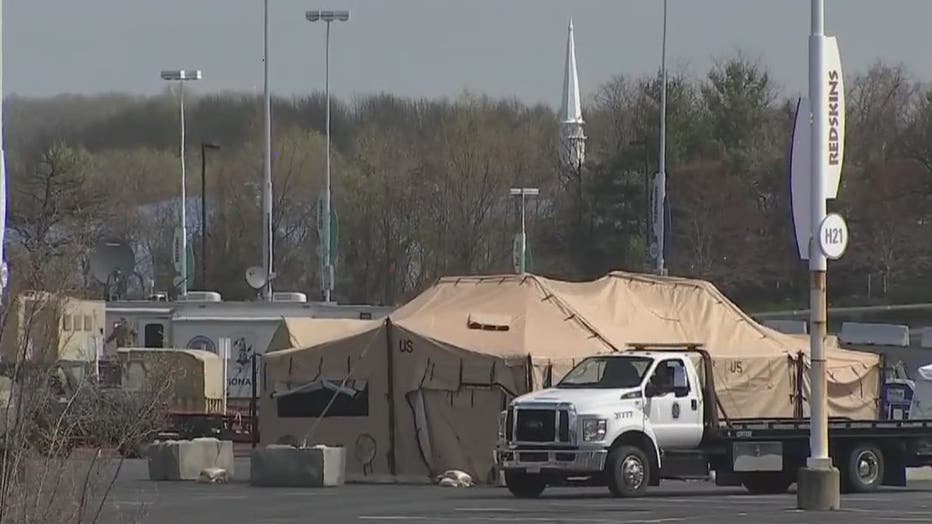 Download the FOX 5 DC News App for Local Breaking News and Weather
For patients in D.C., here's the process: 
All orders must come from your primary doctor 
Your primary doctor does the test and sends it to a private lab or to the D.C. Public Health Lab 
There are two drive-thru sites:
Children's National Hospital: that tests children and young adults under 22 and Kaiser Permanente, which only tests Kaiser patients.  
In Virginia, if you have a doctor's order and if you call for an appointment, you can go to Inova Urgent Care (UCC) locations at Dulles South, North Arlington and Tysons. They will staff Respiratory Illness Clinics to evaluate all patients with respiratory illness symptoms. The three clinics will also be able to collect COVID-19 vehicle-side samples that have been ordered by physicians.
Upon arrival at the Inova Respiratory Illness Clinic, a clinician will greet the patient at their vehicle to escort the patient into the respiratory clinic for evaluation or to collect samples for a physician-ordered test.
For patients who undergo COVID-19 testing, a UCC nurse will contact those whose results are negative. For patients with positive results, a UCC nurse will coordinate with the patient's regular physician for notification and further instructions. Patients who are tested can expect results in roughly 4-7 days.
Before visiting any Inova Respiratory Illness Clinic, contact your regular physician for evaluation.
Also in Virginia, there's also a drive-thru sample collection site at 1429 N Quincy street in Arlington. 
There's a shortage of coronavirus tests across the country, so people not showing symptoms or with mild symptoms should not be tested.
You're advised to call in advance, and make sure these sites can take you and that tests are available.