Fairfax County police make arrest in grisly 1994 homicide thanks to DNA break through
FAIRFAX COUNTY, Va. - Police in Fairfax County say after nearly three decades, an arrest has been made in the brutal stabbing death of a mother whose body was found inside her Springfield home.
Around 12:30 p.m. on Nov. 20, 1994, a family friend went to the home of 37-year-old Robin Lawrence after her husband, who was out of the country on a business trip, couldn't get in touch with her for days.
Ollie Lawrence's worst fears were confirmed when the family friend discovered what police called a "heinous and tragic scene." His wife had been stabbed multiple times, all while their two-year-old daughter was in the house in the 8600 block of Reseca Lane. 
While the toddler was found safe, the shocking crime shook the normally quiet cul-de-sac community as the grisly attack appeared random and unprovoked. 
Investigators processed the scene, collected evidence and canvassed the neighborhood interviewing potential witnesses and suspects but it was unclear when the murder happened and how long the toddler had been left sitting with her mother's remains. 
Using DNA evidence recovered from the scene, police were able to develop a profile and entered it into the Combined DNA Index System (CODIS) but there was no match in the system and the case went cold.
Over the years, detectives reviewed the case hoping to identify a suspect and in 2019, their tireless work paid off. 
"Years later, that DNA technology would improve and get better and in 2019, not giving up, our cold case detectives resubmitted that DNA to a company called Parabon," said Fairfax County Deputy Chief Eli Cory.
The Reston-based DNA analysis lab helped police develop a genealogy profile — essentially a DNA family tree — and they handed it over to detectives. 
"For three years our detectives were working with that family tree trying to put things together and ultimately that led them to Stephen Smerk," Fairfax County Police Chief Kevin Davis said. 
Smerk, 51, was taken into custody in Niskayuna, New York, where he lives.
Pictures of Smerk from 1988 and 1998 were found and compared to a digital composite image created by Parabon. With the photo lineup in hand, Fairfax County detectives traveled to New York to further the investigation.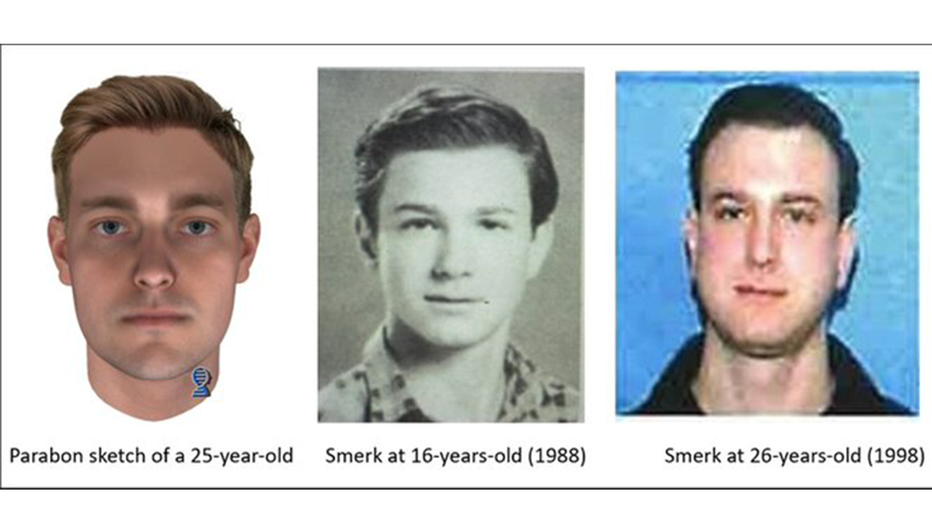 Smerk just so happened to be taking the trash out when detectives arrived at his home and he agreed to a DNA swab. 
"I think that's highly unusual. So that was a clue to our detectives that something may be afoot. They spent just a little bit of time with him, took a DNA sample from him at his home that he consented to. They left their business card with a cell phone number and then our two detectives simply went back to their hotel and were preparing to come back to Fairfax County when the phone rang," Davis said. 
Police say he ultimately confessed to the murder and is awaiting extradition to Virginia. 
At the time of the murder, Smerk was working for the army in Fort Meyer. According to police, he didn't know Lawrence and police say he had no prior brushes with the law.
"As far as a motive, the typical motives that we normally associate with murders, disputes, domestic violence, none of that was at play here. He chose her seemingly randomly and it was a heinous, heinous scene," Davis said. 
Smerk has been charged with second-degree murder. 
Lawrence's cousin Lauren Ovans spoke briefly Monday on behalf of the family.
"We as the family who's sitting here to my left would like to thank the Fairfax and Niskayuna police departments for their work on this case. We look forward to learning more about the process and next steps. So, thank you," Ovans said.
Right now, Davis says they have no reason to believe that Smerk — now a married father of two — is connected to any additional crimes but he said they do anticipate phone calls and will continue to follow any credible leads.
"Our cold case detectives exhibit unparalleled dedication when it comes to closing a case with many unknowns," Davis said. "This case is but one example of how our department's police work goes above and beyond, and it exemplifies our commitment to delivering justice regardless of the timeline."