Emergency SNAP benefits ending
WASHINGTON - Emergency Supplemental Nutritional Assistance Program benefits are set to end Tuesday.
The added benefits to SNAP began during the COVID-19 pandemic and helped over 41 million Americans over the last three years by providing participating households with an additional $95 a month to spend on food.
According to the Capital Area Food Bank (CAFB), about 330,000 families in their coverage area, D.C., Northern Virginia and Maryland's Prince George's and Montgomery Counties will be impacted by the change. 
CAFB CEO Radha Muthiah says on average a typical family in the DMV who participates in the SNAP Program will see their benefits decrease by $93 a month. Some larger families will get up to $180 dollars less each month. 
Muthiah says while they did not expect the emergency benefit increase to last forever, the timing is really difficult. 
"The challenge with it coming to an end now is that it is against the backdrop of incredibly high inflation and so many of our clients are just beginning to recover after the pandemic," she said.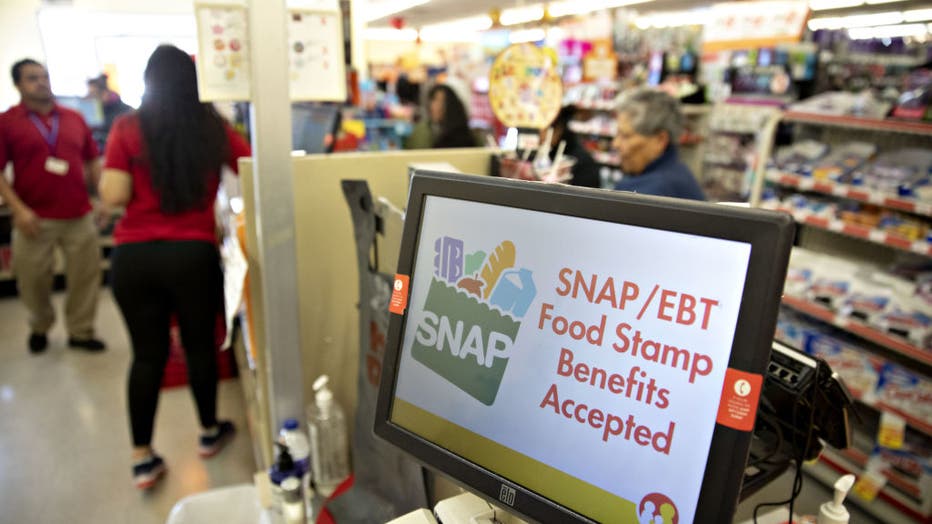 In March 2020, Congress passed the Families First Coronavirus Response Act allowing the USDA's Food and Nutrition Service to provide emergency allotments to all SNAP households to help them navigate the COVID-19 pandemic.
At the end of December 2022, Congress passed the Consolidated Appropriations Act that ends emergency assistance nationwide after the February 2023 issuance.
While states like Alaska, Arizona, Arkansas, Florida, Georgia, Idaho, Indiana, Iowa, Kentucky, Mississippi, Missouri, Montana, Nebraska, North Dakota, and South Carolina, among others have already ended the extra benefits — participating residents in Maryland, Virginia, and D.C. will no longer receive theirs after Tuesday. 
Last year the Capital Area Food Bank distributed 53 million meals worth of food, less than the pandemic high of 77 million, but still quite a bit more than what they were distributing pre-pandemic, just 30 million meals. 
In preparation for the need to rise over the month of March Muthiah says they are ordering additional food and are focusing on the grocery items like meat and produce that are seeing price hikes at the grocery store. 
Anyone expecting to be impacted is advised to contact their local SNAP office or the USDA's Hunger Hotline.