Defense: Officer acted reasonably in arrest of Freddie Gray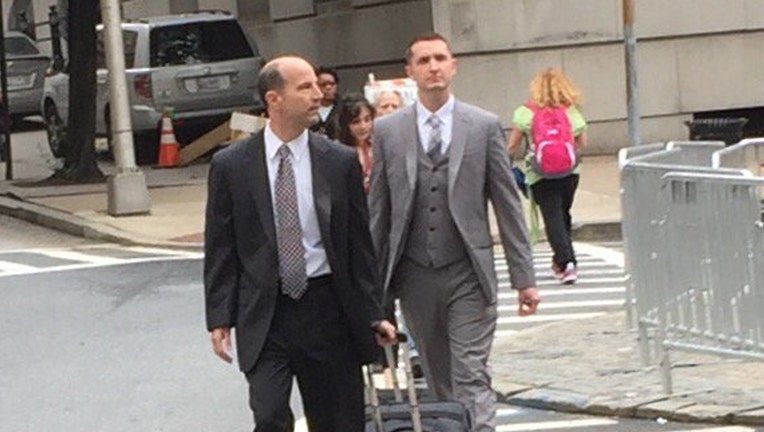 article
BALTIMORE (AP) -- An officer on trial for the arrest of Freddie Gray acted reasonably and responsibly and his interactions with the young black man were so brief that he shouldn't be blamed for any wrongdoing, according to defense attorneys who rested their case Wednesday.
Closing arguments in Officer Edward Nero's trial are Thursday and the judge's verdict is expected Monday. Nero, the second of six officers to stand trial, is charged with assault, misconduct in office and reckless endangerment. The assault charge carries a maximum of ten years in jail, while the other charges have five-year maximums.
Gray, 25, died April 19 of last year, a week after his neck was broken while he was handcuffed and shackled, but unrestrained, in the back of a police van. The department's policy is that detainees must be buckled in the van.
Prosecutors say Nero illegally arrested Gray last year without probable cause, and was negligent when he failed to secure Gray in a police van with a seat belt. Nero's attorney says his client wasn't involved in Gray's arrest, and that it's the responsibility of a police van's driver to make sure a detainee is belted in.
The defense called eight witnesses to bolster their argument that any reasonable officer in Nero's position would have made the same decisions. They hope to convince the judge that the department's order requiring that all inmates be strapped in is more suggestion than rule because officers are expected to act with discretion based on the circumstances of each situation.
Nero waived his right to a jury trial, instead choosing to leave his fate in the hands of Baltimore Circuit Judge Barry Williams, who throughout the trial asked witnesses his own follow-up questions.
Nero was on bicycle patrol in a high-crime area in the Western District on April 12, 2015, alongside Officer Garrett Miller and Lt. Brian Rice. While patrolling the area, Rice made eye contact with Gray, who took off running. Rice called over the radio for backup, and Nero and Miller joined the foot chase. Miller caught up with Gray and handcuffed him.
Nero told investigators that he touched Gray only twice: once when he helped the man, who'd already been handcuffed, sit up and look for an inhaler. The second time was when the van made a stop two blocks from the arrest site, and two officers secured him in leg shackles. Nero helped those officers slide Gray onto the floor of the van, head-first.
Capt. Justin Reynolds, a Baltimore police officer currently on medical leave, was certified as an expert in officer training, policies and procedures, and testified Wednesday that general orders are simply guidelines. He said officers always have discretion as to whether to follow them and noted the configuration of seat belts in the department's wagons are "spaghetti-like in two pieces" -- making it virtually impossible to buckle in an uncooperative prisoner. Gray was agitated and kicking about in the van, according to testimony.
"There would be no possible way to seat belt someone if an officer had one arm occupied across an arm or a chest to prevent him from assaulting you," Reynolds said.
During cross-examination, Reynolds conceded that if a prisoner was cooperating, as Gray had been when he was initially put inside the van, officers could have easily belted him.
Failure to seat belt Gray gave rise to two of the four charges Nero faces: Reckless endangerment and one of the misconduct in office charges. The other charges stem from prosecutors' contention that the arrest itself was illegal, and thus a violation of Gray's right not to be unlawfully touched.
Gray's death was a pivotal moment in Baltimore, and set off more than a week of protests followed by looting, rioting and arson that prompted a citywide curfew. In the aftermath, the city's police chief was fired, and Mayor Stephanie Rawlings-Blake announced she wouldn't run for re-election. The U.S. Department of Justice launched an investigation into allegations of excessive force and unwarranted stops.
Nero is the second officer to stand trial. Officer William Porter's manslaughter trial ended with a hung jury.