DC reports 105 new coronavirus cases in one day period; highest one-day spike since June
WASHINGTON (FOX 5 DC) - D.C.'s Health Department on Tuesday reported more than 100 new positive coronavirus cases, the largest spike it's seen since June 2 when the mayor's office says 130 new coronavirus cases were reported.
On Tuesday, October 6, the health department announced 105 positive coronavirus cases were recorded for Monday, October 5. The metrics reported daily are actually the previous day's final figures.
CORONAVIRUS IN DC, MARYLAND AND VIRGINIA
"While we do not have data on what compelled people to get tested today, it would be hard to imagine that the recent news did not drive more people to do so. We will continue to monitor the demands this week and urge residents if they need a test to get a test," said DC Chief of Staff, John J. Falcicchio in a statement to FOX 5.
Is the spike in testing in any way connected to the White House's coronavirus spread? Many people around the District are talking about it. William O'Regan was one of the many people getting tested on Tuesday.
"I've had a customer spit in my face. I've had really bad experiences going back to work so it just gives me peace of mind. And now with the white house, it just seems like, you know what, it's better safe than sorry," said O'Regan, who tells FOX 5 he's a bartender in D.C. and started getting tested weekly once resuming that work in June.
O'Regan went to the Judiciary Square testing site, one of DC's busiest testing locations. FOX 5 found long lines there. Sources say the lines were longer than normal, both Monday and Tuesday, with about a 40-minute wait on Tuesday.
CORONAVIRUS RESOURCES: Everything You Need to Know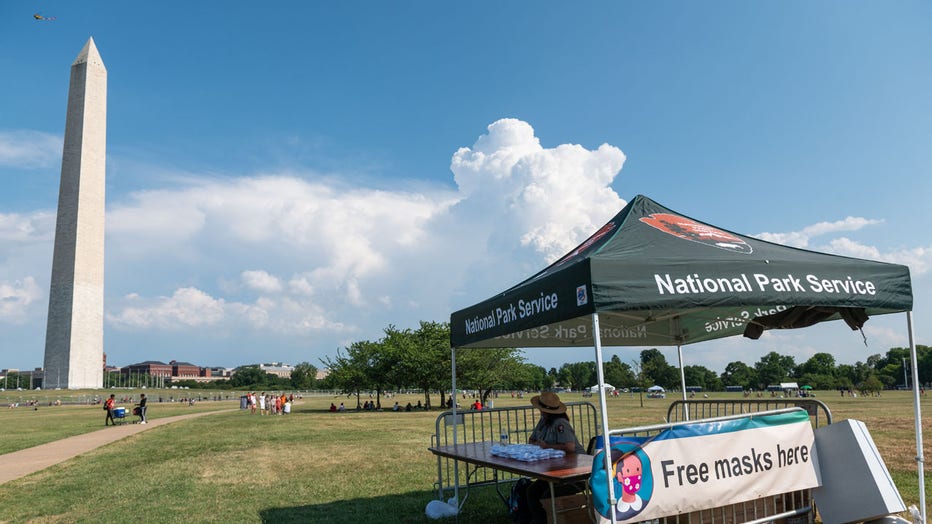 A US Park Service Ranger waits to distribute facemasks to spectators gathering near the Washington Memorial for Independence Day fireworks in Washington, DC on July 4, 2020. (Photo by ROBERTO SCHMIDT / AFP) (Photo by ROBERTO SCHMIDT/AFP via Getty Ima
 If you look at the metrics DC Health reported October 6 compared to one week ago, you can see the metrics are close. The Daily Case Rate of 5.8, tracking community spread, is actually the same with slight fluctuations in the days in-between.
Where there appears to be a big change is in the increase in overall tests reported.
More than 8,000 more tests were recorded from Sunday into Monday. This number can include older tests getting lumped into overall test reporting for that day.
Every other day this past week, that number included increases from 1,000-3,000s.
DC officials basically say it's a little too early to say whether the bump is due to any one thing or event.
Download the FOX 5 DC News App for Local Breaking News and Weather
Several people waiting in line at the Judiciary Square testing site tell FOX 5 they were either testing out of precaution or testing for travel. Those we spoke to did not say they came to get tested because of the White House' coronavirus spread.
"I would've done it anyway.  But I think it's important now because even though it's in the White House, these people are in our community," said Nick Armstrong.
Andrew Smith, testing for travel, said, "I don't think anybody deserves to be affected by this and I think that just the biggest thing, all of us can do our part."
"Today was definitely longer," said O'Regan, " I've never seen a line like this here. So this is definitely saying something. Guess the city's feeling the vibe."
DC leaders say they will continue to monitor these metrics and are encouraging people to continue to get tested if they think someone has been exposed.