Council member wants DC resident who killed 13-year-old to be held accountable
WASHINGTON - The calls for transparency are growing now, two days after a 13-year-old was shot dead in Northeast D.C.
After speaking with the family of Karon Blake, the Metropolitan Police Department, and community members, Ward 5 Councilmember Zachary Parker released a statement Monday regarding the incident he's calling "unacceptable."
"I am not trying to get ahead of the investigation. I know there are many moving pieces to this," Parker said in the statement. "But at the very least, I believe the family deserves information as it relates to what happened, and I'm calling on MPD, I'm calling on the U.S. Attorney's Office to release information as well as hold perpetrators accountable."
Parker said there are concerns from the community that this case is being handled differently. Many constituents he's spoken with, agree with him that the shooter needs to be held accountable.
D.C. police responded just before 4 a.m. on Saturday to 1033 Quincy St. Northeast for the call of a juvenile shot. An investigation revealed that a Brookland neighborhood resident confronted 13-year-old Karon Blake for allegedly breaking into cars. The person who live on that block was apparently going to investigate a noise when they came across Blake.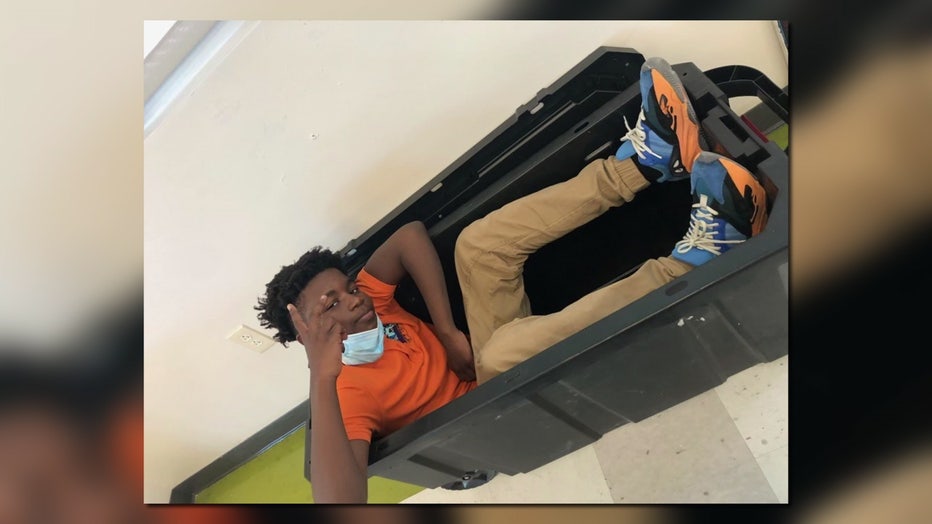 Police say the person is a legal gun owner. However, they are still not identifying the shooter or what he said led to him opening fire. Two other people, police said, fled from the area once the shots were fired. 
READ MORE: Northeast DC resident shoots, kills 13-year-old after claiming he was breaking into cars
The U.S. Attorney's Office is also now involved in the investigation. No charges were announced as of Monday afternoon.
During her "D.C.'s Comeback Plan" news conference, Mayor Muriel Bowser also spoke about the need to stop robberies and carjackings as a way to help revitalize the District and attract more residents. 
FOX 5 immediately asked about the shooting death of Karon Blake – and how much of this incident has to do with the city's inability to address property crime.
"First of all, we would rather be talking about a 13-year-old going to school today than to talk about him being killed on one of our streets. And I am incredibly saddened by that," Mayor Bowser responded. "I know that MPD is working on this investigation and it's ongoing, and they are consoling with the United States Attorney."
The mayor did not answer whether a surveillance video of the actual incident was recovered, citing the open investigation. She also did not answer whether the shooter should be identified.
When FOX 5 asked what her message to the community is, the mayor said, "My message is anytime, for any reason, that there is a public safety concern, residents should call 911."
Ebonie Pervis recalls seeing Karon Blake on the football field. The 13-year-old went to school with Pervis' son and nephew.
"I look at that like that could've easily been my son," Pervis said. "What if my child was walking up here picking up his sister from school and then maybe someone confused him for messing with their car when not knowing maybe he was tying his sister's shoe? You know it's really heartbreaking. Sure, we need to do something about violence in D.C. but we have to ask ourselves what measures are we taking?"
Brookland Middle School is mourning the loss of Karon. The school held a staff gathering for him on Monday. And a school letter sent to parents remembered the 6th grader as "quiet" and "inquisitive" and that he loved fashion and football.
A staff member from Brookland Middle School, who requested anonymity, described Karon as "the kid everybody rooted for." She said he was known to tell teachers he loved them and was like a big brother to younger students.
Advisory Neighborhood Commissioner Colleen Costello, who represents the area where the shooting happened, said she's also learned more about Karon from school staff.
"He was charismatic and charming in a sweet and genuine way, and he also loved fashion and football," Costello said. "He was a good kid, never got into a fight at school. He was never suspended. And he leaves behind his mom and three younger siblings who he helped to get to and from school every day."
George Lyon Jr., a D.C. concealed carry permit instructor and attorney with Arsenal Attorneys, tells FOX 5 that confronting someone breaking into your vehicle is exactly what he teaches against in his concealed carry classes. He says you have a right to confront someone, but not kill someone over property.
"You're not legally justified in using deadly force to stop a property crime," Lyon said. "So that's an issue that we have here. However, might it have been justified in that circumstance, so let's think about where that might occur. Let's say that it's a situation that you're confronting somebody, you've got your gun out to try and stop them, they advance on you and try to take the gun. Well if they try to take the gun, at that point they are committing an armed act, very similar to what happened with the Zimmerman case, where Zimmerman said that Martin attempted to grab Zimmerman's gun. Or the Kyle Rittenhouse case, where the first person Rittenhouse shot attempted to grab Rittenhouse's gun."
RELATED: DC council member calls for transparency after person allegedly shoots, kills 13-year-old
D.C. police reported Blake was unarmed. But details surrounding why he was fired remain scant. It's unclear, at the moment whether the shooter's car was among those allegedly being targeted. 
"Whenever a kid is killed … it is a tragedy," Lyon said. "It may not be legally actionable depending upon what he did, that may have precipitated it, but it's certainly a tragedy. And I got real problems with the concept of a 13-year-old who is out at four in the morning breaking into cars. That doesn't say good things about where we are in terms of society."
In August 2021, D.C. Police reported Blake missing at least once. A source tells FOX 5 they do not believe the Department of Youth Rehabilitation Services was working with the 13-year-old.
FOX 5 has learned that his family is now planning a funeral.
Councilmember Parker is now hosting a community meeting at the Turkey Thicket Recreation Center planned for 7 p.m. Tuesday. He's hoping to have community concerns and questions answered by police, and he hopes it will help begin the healing process. The mayor is also holding a meeting with school leaders on Wednesday to address juvenile crime in the District.