Climate protestors facing federal charges for defacing sculpture at National Gallery of Art
WASHINGTON - Two climate activists are now facing federal charges, one month after a headline-grabbing protest at the National Gallery of Art.
"They asked me to turn myself in," Tim Martin said Friday. "The whole time I was there for four hours, I was in cuffs, and it did not feel good."
The protest was organized by the climate group Declare Emergency, which also took credit for shutting down the George Washington Parkway the same week. In the National Gallery of Art incident, Martin smeared paint on the casing that holds Edgar Degas' sculpture Little Dancer, Aged Fourteen.
Prosecutors allege the demonstration caused about $2,400 in damage. They also said the exhibit had to be removed for ten days, so it could be repaired.
Asked whether it was worth it, Martin replied, "I knew going into this that sacrifices need to be made to raise the awareness, to let people know how serious this is."
Those sacrifices could be significant. According to a Department of Justice press release, Martin faces two charges – conspiracy to commit an offense against the United States and injury to a National Gallery of Art exhibit, each of which carries a statutory maximum sentence of five years in prison and a fine of up to $250,000.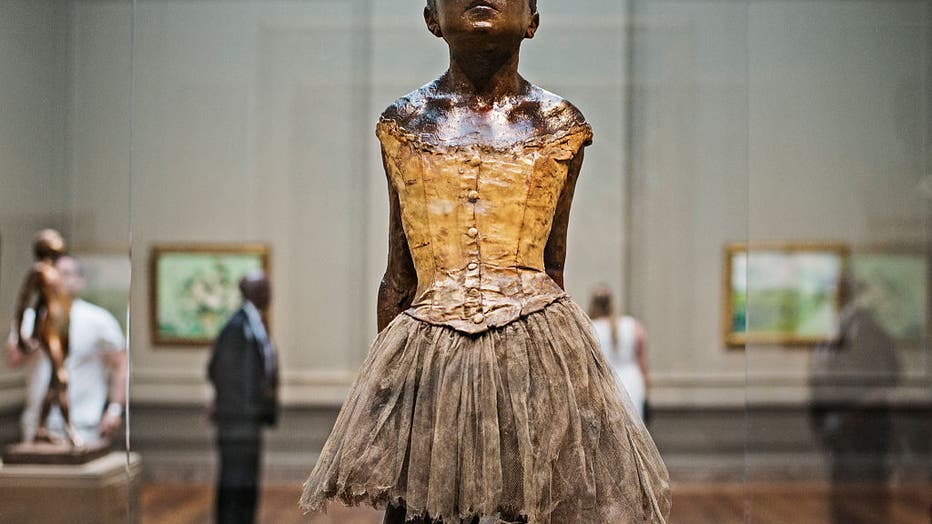 WASHINGTON, DC JULY 16: "The Little Dancer," a sculpture by French artist Edgar Degas, is on display at the National Gallery of Art's East Building, seen Wednesday, July 16, 2014. The piece was inspired by Marie von Goethem. (Photo by Nikki Kahn/The
"The maximum sentencing is a little intimidating, and you know, that's out of my control," Martin told FOX 5. "We have to do what we can do to steer the conversation into getting all of us to be talking about this for starters and then maybe working together on the solutions."