Carowinds 'Giga' coaster reopens in N.C. after large crack repaired
A towering North Carolina roller coaster that shut down in June due to a large crack in its support column reopened Thursday after a month of repairs and testing, the park announced on its website.
Carowinds amusement park, which straddles the North Carolina and South Carolina line, came under investigation by the North Carolina Department of Labor after a video surfaced online of an operational roller coaster with a large crack in one of its columns. The footage of Fury 325, known as a "giga coaster" due to its dramatic height of 325 feet (99 meters), showed a support beam bending with the top visibly detached as cars packed with unsuspecting passengers whirled by at speeds of up to 95 mph (150 kph).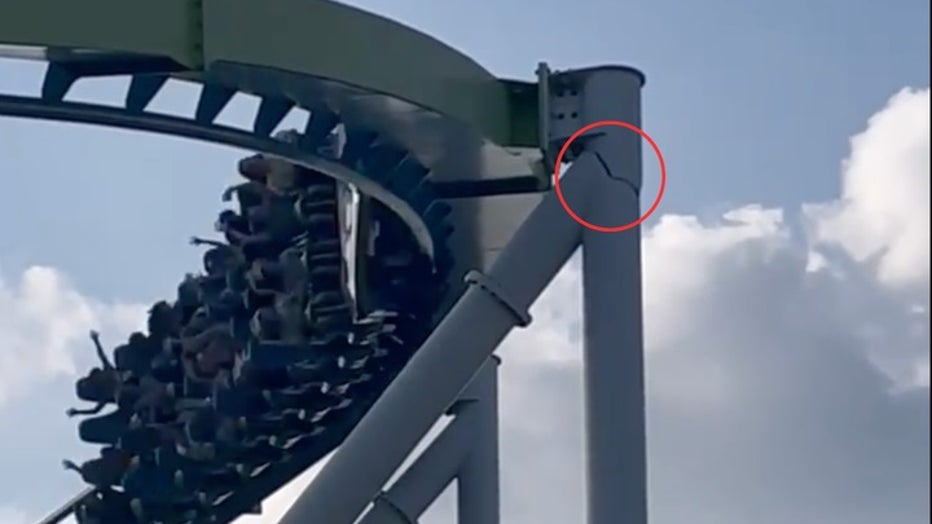 Jeremy Wagner discovered the crack on Carowinds Fury 325 giga roller coaster and notified officials at the amusement park, who temporarily closed down the ride. (Credit: Jeremy Wagner) 
Park staff closed Fury 325 on June 30 after a visitor reported the crack. North Carolina Labor Commissioner Josh Dobson told The Associated Press last month that the crack had been visible for at least a week before the ride was shut down.
The Department of Labor's Amusement Device Bureau, which is responsible for performing a final inspection and issuing the ride's certificate of operation, did not respond to phone messages seeking comment on the status of its investigation.
READ MORE: Ohio amusement park guests evacuate 205-foot-tall roller coaster, forced to walk down
Charlotte-based Carowinds announced Thursday that it reopened Fury 325 after replacing the broken column and completing a rigorous testing process. Crews installed a new steel column made by Switzerland-based Bolliger & Mabillard, the ride manufacturer, and conducted an accelerometer test, which uses sensors to measure the vibration of a structure.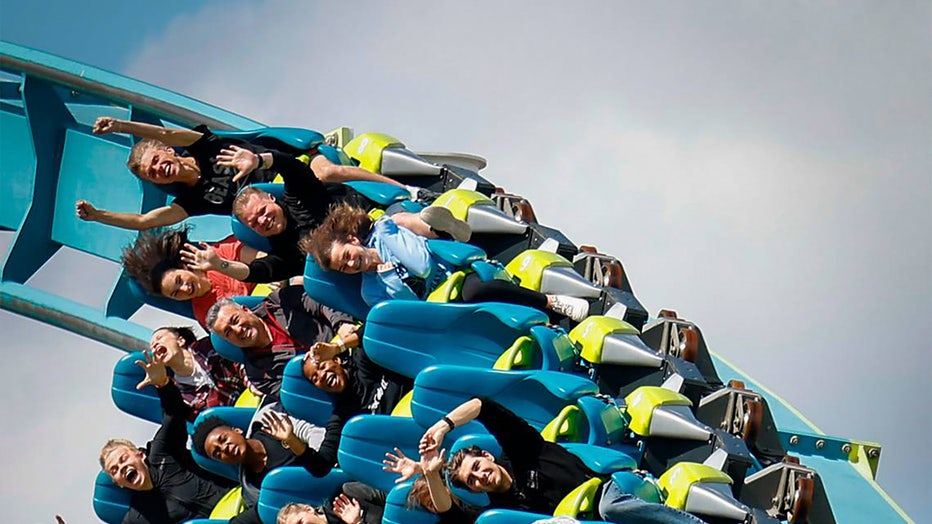 Riders make a turn on Fury 325 at Carowinds in Charlotte, North Carolina, on April 8, 2022. The ride has been closed since a crack formed in one of the support pillars.
They then operated the ride for more than 500 full cycles while performing tests and inspections to ensure the ride's safety. Bolliger & Mabillard and a third-party testing firm conducted a final inspection, and the state Amusement Device Bureau performed one of its own before approving the ride's reopening, according to Carowinds.