Capitol riot prompts acting chief to call for permanent fencing, backup forces
WASHINGTON (FOX 5 DC) - The Capitol riot prompted unprecedented efforts by law enforcement and the military to protect D.C. ahead of President Joe Biden's inauguration, and now the acting Capitol police chief wants some of those measures to become permanent.
Download the FOX 5 DC News App for Local Breaking News and Weather
Five people died during the attack on the U.S. Capitol – including one Capitol police officer – after police were rapidly overwhelmed by the mob.
The incident prompted the arrival of more than 20,000 National Guard members from a number of states, who erected fencing and other protective structures around the Capitol and other government buildings ahead of the inauguration.
READ MORE: FBI releases details about new arrests made for involvement in U.S. Capitol attack
This morning, a Fox News producer was there when U.S. Capitol Police arrested a man near the Capitol for trying to walk through a checkpoint.
Meanwhile, on Wednesday, a person was arrested near the Rayburn House Building with a black Sig Sauer handgun and 20 rounds of ammunition. 
Virginia Senator Tim Kaine tells FOX 5 the mood is tense.
"I'll be very candid with you – as I came into the building this morning, one of the Capitol Police officers followed me down the hall and just said, 'Senator, please be careful out there.' These are very challenging times. I hadn't heard about either of these recent arrests and it may be that's what the officer was alluding to," said Kaine.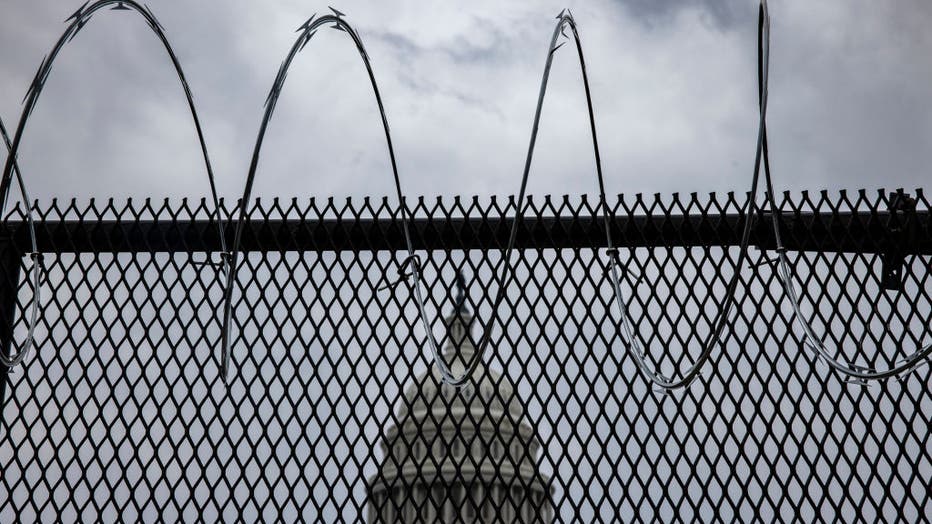 (Photo by Samuel Corum/Getty Images)
 Meanwhile, a Virginia man was one of three members of the "Oath Keepers" paramilitary organization – who've tried to recruit former military and police - for conspiring to obstruct Congress. 
The sustained threat against the Capitol, and lawmakers, is sparking questions on how long the National Guard and the steel fencing will stay around the Capitol grounds. 
Republican Senator Tom Cotton is calling for all Guard troops to leave D.C., but D.C.'s deputy mayor for public safety says that decision will be rooted in the security situation by security officials.
"We still have fencing that's around Lafayette Park, as well as Capitol Hill, and I know they're looking at that right now – and we're trying to determine what's the adequate posture to... we're in conversations about that," said Deputy Mayor Chris Geldart.
READ MORE: Capitol Police chief apologizes for failing to prepare for US Capitol riot
Facing a possible "no confidence" vote by the US Capitol Police union, Acting Chief Yogananda Pittman issued a statement defending her actions since the January 6 riots:
"In light of recent events, I can unequivocally say that vast improvements to the physical security infrastructure must be made to include permanent fencing, and the availability of ready, back-up forces in close proximity to the Capitol. 
"I look forward to working with Congress on identifying the security improvements necessary to ensure the safety and security of the Congress and the U.S. Capitol."
She made the statement following a security assessment of the "entire complex" conducted by Capitol police.
Pittman noted that similar assessments were made following the events of Sept. 11, 2001.