FBI releases details about new arrests made for involvement in U.S. Capitol attack
WASHINGTON (FOX 5 DC) - The enormous investigation into the deadly attack at the U.S. Capitol continues to grow.
So far, the FBI has opened more than 400 cases – 150 of them being federal. The agency is also looking closely at evidence related to sedition charges, which would result in 20 years in prison.
Investigators say they are working tirelessly to find everyone involved in the insurrection. The FBI is releasing new posters weekly of the suspects they want to hold accountable.
READ MORE: National Guard troops testing positive for COVID-19 claim they are not receiving appropriate medical attention
Nearly three weeks after the assault, which left five dead, at least 135 people have been arrested, and Acting U.S. Attorney Michael Sherwin said the numbers are "growing by the hour."
Sherwin said there are 150 federal cases and 50 D.C. Superior Court cases, totaling almost 200 cases they have either announced or are under seal.
The FBI is looking for not only those who breached the Capitol but also those who assaulted law enforcement officers, members of the media, and committed other heinous crimes.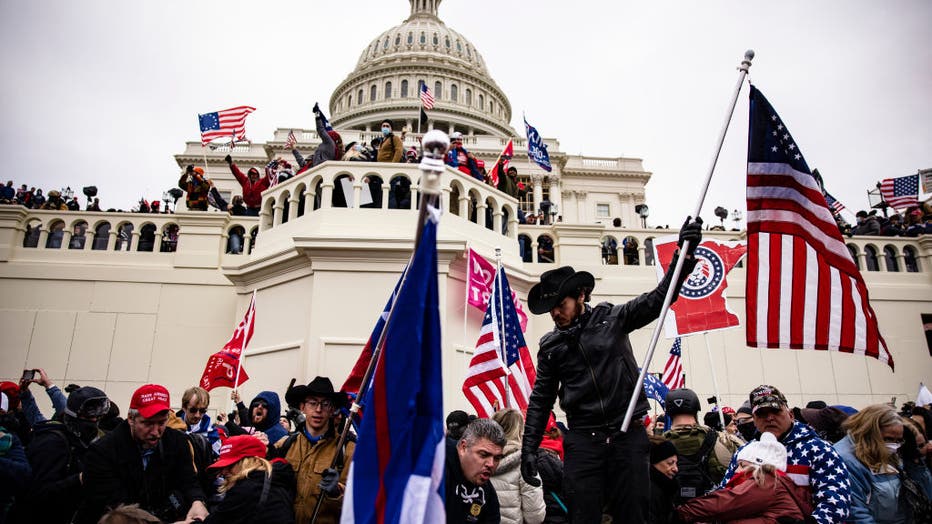 Pro-Trump supporters storm the U.S. Capitol following a rally with President Donald Trump on January 6, 2021 in Washington, DC. (Photo by Samuel Corum/Getty Images)
READ MORE: Pennsylvania woman accused of Pelosi laptop theft during Capitol riot banned from Internet
One of their most recent arrests was 22-year-old Riley Williams. She is accused of stealing a laptop from House Speaker Nancy Pelosi's office.
Court documents reveal Williams posted a 32-minute video of the incident on YouTube and called it: "Storming the Capitol: The Inside Story." 
Federal prosecutors claimed Williams told her ex-boyfriend she would sell it to someone in Russia who would then send it to the Foreign Intelligence Service. 
Williams is currently under supervision.
Another recent arrest by the FBI was 23-year-old Gracyn Dawn, a senior at the University of Kentucky. She was charged for stealing government property under $1,000 and disorderly conduct on Capitol grounds.
An Instagram user screenshot their messages with her, where Dawn said, "I walked into the chamber - it's history - I don't care - I thought it was cool."
Download the FOX 5 DC News App for Local Breaking News and Weather
Assistant FBI Director Steven D'Antuono said the agency needs help identifying the suspect or suspect responsible for planting pipe bombs at the headquarters of the Republican and Democratic national committees. A $75,000 reward is being offered for anyone who has information leading to an arrest and conviction. D'Antuono describes it as a "top priority."
"The components of the bomb made it a viable device," he explained.
The FBI has received more than 200,000 tips so far which includes pictures and videos. The agency is encouraging the public to keep them coming. Anyone with information should call 1-800-CALL-FBI or visit: fbi.gov/tips
"Some of you have recognized that this was such an egregious incident that you've turned in your own friends and family members. We know that those decisions are often painful, but you pick up the phone because it was the right thing to do," he said. "We are grateful you made that choice. America is grateful you made that choice."