Capitol Hill man fends off armed dognappers
WASHINGTON - D.C. police said armed thieves attempted to steal a man's dogs while he was walking them near Capitol Hill.
It happened Tuesday night at about 9:30 when Will McGinnis said three people jumped out of a parked car, held up a gun, and demanded his two French bulldogs, Harry and Godiva. 
Surveillance footage captured Will McGinnis walking his two French bulldogs, and three armed thieves approaching him. 
McGinnis refused, instead screaming and holding up a knife. Security footage showed the assailants eventually running back to their car without the dogs.
"It seems to me that there's a lot of individuals that don't really care who they hurt and that to me is really disheartening," McGinnis told FOX 5 Friday.
He would know – because he's dealt with dog thieves before.
Almost exactly two years ago, McGinnis' French bulldog named Alfred was stolen, as well. It happened in Capitol Heights when armed gunmen took the puppy from McGinnis' mom.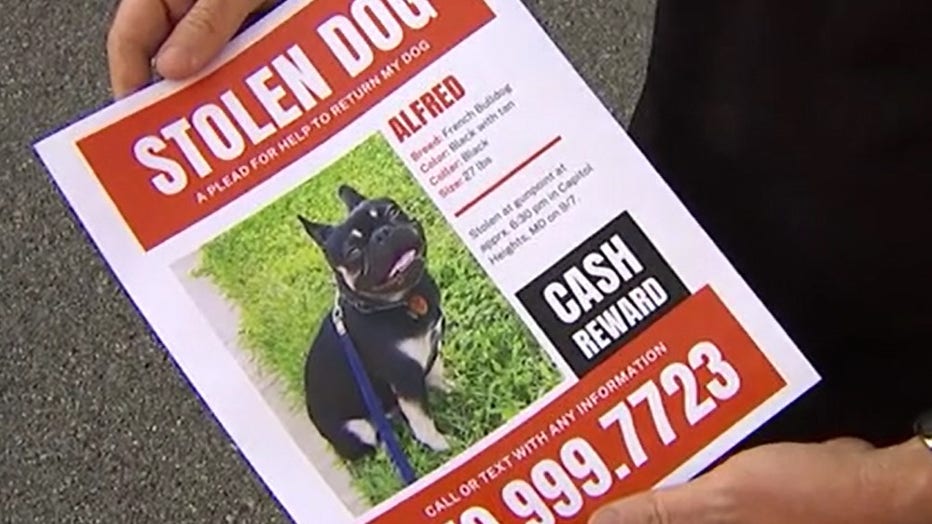 All this time later, Alfred has yet to be found.
"It's kind of crazy that it almost happened again," McGinnis said.
Now, he is warning other dog owners to be alert. He'd like to see more security cameras posted in neighborhoods, too.
"I thought no one is going to come up to me," he explained. "I'm bigger. I'm in shape. That was a very naïve thought, unfortunately."
As of Friday evening, it did not appear as though police had made any arrests in this latest case.