Bud Light sales fall further, Modelo extends lead as best-selling US beer
Bud Light's chances of regaining its title as the top-selling beer in the U.S. continue to fall as the troubled Anheuser-Busch InBev brand's sales tumble while newly crowned leader Modelo Especial is still surging.
The two brands have been on opposite trajectories for months after Bud Light's controversial partnership with transgender activist Dylan Mulvaney led to a boycott of the brand and its parent company, resulting in double-digit declines in sales.
The latest NielsenIQ data provided to FOX Business by Bump Williams Consulting shows Bud Light sales in off-premise locations such as grocery stores and gas stations were down 15.9% on a dollar basis and down 20.1% on a volume basis year to date as of Aug. 19.
Modelo, brewed by Constellation Brands, was up 10.3% in sales and 9.6% in volume. As of the latest data, Modelo holds an 8.4% share of total beer sales in the U.S. so far in 2023, while Bud Light is at 8.2%.
CEO BOYCOTTING WOKE BEER CREATES BRAND THAT SUPPORTS 'AMERICAN VALUES': WE 'BLEW UP OVERNIGHT'
Bump Williams' analysis said Modelo toppled Bud Light as the best-selling beer in large part thanks to sales in convenience stores, and noted that "the slides continue as Modelo continues to pad its lead across all off-premise outlets combined."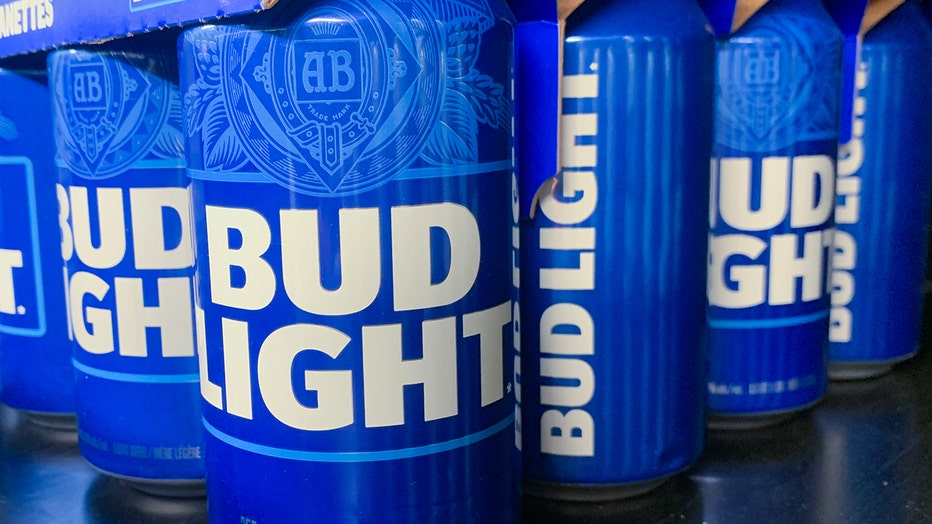 Bud Light cans are seen in the store in Montreal, Canada on June 16, 2023. (Credit: Jakub Porzycki/NurPhoto via Getty Images)
Total beer sales in the U.S. were up 2.2% in dollar sales for the week ending Aug. 19, but three brands saw double-digit increases in both sales and volume: Miller Lite was up 18.5% in sales and 12.3% in volume, Coors Light was up 21.6% in sales and 15.7% in volume, and Yuengling Lager was up 19.7% in sales and 15.6% in volume.
Bud Light sales for the single week were down 26.8% on a dollar basis and 30.3% by volume, while fellow Anheuser-Busch brand Budweiser suffered – to a lesser degree – with dollar sales down 10.5% and volume sales down 14.4%.
The backlash against Bud Light and Anheuser-Busch InBev started in early April, not long after the company created and sent custom beer cans to Mulvaney to mark "365 days of girlhood." That move and comments from Bud Light's marketing vice president at the time sparked calls for beer drinkers to shun the brand, and sales have taken a clear hit.
Anheuser-Busch InBev reported earlier this month a steep drop in profits as a result of the boycott. The company announced that its U.S. revenue dropped 10.5% in the second quarter, while its earnings before taxes, interest and depreciation fell 28.2%.