Bond hearing held for first suspect in Virginia gun store burglary
A judge decided Friday that a Prince George's County man will remain behind bars in Fairfax County for allegedly helping three other people steal over 50 guns from a store in Springfield. 
According to prosecutors, 11 of those guns were found in the home where police arrested Cedric Minger. 
On April 29, four men were able to slip through a very narrow opening in the steel bars at Dominion Defense in Springfield. The 20-year-old is the first person arrested in the robbery.
At the bond hearing Friday morning, Fairfax Commonwealth's Attorney Steve Descano said one of the guns Minger is accused of stealing wound up inside a D.C. school.        
Descano mentioned that a student got a hold of one of the stolen guns, and allegedly tried to fire it at another student, but it wasn't loaded.
The Commonwealth's Attorney wasn't specific about when or where this happened.
D.C. police, D.C. Public Schools, and the charter school system all requested more information when FOX 5 asked for it.     
"What we know is it was a D.C. school and that's the report it had," Descano said. "What you have is as specific as we're going to be able to get at this point."
Minger's defense attorney declined to comment to FOX 5 Friday.
FOX 5 spoke with a few other defense attorneys about this. Some say they always wish they had more specifics at bond hearings for their clients.
Kush Arora counts himself among those attorneys but also says prosecutors are officers of the court and make honest representations of their case based on information available. He stressed that bond hearings are preliminary.
Arora says the fact that juveniles are involved in this case is important, even if this was an alleged incident inside a school that isn't being revealed publicly.
"Because it involves juveniles, there's an interest in protecting them that the court has. They're considered vulnerable members of the community, and because of that, often information about those investigations is kept very close to the chest," Arora explained. "It is not something that is presented in open court very often."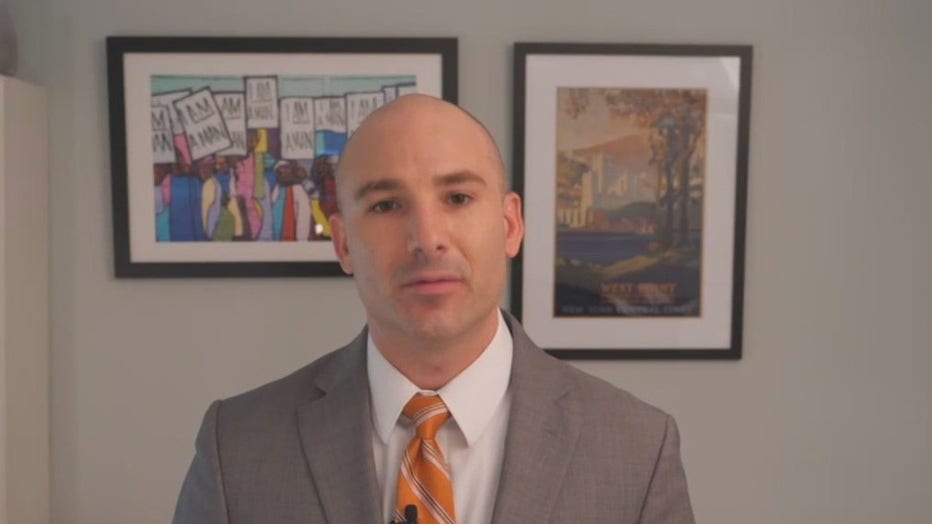 Fairfax Commonwealth's Attorney Steve Descano
The Commonwealth's Attorney told FOX 5 that he's focused on doing what he can to take guns off the streets, and is particularly concerned that many of the guns stolen n this case were rifles.
Descano said there's a great concern anytime there's a large theft of guns, and his office is working continually to address community concerns about gun violence.
"I know that many, many people in our community are concerned about gun violence," he said. "Today is, of course, Gun Violence Prevention Day. And I think it's incumbent upon many of us to continue to fight this scourge of gun violence … Talk about it, and do whatever we can to keep our communities safe."
The search continues for three other suspects involved in the robbery.