Body of Jeffrey 'JV' Vandergrift, popular San Francisco radio host, found
SAN FRANCISCO - A body found at Pier 39 in San Francisco late Wednesday has been identified by the medical examiner as popular radio host Jeffrey Vandergrift, 55 – and the news sent shock waves through the Bay Area. 
He was known to his fans at Wild 94.9 as "JV" and was the host of his own radio show, called The JV Show. 
He built a powerhouse morning show and shared with his audience his personal health struggles dating back to 2021. He was eventually diagnosed with Lyme disease.
He had spoken publicly about the effects the disease has had on his body, suffering continued ailments like "brain fog," dizziness, migraines and blurred vision.
MORE: Jeffery Vandergrift missing: timeline of search for Wild 94.9's 'JV'
He was last seen on Feb. 23 at his Mission Bay home in San Francisco, prompting a region-wide search for him. 
Earlier this month, his wife, Natashi Yi, told the public she did not believe her husband was coming back.
She also thanked listeners for their love and support.
"I want to let you know that personal information has recently been discovered that leads us to believe JV will not be coming back," said Yi in a statement shared by Wild 94.9. at the time. "I tell you this with incredible pain and sadness in my heart." 
News of his death spread quickly on the internet and by word of mouth.
"His is a huge loss to the Bay," Marylou Parnala wrote on Facebook.  "We all grew up listening to JV. I'll never forget the hilarious prank call he did on my BD years ago."
Another fan said he found out about JV's death on the radio. "I was like, 'Oh, let's take some time off work and come out here and share my love for JV," said Oscar Cardona. 
Cardona said he discovered JV after he moved from Texas to the Bay Area a few years ago. He said he will never forget the way the JV Show felt like a welcome to the Bay Area. 
"We were all, always there with him and everyone from the Bay Area that loved him throughout the years," said Cardona. "I only got to experience him for three years. There's people that got to experience him for more than 20, right? But, he made an impact on me."
Outside iHeart Radio in San Francisco, fans came to place flowers and signs that read "We love you JV" and "Thank you for everything." 
Inside, Vandergrift's co-hosts updated listeners with the news that his body had been found, adding to the sorrow they had already been enduring since his disappearance a month ago.
The company tweeted a statement that they are devastated to know JV is gone and they asked that the public keep his wife and his family and friends and their thoughts and prayers. 
How he died was not immediately revealed. 
But Vandergrift had spoken publicly about dealing with ideations of self-harm in the past, especially when discussing how he was dealing with Lyme disease. 
"How sad," Chelsea Ferreira wrote. "Grateful his family gets closure but my goodness. What a tragedy. Anyone reading this, you're not alone. I know life can be hard but please don't lose hope and reach out to those around you."
Police said at the time of his disappearance, that Vandergrift was "at risk" and that there were no indications that foul play was a factor in his death. 
KTVU's Christien Kafton contributed to this story.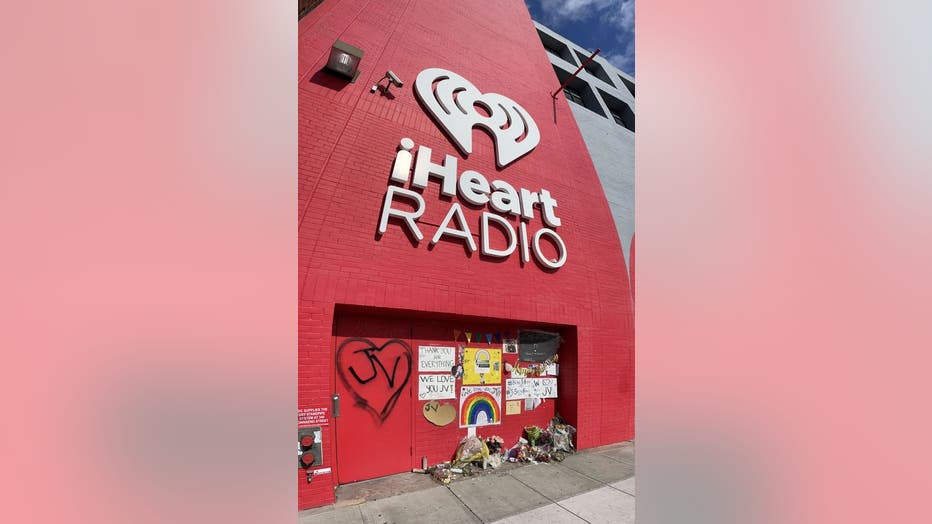 A memorial for Jeffrey Vandergrift is growing outside the building where he worked as a DJ for radio station Wild 94.9. March 23, 2023
NEED HELP?: If you or someone you know is struggling with difficult life circumstances or uncomfortable thoughts and emotions call 988 to reach the Suicide and Crisis Lifeline. You do not need to be experiencing suicidal thoughts or feelings to call. Trained crisis intervention counselors are available to receive crisis calls and give supportive counseling 24 hours a day, every day. Translation is available in more than 140 languages.