Black-owned Virginia landscape company chosen to revitalize site where Robert E. Lee statue once stood
The symbolism of the moment and the task ahead of him is not lost on Earl Gary.
"I think it's very unique, the odds of me getting in a position like this," Gary said. "I'm really grateful to be given this opportunity to perform with all of the history that comes with it."
Gary's YME Landscape, a Black-owned Richmond company, has been chosen to revitalize the circle on Monument and North Allen avenues where the Robert E. Lee statue once stood. His company's involvement in the project marks another symbol in the lessening of the city's Confederate presence with a Black crew working to reimagine the space once inhabited by the general.
The controversial bronze statue was taken down in 2021, after activists called for its removal in the wake of George Floyd's murder. The empty pedestal was leveled in February 2022. The statue was transferred to the Black History Museum & Cultural Center of Virginia.
YME and the Department of Public Works recently began site work at the circle. The plan calls for the grounds of the former monument to be spruced up with 6,000 plants and 28 trees.
"I've been doing landscaping for a long time, but I don't think I had too many jobs where I had to plant 6,000 plants," Gary said.
The city approved the temporary landscaping plan in September to revitalize the empty space until a long-term solution is reached.
Prior to starting YME in 2007, Gary, 47, had an engineering background, graduating with an electrical engineering technology degree from Old Dominion and working on industrial projects and energy audits for such places as UPS, Courtyard by Marriott and the Minnesota Air National Guard.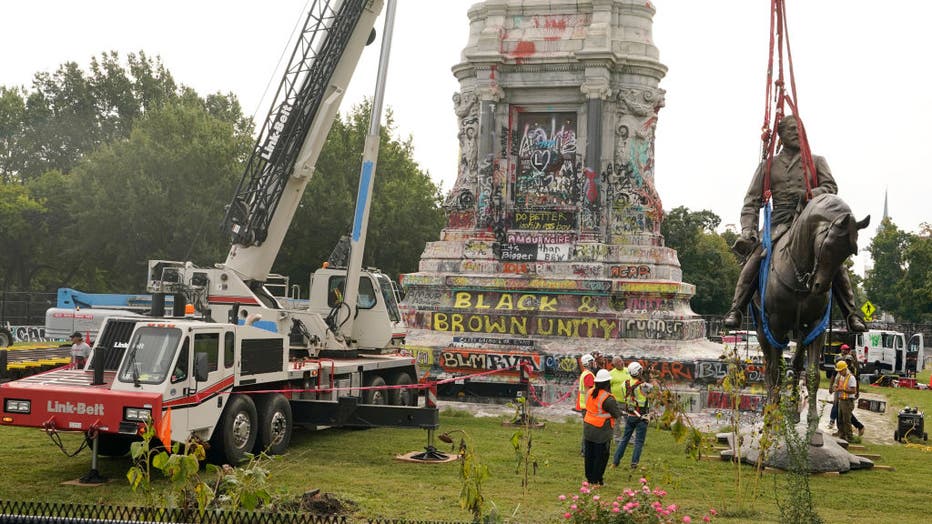 RICHMOND, VIRGINIA - SEPTEMBER 08: Crews remove a statue of Confederate General Robert E. Lee on Monument Avenue, September 8, 2021 in Richmond, Virginia. The Commonwealth of Virginia is removing the largest Confederate statue remaining in the U.S. f
But Gary wanted to start his own firm due to the uphill climb of finding job opportunities and receiving promotions.
A lot of times when I was working in engineering, I was pretty much the only minority working there," he said. "I learned really quickly, 'Am I ever going to get that junior executive position or senior executive position?' I'm not saying I couldn't, but the landscape didn't look the same to me as someone that's not in the minority."
Gary saw similar things with his grandfather and father while growing up in Richmond, as they worked at Allied Signal and Honeywell, former names of what is now AdvanSix. They were often the only minorities on their teams.
After Gary met a Black electrical engineer who worked with his dad, he gained interest in doing that line of work. Gary also developed a vision of creating space for more minority engineers.
"I got to see that lineage, and I'm like, 'Well, I'm gonna take what I saw and maybe try to transfer it a little bit differently in this generation,'" he said. "Instead of me being that only minority in that function, maybe I can create a minority function."
Gary established YME partly due to his interest in landscaping, but also as a way to raise money to further his engineering career.
"My granddad, he always worked on lawnmowers, stuff like that, so I knew how to cut grass," Gary said. "I just figured if I can get enough landscaping work, I probably can build my own engineering firm."
Gary eventually got his own firm, founding Fulcrum Engineering Solutions more than six years ago. The company's civil engineers prepare sites for construction and development.
Gary said it's important to have more Black and minority-owned businesses, particularly in cities like Richmond that are majority-minority.
"I think it's really important," he said. "I think a lot of the Black-owned businesses we do have, it takes awhile for them to be more of a corporation. I don't want to say they're all sole proprietors, but they often end up being the main person working the entire time until they get to retirement; if somebody doesn't take it over, then it's one-dimensional."
As YME begins the early stages of working on the landscaping plan, Gary hopes the work will be completed by mid-to late July.
Second District City Council member Katherine Jordan said the fencing and barriers surrounding the former Lee Circle will not be removed until the project is completed to ensure staff safety.
Brothers Alfred Brown Jr. and Alex Brown are working at YME for the summer while attending Virginia Commonwealth University and Old Dominion University, respectively. Both say the project is a good opportunity to create a nice visual space for Richmonders.
"It's nice to be able to turn it into something everyone can enjoy," Alfred Brown Jr. said. "It won't be just patch and dirt when we're done. We're just happy to help out with changing the city environment."
The Associated Press contributed to this report.