Biden admin cancels $39B in student loan debt for 800,000-plus borrowers
WASHINGTON - More than 804,000 student loan borrowers will have their student debts discharged, the Biden administration announced Friday.
According to a news release from the U.S. Department of Education, $39 billion worth of student loans will be automatically canceled in coming weeks.
READ MORE: 'SAVE' plan: What to know about Biden's alternate approach to cut student loan debt
The administration says it's an effort to address "historical inaccuracies" in counting payments that qualify toward income-driven repayment plans.
"For far too long, borrowers fell through the cracks of a broken system that failed to keep accurate track of their progress towards forgiveness," U.S. Secretary of Education Miguel Cardona said in a statement. "By fixing past administrative failures, we are ensuring everyone gets the forgiveness they deserve, just as we have done for public servants, students who were cheated by their colleges, and borrowers with permanent disabilities, including veterans."
READ MORE: Retailers, beware: US economy could take hit with student loan payments resuming
Student loan payments have been paused since the pandemic started in 2020, but they're set to resume in October. The Biden administration's $400 billion plan to reduce or cancel student loan debt for millions of Americans was struck down by the Supreme Court in June. 
What is an income-driven repayment plan?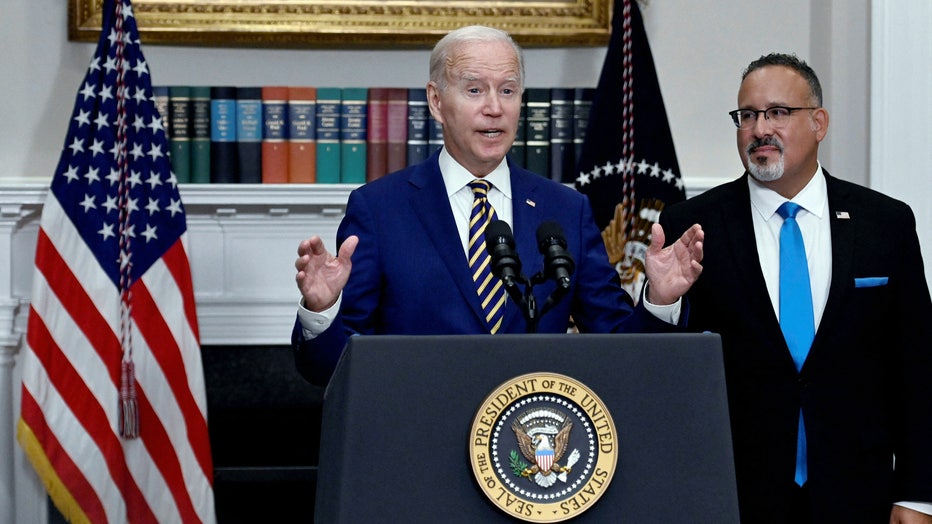 US President Joe Biden announces student loan relief with Education Secretary Miguel Cardona (R) on August 24, 2022 in the Roosevelt Room of the White House in Washington, DC. (Photo by OLIVIER DOULIERY/AFP via Getty Images)
The U.S. Education Department offers several plans for repaying federal student loans. Under the standard plan, borrowers are charged a fixed monthly amount that ensures all their debt will be repaid after 10 years. But if borrowers have difficulty paying that amount, they can enroll in one of four plans that offer lower monthly payments based on income and family size. Those are known as income-driven repayment plans.
Income-driven options have been offered for years and generally cap monthly payments at 10% of a borrower's discretionary income. If a borrower's earnings are low enough, their bill is reduced to $0. And after 20 or 25 years, any remaining debt gets erased.
READ MORE: Student loan scam attempts likely to rise after SCOTUS decision: FTC
According to the Biden administration, inaccurate payment counts have resulted in borrowers losing "hard-earned progress" toward loan forgiveness. Officials said this week's announcement also addresses loan servicers that put borrowers into forbearance "in violation of department rules."
The 804,000 borrowers whose loan debts are being erased will be notified over the next three weeks. 
What is the SAVE plan for student loans? 
Starting this summer, millions of Americans with student loans will be able to enroll in a new repayment plan that offers some of the most lenient terms ever.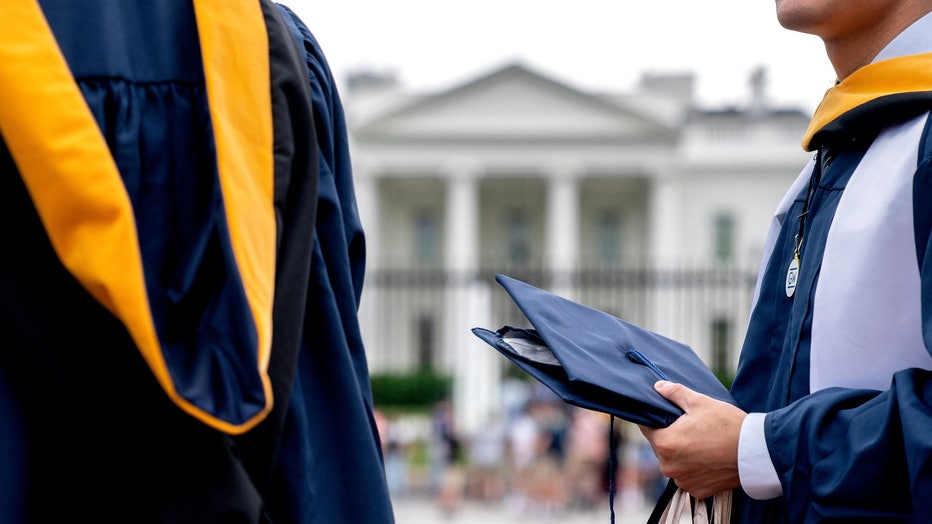 Students from George Washington University wear their graduation gowns outside of the White House in Washington, DC, on May 18, 2022. (Photo by STEFANI REYNOLDS/AFP via Getty Images)
As part of his debt relief plan announced last year, Biden said his Education Department would create a new income-driven repayment plan that lowers payments even further. It became known as the SAVE Plan, and it's generally intended to replace existing income-driven plans. It didn't start getting attention until the Supreme Court struck down Biden's student loan cancelation plan. 
Borrowers will be able to apply later this summer, but some of the changes will be phased in over time.
Right away, more people will be eligible for $0 payments. The new plan won't require borrowers to make payments if they earn less than 225% of the federal poverty line — $32,800 a year for a single person. The cutoff for current plans, by contrast, is 150% of the poverty line, or $22,000 a year for a single person.
Another immediate change aims to prevent interest from snowballing.
READ MORE: Biden offers alternative student debt relief plan following Supreme Court ruling
As long as borrowers make their monthly payments, their overall balance won't increase. Once they cover their adjusted monthly payment — even if it's $0 — any remaining interest will be waived.
Other major changes will take effect in July 2024.
Most notably, payments on undergraduate loans will be capped at 5% of discretionary income, down from 10% now. Those with graduate and undergraduate loans will pay between 5% and 10%, depending on their original loan balance. For millions of Americans, monthly payments could be reduced by half.
Next July will also bring a quicker road to loan forgiveness. Starting then, borrowers with initial balances of $12,000 or less will get the remainder of their loans canceled after 10 years of payments. For each $1,000 borrowed beyond that, the cancellation will come after an additional year of payments.
For example, a borrower with an original balance of $14,000 would get all remaining debt cleared after 12 years. Payments made before 2024 will count toward forgiveness.
The Associated Press contributed to this report.