Artechouse's new art exhibit 'Kingdom of Colors' reigns over Southwest DC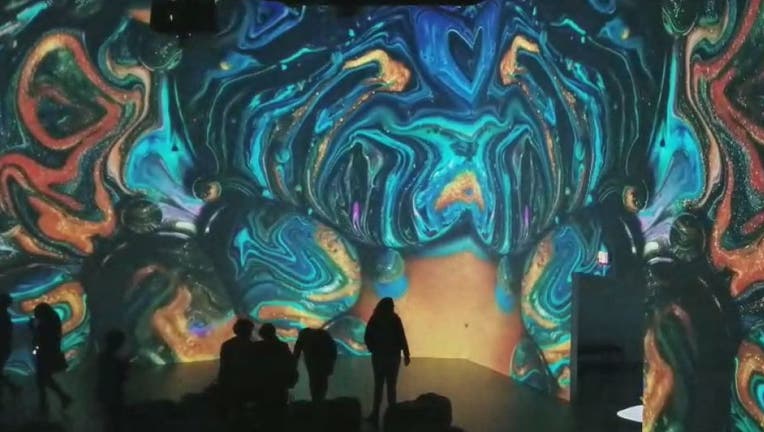 article
WASHINGTON - Artechouse's newest installation sends you into a euphoric state with its dreamlike interacting colors and it's easy to see why.
In the gallery's third and newest display, Kingdom of Colors, patrons are immersed into 270 degrees of bursting paint bombs, swirling colors and flowers and shapes of varied design, all set to an instrumental that allows the viewer to enter a dreamlike state of imagination and emotion.
Projected on the walls, the alluring 15 minute video loop of a masterpiece-- created by French filmmaker Thomas Blanchard and artist Oilhack-- romantically sways to the sounds of Lyon-based composer Leonardo Villiger.
Completely designed by hand, the artists achieved the psychedelic effect by injecting paint into glass containers and mixing it with various liquids, like grape seed oil and soap, to create bubbles and explosive visuals in every shade.
Blanchard told FOX 5 his inspiration was, in part, the film 2001: A Space Odyssey - using color and sound associated with emotions.
He, of course, was pleased to be featured in the latest Apple commercial for the iPhone X. But the ad did not put Blanchard on the map. His first project was a "pleasant video to help people escape," he says. And that certainly seems to be the running theme in Kingdom of Colors.
If you venture to the back of the gallery, there is a room that offers visitors a chance to be a deejay of sorts, using a musical and graphical instrument, the Space Palette - an invention by Silicon Valley tech guy and musician Tim Thompson. The structure allows guests to play music and paint visuals by waving hands through holes in the wooden frame in real time.
Throw in the bar's augmented reality cocktails - vibrant mixed drinks that mimic the art and activate with ARTECHOUSE's phone app - once again, they've colored us impressed.
The enchanting exhibit, which requires a ticket purchase, will be on view from November 10 through November 26. Only two short weeks!