American University students protest student dragged out of own apartment by police
WASHINGTON (FOX 5 DC) - Dozens of American University students protested Monday outside a disciplinary hearing for a student captured on video as officers dragged her out of her apartment last month.
Sources tell FOX 5 the detainment never resulted in any criminal charges and was solely a student code of conduct issue. The hearing ended with a not guilty finding and the student's month-long suspension overturned, according to sources with knowledge of the hearing.
The university's student newspaper The Eagle reported more than 100 people attended the protest. The story was first reported by The Eagle, and also a student investigative publication, AWOL.
Students told FOX 5 they believed police used excessive force to remove the student from her off-campus apartment on September 27. The Eagle identified the student as a junior named Gianna, although FOX 5 is not using her full name.
The protesters chanted "Hands off Gianna," and say even though the hearing had the outcome they were seeking, they plan to continue to make demands of the university regarding the incident.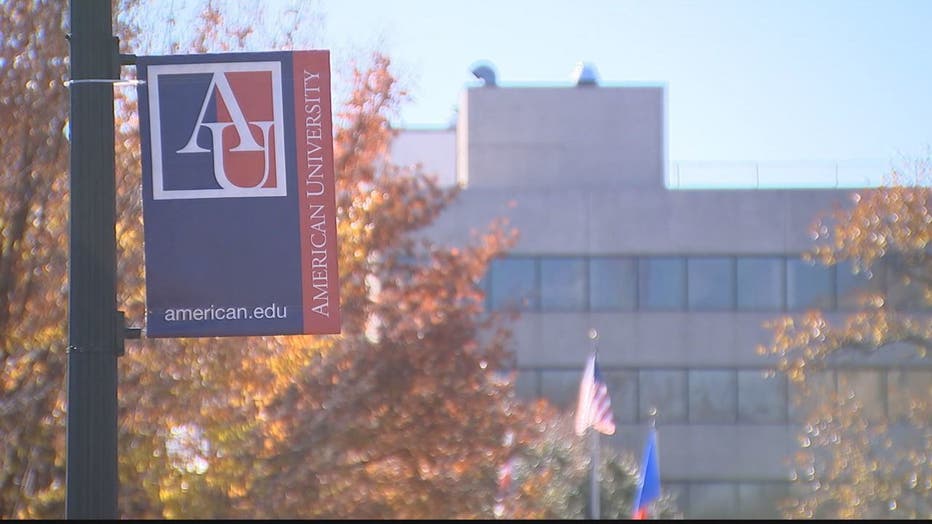 "It was super important that we stood up for Gianna today only because one that could have been any one of us or any student at AU and two black students are being tired of being mistreated at AU," said junior Michelle Emenonye.
Emenonye was referencing past incidents involving racism on campus, including bananas hanging from nooses on campus and a white student using the N-word on social media earlier in the year.
American University said it could not provide specifics about what led up to the most recent incident, but in a statement pointed out housing officials were also at the scene with police. A statement released last month after the video surfaced says the officers involved used de-escalation techniques.
"As a University, we are focused on the safety and welfare of all of our students. Our emergency response to members of the AU community is a collaborative effort between AUPD, the Office of Campus Life, the AU Counseling Center, and others to ensure a comprehensive effort that de-escalates a situation, prioritizes safety and provides the support required."
The student involved in the video did not respond to FOX 5's messages seeking comment.