Air pollution from wildfires linked to dementia cases, study says
Exposure to a type of air pollution caused by wildfires and agriculture could be a risk factor for dementia, a new study concludes.
According to the National Institutes of Health, researchers aren't exactly sure why fine particulate matter pollution, or PM2.5, has been linked to the increased risk of dementia, but they do know that fine particulates can affect the lungs, circulate in the blood and move into the brain, "where they might be able to cause direct damage."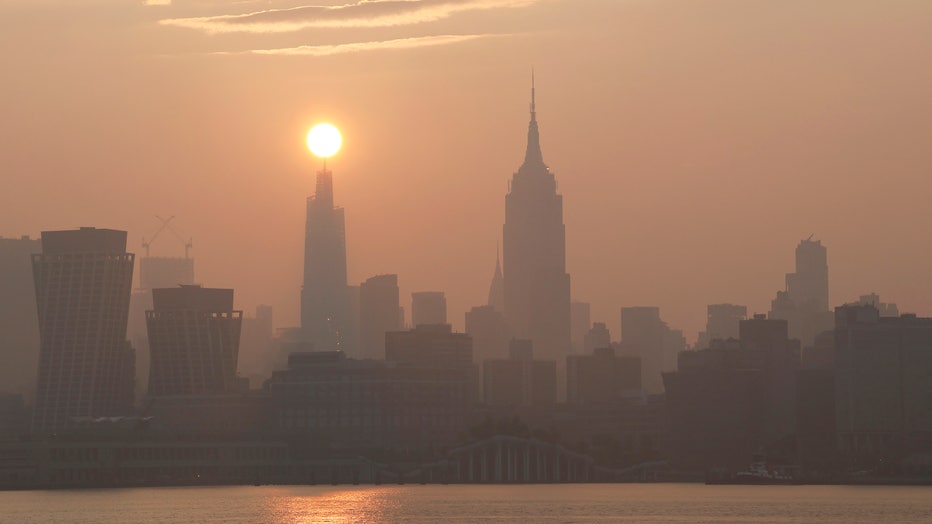 The sun rises behind One Vanderbilt and the Empire State Building on a hazy morning in New York City on July 20, 2023, as seen from Hoboken, New Jersey. (Photo by Gary Hershorn/Getty Images)
Particulate pollution comes from several sources, not just wildfires, but the study identified particulate pollution from wildfires and agriculture as the sources linked to dementia cases.
The NIH-funded study, led by researchers at the University of Michigan, looked at data from more than 27,000 adults aged 50 and older in the Health and Retirement Study, an ongoing national study of aging collected between 1992 and 2016. As part of the study, participants underwent cognitive testing every two years or had caretakers report on their memory and cognitive function.
READ MORE: NASA releases first images from pollution-monitoring satellite in space
The researchers estimated pollution exposures using models that included real-time pollution measurements and aspects of their homes like geography, land use and local emissions sources, the NIH said. They also looked at how other airborne pollutants, such as ozone, might skew the results.
"They also considered other factors that can influence dementia risk, including age, sex, race and ethnicity, education, and household wealth," the NIH said.
READ MORE: Study finds some pain medicines could soon be created from pine trees
Of the 4,105 of the people studied, 15% developed dementia during the follow-up period, researchers found. Those who did were more likely to be non-White, have less formal education, less money, and live in places with higher levels of particulate matter pollution.
"Overall, higher PM2.5 exposure was linked to an increased risk of dementia," the study concludes.
Researchers looked at nine types of particulate matter pollution – agriculture, road traffic, nonroad traffic, burning coal for energy, burning coal for industry, other energy production, other industry, wildfires, and windblown dust. They found agriculture and wildfires were specifically associated with an increased risk of dementia.
"The researchers estimated that, if PM2.5 exposure truly is a cause of cognitive decline and dementia, as many as 188,000 cases of dementia per year might be due to PM2.5," the NIH said. "Further study is needed to confirm these results and better understand if reducing specific types of PM2.5 pollution would help lower the burden of dementia in the population."
What is dementia?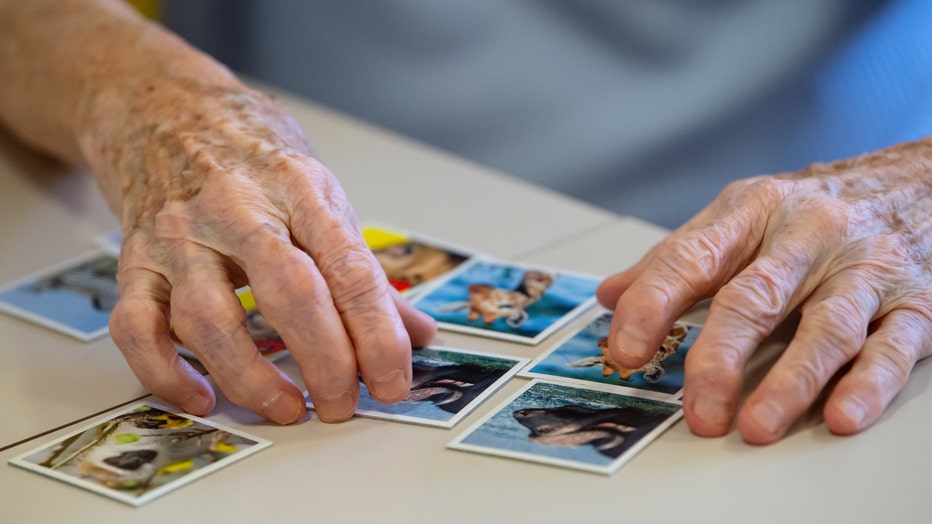 Nursing home resident plays memory card game (Photo by Sven Hoppe/picture alliance via Getty Images)
Dementia is not a specific disease, according to the Centers for Disease Control and Prevention. It's a general term for the loss of thinking, remembering and reasoning skills. The NIH says millions of Americans are living with dementia, and that number will likely get higher as the population ages.
READ MORE: Taking vitamin D could help prevent dementia, study suggests
Dementia is not a normal part of aging, though it mostly affects older adults. Alzheimer's disease is the most common type of dementia. 
What is particulate matter pollution?
Particulate matter pollution is made up of particles (tiny pieces) of solids or liquids that are in the air, according to the Environmental Protection Agency. Some particulate matter is emitted directly from a source – think construction sites, unpaved roads, fields, smokestacks or fires.
READ MORE: Drinking water from nearly half of US faucets contains PFAS, study says
Most particles form in the atmosphere as a result of complex reactions of chemicals like sulfur dioxide and nitrogen oxides, which are pollutants emitted from power plants, industries and automobiles, the EPA says.