AI public safety investment to increase to $71B by 2030 to 'predict crime, natural disasters': study
America's spending on artifical intelligence in public safety is projected to increase from $9.3 billion in 2022 to $71 billion by 2030, according to a new analysis by the Insight Partners research firm.
The projected seven-year boom is expected to be fueled by global and domestic terrorism, a growing need for security training and rising public safety demands coming out of the pandemic, the study says. 
"From emergency response to disaster prevention, AI has the potential to revolutionize the way we manage crises and protect our communities," according to the study.
"Through advanced algorithms, machine learning and predictive analytics, AI can help first responders and public safety officials make more informed decisions, respond more quickly to emergencies and even prevent disasters from occurring in the first place."
AI 'DEEPFAKES' OF INNOCENT IMAGES FUEL SPIKE IN SEXTORTION SCAMS, FBI WARNS
Many experts have frantically waved red flags about the damage AI tech could do in the wrong hands, some going as far as saying that it could destroy humanity.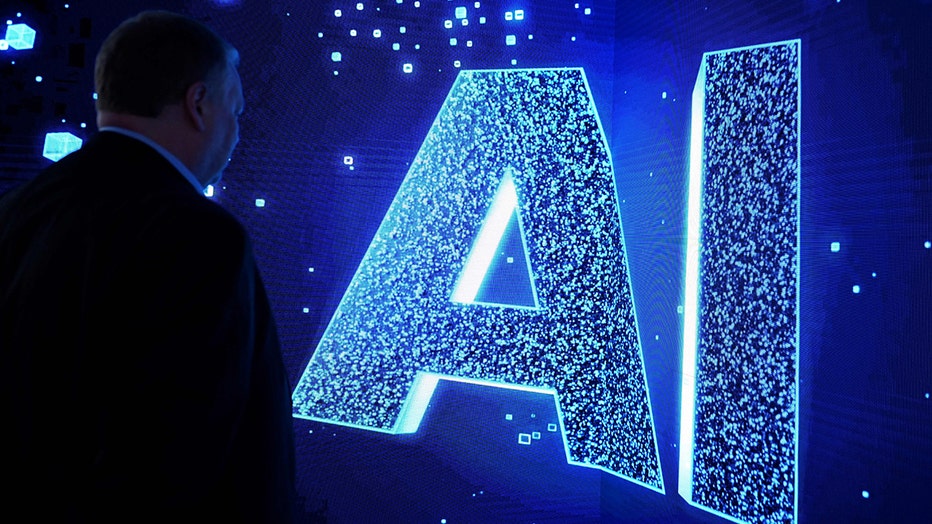 A visitor watches an AI (Artificial Intelligence) sign on an animated screen at the Mobile World Congress (MWC), the telecom industry's biggest annual gathering, in Barcelona. (Photo by Josep LAGO / AFP) (Photo by JOSEP LAGO/AFP via Getty Images)
Last week, Haywood Talcove, the CEO of LexisNexis Risk Solutions' government division, told Fox News Digital that he believes there will be more than $1 trillion in AI-assisted fraud in the next 12 months if the country doesn't take immediate action.
AI-ASSISTED FRAUD SCHEMES COULD COST TAXPAYERS $1 TRILLION IN JUST 1 YEAR, EXPERT SAYS
As alarming as his warning is, Talcove said in the same interview that there is a "silver lining."
"The same technology that empowers fraudsters can be harnessed to protect our systems," he said. "For example, multifactor authentication, combined with behavioral biometrics, offers a unique, sophisticated way to combat AI fraud that traditional methods can't match."
That's essentially what the analysis focuses on – the positive side of what AI can do in the field of public safety, which includes responding to everything from natural disasters to mass shootings.
"In a crisis, every second counts, and AI can help first responders respond faster and more efficiently," the study says. "For example, AI-powered drones can assess the damage caused by natural disasters, such as hurricanes or earthquakes and provide real-time information to emergency response teams."
WHO IS WATCHING YOU? AI CAN STALK UNSUSPECTING VICTIMS WITH 'EASE AND PRECISION': EXPERTS
That assessment is vital when allocating resources and prioritizing response efforts.
Powerful AI algorithms can even predict and prevent disasters by "analyzing vast amounts of data, such as weather patterns, geological activity, and infrastructure conditions, to identify potential risks and vulnerabilities," according to the study.
"Public safety officials can then use this information to implement preventative measures, such as strengthening infrastructure, evacuating residents or deploying resources before a disaster," according to the study. 
The researchers said AI-powered security cameras and video analytics can be used in preventive policing, criminal investigations, cold-case investigations and combating terrorism, among dozens of other uses.
WHAT ARE THE DANGERS OF AI? FIND OUT WHY PEOPLE ARE AFRAID OF ARTIFICIAL INTELLIGENCE
"Artificial intelligence enables organizations to address public safety concerns with innovative solutions," the report says.
"From strengthening airport security and fighting crime to predicting natural disasters and tracking dangerous viruses, artificial intelligence is one of the keys to improving public safety today."
Ed Davis, who was Boston's police commissioner during the 2013 Boston Marathon bombing, says this technology may have prevented the deadly terrorist attack by "learning from normal activity" to notify operators of "approaching threats and anomalies."
RELATED: ChatGPT officiates Colorado wedding for Army soldier and bride before deployment
"Since 2013, the government has made significant improvements in the realm of security measures, including cybersecurity, border security and emergency response planning," Davis told the Senate subcommittee hearing on emerging national security threats earlier this year.
"These improvements include more advanced technologies, more comprehensive planning and increased public education and awareness supported by many private-public relationships and innovative companies."