9-year-old boy in grave condition after fatal fire in Northwest DC, officials say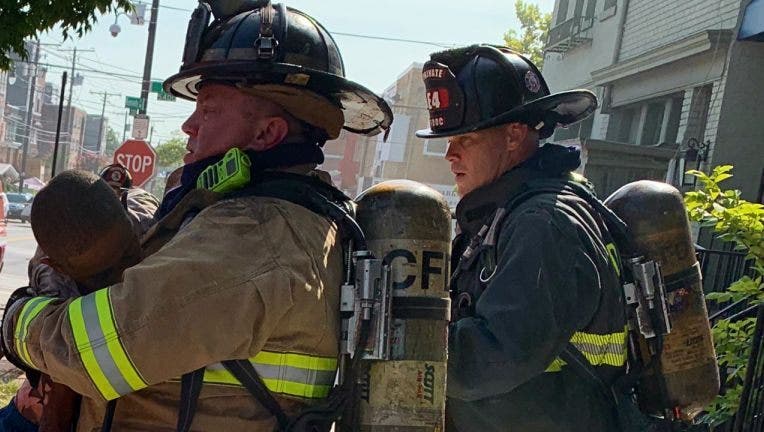 article
WASHINGTON (FOX 5 DC) - A 9-year-old boy remains in grave condition after a fatal fire Sunday morning at a Northwest Washington rowhouse. 
DC Fire and EMS officials say a box alarm was sounded at around 9:40 a.m. for a fire in the 700 block of Kennedy Street, NW, on August 18. 
When firefighters arrived at the scene, they saw smoke showing from all floors and the basement of the two-story home. 
During a search for victims, fire officials say firefighters had a hard time moving through the home due to the "cut-up layout of the interior, as well as security bars in unexpected locations, including behind inside doorways."
Firefighters located a man and the boy in the rear of the first floor. They were carried outside unconscious and not breathing. The man later succumbed to his injuries at a local hospital. 
Fire officials say a woman who fled the home before firefighters arrived at the scene was transported to the hospital with minor injuries.
Five other occupants of the home were displaced. 
Ernest Chrappah, the director of the Department of Consumer and Regulatory Affairs released a statement following the fire, saying, in part, that the home "was not licensed as a residential rental property." Read it in full below: 
"We are heartbroken about the loss of life, and extend our deepest sympathies to the victims' family and friends. The property where the fire took place was not licensed as a residential rental property. I'd like to take this moment to remind tenants in the District that landlords must follow specific fire safety requirements. If you are living in a rental property that is not following these critical safety requirements, please reach out to us —which you can do anonymously—so that we can hold your landlord responsible and ensure that you are living in a safe environment."