74-year-old man walks for miles in search of kidney donor for wife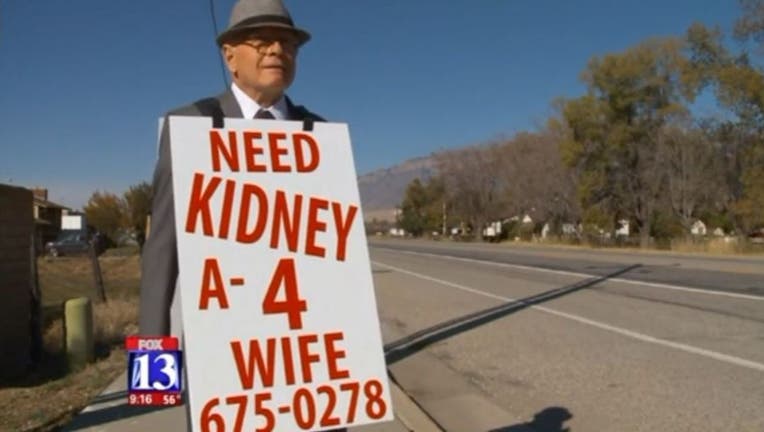 article
FOX NEWS - A 74-year-old man has taken to the streets in a desperate search to find a kidney donor for his wife. Every day, Wayne Winters puts on a sandwich board advertisement and walks for miles near his Farr West, Utah home.
"I don't walk real fast," he told Fox 13 Now.
Winters said he came up with the idea after his wife, Deanne, was diagnosed with stage 5 kidney failure and he was at a loss of how to help.
"I didn't know what to do," he told the news outlet. "I felt like I needed to do something."
He saw a similar story on the news about a man in search of an organ donor for his wife, and made his own sign before heading out. Nothing that rush hour is his favorite time to walk, Winters said that on his first day, a driver stopped to tell him he would get tested to see if he was a match.
"I say 'Deanne, I think we have a good chance of getting you a kidney,'" he told Fox 13 Now.
But until it's confirmed, Winters said he'll keep walking with his sign. One side of his board brings attention to his wife's case, but the reverse side notes the thousands of others who could benefit from organ donation.
"After I get a kidney I will have my wife back the way she was, normal, helping people, loving people," Winters told Fox 13 Now. "She likes to serve other people."
He said that even after Deanne finds a match, he plans to continue helping others search for their donor. To help Winters, call 801-675-0278.