$70K worth of shoes stolen from Hot Heat Sneakers in Largo
LARGO, Md. - Around 100 different businesses were hit by thieves within the same shopping plaza last week in two different smash-and-grabs. 
Hot Heat Sneakers plans to open their store for customers on Tuesday, but boards are still covering their windows after two to three bandits targeted them and several other stores in Largo Plaza between 1 a.m. and 2 p.m. Wednesday, Sept. 27.
Surveillance video shared only with FOX 5 shows one suspect falling, as the thieves make their way out with stolen merchandise. The owners of the shoe resale business said suspects were seen on video playing, and joking around as they raided the business. 
The owners claimed they were robbed of about $70,000 worth of shoes. 
They found a brick they believe was used to smash through the front window.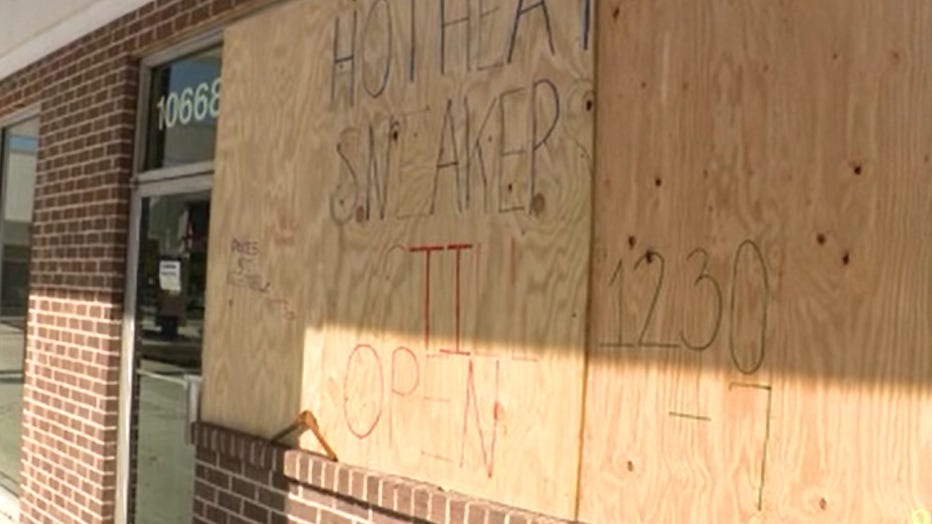 The window was gated off, but the gate had a small gap in it that the thieves took advantage of.
"101% Black-owned. Everybody Black around here. We're doing this to ourselves," said Hot Heat Sneakers co-owner Julian King. "Stop stealing, stop finessing, stop scamming, just get some real money. Like, get real-deal money. It'll save you. I promise you in the end, it'll save you. It's saving me because no matter what, I'm going to be straight because I'm getting real money. That's it."
"I had no words. Honestly, I just stood … couldn't even come in the store for a half hour … Just in shock," said co-owner Xavier Eubanks.
The co-owners tell FOX 5 that ever since they were children, they both worked hard mowing lawns and shoveling snow to purchase merchandise. They said they opened shop in Largo Plaza —  in the Kettering neighborhood —  about two years ago.
On Saturday, on the other side of Largo Plaza, someone used some kind of van to ram through a rear cement wall of Pheonix Salon Suites to steal an ATM. The incident left a hole in the structure. 
FOX 5 was told around 100 different small business owners who rent suites from the location were forced to stay out of the building as the county investigated to determine whether people could safely reenter. Those business owners were finally allowed inside again by Monday afternoon.
"My goal is to get the building open. We have people whose livelihoods are at stake right now because it's a 24-hour operation, seven days a week, and we allow them to be here to make money for their families," said a Pheonix Salon Suites district manager who asked not to be named.
Officials said the ATM did not contain much money inside but caused about $50,000 worth of damage.
"The concern is we're trying to build up Largo," said Wala Blegay, Prince George's County Council vice-chair. Largo is supposed to be a vibrant city urban area. There's going to be a downtown Largo and when you build it up, that means there's going to be more traffic on every type of individual. I am concerned that that in itself will start to make businesses worried – even make it harder for us to attract business."
Blegay said she plans to speak with the police chief to ask for increased patrols but acknowledged she's working with the council on increasing police incentives. She says the district that patrols Largo Plaza is short-staffed.
A Prince George's County Police spokesperson told FOX 5 in part of an emailed response: "At this time, we cannot confirm a link between the two burglaries. The businesses were both closed at the time. Our Division II Bowie Station has increased patrols in that area as well as surrounding shopping centers. We urge anyone with information that may assist in these investigations to call Crime Solvers as soon as possible. Callers wishing to remain anonymous may call Crime Solvers at 1-866-411-TIPS (8477); online at www.pgcrimesolvers.com or the "P3 Tips" mobile app (search "P3 Tips" in the Apple Store or Google Play Store to download the app to your mobile device)."
Hot Heat Sneaker's co-owners thanked the community for their support in both a GoFundMe and donations. 
A nearby Lowes donated wood to board the broken windows and another business that's close is helping with replacing the front glass. 
The team says they were forced to alter their hours of operation to deal with the impact of the burglary.