3 charged in Montgomery Co ATM 7-Eleven smash-and-grabs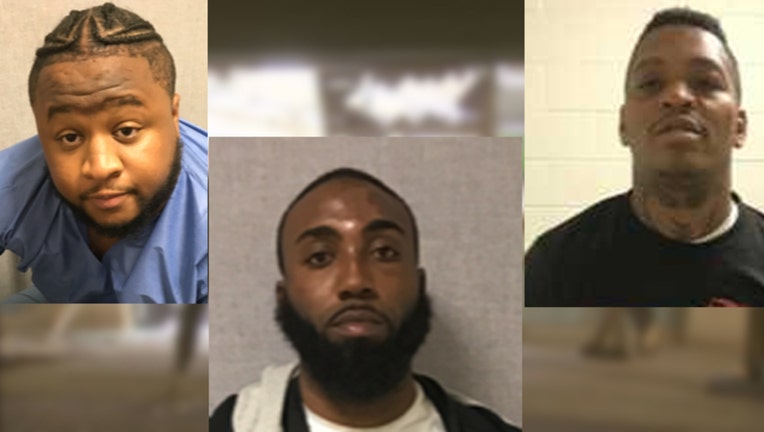 article
GAITHERSBURG, Md. (FOX 5 DC) - Montgomery County police have identified three suspects who are under arrest in connection with multiple 7-Eleven ATM smash-and-grabs throughout the county.
Police have arrested the following suspects for robbery and other charges connected with the thefts:
- Deandre Jackson, 27, of Upper Marlboro
- Omar Barnes, 28, of Southeast DC
- Janarro Hewitt, 27, no confirmed address
Police arrested the trio after a chase that ended in a crash on Tuesday morning in Prince George's County.
Around 3:50 a.m., officers in the area of Lockwood Drive in White Oak saw a white van and a blue pick-up truck drive through a 7-Eleven parking lot.
Both vehicles reportedly drove away and then the pick-up truck returned.
Police say two masked suspects entered the store and confronted the employees before another suspect backed up the pick-up truck.
According to police, the pick-up appeared to be poised to plow into the storefront when they arrived at the store.
After they saw the police, the suspects allegedly took off. Two of them - Barnes and Jackson - ran from the scene, only to have police chase them down.
The driver led police on a chase to the outer loop of the Beltway before it crashed near Kenilworth Avenue in Prince George's County.
After he crashed, the driver - Hewett - tried to run away, but he was caught by police.
All three were charged with two counts of robbery for smash-and-grab ATM thefts at 7-Eleven stores in Cloverly and the Fairland area. They were charged with attempted robbery for the failed smash-and-grab in White Oak.
Police throughout the DMV are working to see if the three men worked alone or had help in a series of 7-Eleven smash-and-grabs outside of Montgomery County.
On April 26, police investigated an attempted smash-and-grab robbery of an automatic teller machine at a 7-Eleven store on South Dakota Avenue in Northeast, D.C.
On April 17, a 7-Eleven store clerk was assaulted during attempted ATM smash-and-grab along Varnum Street in the Mount Rainier area of Prince George's County in April.
On April 10, also in Prince George's County, police say three men in a pickup truck crashed into a 7-Eleven on Watkins Park Drive in Kettering, Maryland and attempted to steal the ATM inside.
On March 13 in Prince George's County, an ATM heist was reported at a 7-Eleven store in Lanham. Police thieves using a pickup truck drove into the store front, pushed the ATM into the back of the vehicle and drove off. Police say they later found the stolen ATM and others on fire. A similar incident was reported on March 2 at a 7-Eleven on the 1900 block of Michigan Avenue in D.C.
On February 17, police say an ATM smash-and-grab was reported on New Hampshire Avenue in Silver Spring. On February 15, thieves used a pickup truck to try to steal an ATM machine from a 7-Eleven store in the 2800 Block of Bladensburg Road in D.C.
On January 19, police reported another similar incident involving a stolen pickup truck being used to smash into a 7-Eleven on Cedar Street in Northwest, D.C. The thieves, police say, jumped out pushed the ATM into the bed of the truck, and drove away.