Winter weather may threaten DC region next week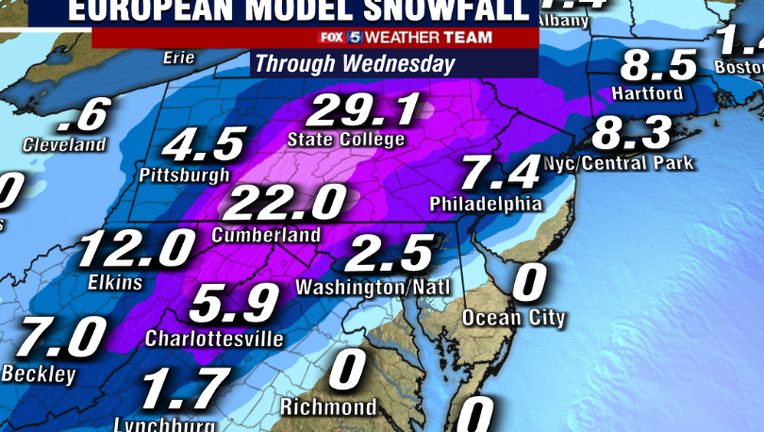 article
WASHINGTON - As we wrap up this beautiful and above average December weekend, we're gearing up for an active work week weather wise. 
We've been tracking two systems over the past several days and now the first one is on our doorstep. 
Monday's storm looks to be a cold soaker at this point. We're expecting most places to pick up about three quarters to one inch of rain with locally higher amounts possible.
Our friends in the northern and western counties such as northern Frederick, northern Carroll, and some counties along and west of I-81 can expect to see a little snow and sleet mixing in during the early morning hours before transitioning to all rain.
No local accumulation is expected except in West Virginia, western Grant, and western Pendleton counties where there is a Winter Storm Watch in effect, calling for up to 6" of snow from Sunday evening through Monday Afternoon.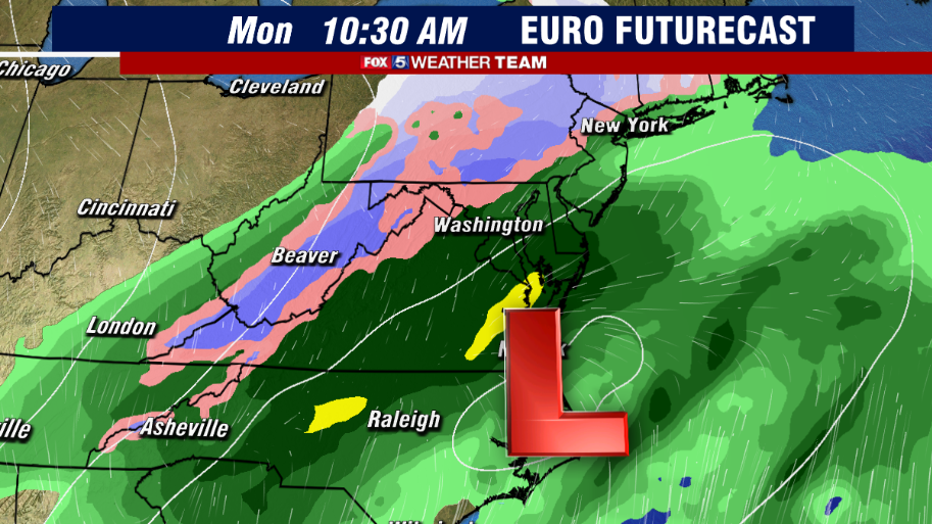 The second storm system is the one we're all watching closely as it has more potential to bring substantial winter weather to our region. 
Both the European model and American are now in better agreement with the timing of the moisture entering our area.
As of now it looks like precipitation could begin as early as 7 a.m. to 9 a.m., just in time to make for some tricky travel for Wednesday morning's commute.
The European model is hinting that our precipitation along and west of I-95 will begin as snow, which seems reasonable since morning lows will be at or around freezing, areas just south of D.C. may see a rain/snow mix and southern MD looks to favor all rain at this point.
As the center of the low-pressure system rides the coast north, we could see some slight warming which would lead to more of a wintry mix.
The European model shows the infamous rain/snow line lifting north of D.C. in the afternoon changing us to rain, and then has us transitioning back to more of a snow event late Wednesday night into Thursday morning.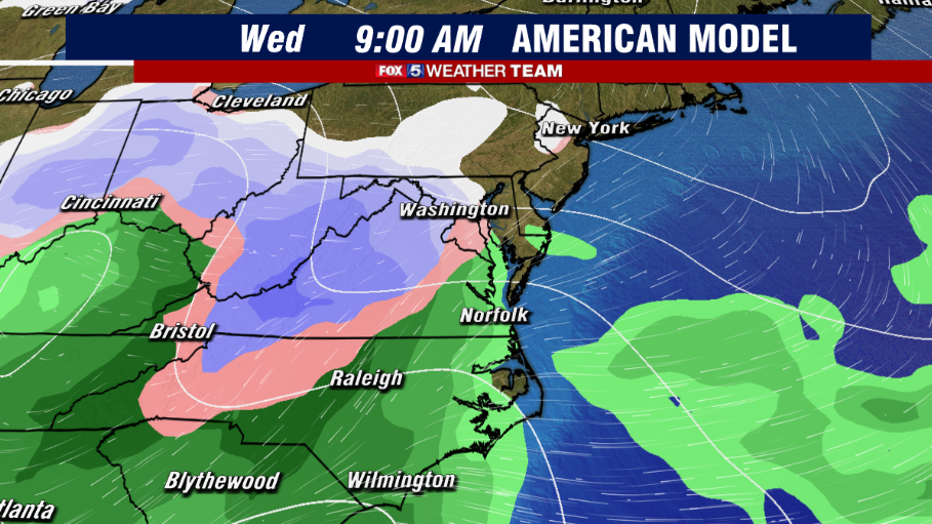 The American model favors us starting with a wintry mix across D.C. and along I-95, areas north and west of I-81 look like they will start with snow, southern MD at this point is still showing rain.
The rain/snow line in the American model hovers over central VA, through D.C. and along I-95 through Baltimore for a good portion of the afternoon, which would provid a sloppy mess of rain/sleet and possibly a little snow.
One main difference between the models is that the rain/snow line doesn't lift as far north as the European model does, which if this is the case, we would see higher snow totals for many of our nothern and western counties, and possibly even here in D.C. 
The transition back to an all snow event also occurs earlier in the evening and looks to stay as snow through Thursday morning. 
All this being said we are still 3-4 days out at this point, so expect some changes to occur. However, it does look like this will be our first impactful winter event in quite some time. 
As we get closer and with each model run your Fox 5 Weather Team will continue to keep you updates on air and online. 
Download the FOX 5 Weather App
Get the latest FOX 5 forecast here.
Check the latest Closings and Delays
Download the FOX 5 DC News App for Local Breaking News and Weather
Download the FOX 5 Weather App
Check the latest weather radars
Stay up to date with the FOX 5 Weather Team on Twitter: