South Florida officials assessing damage from Irma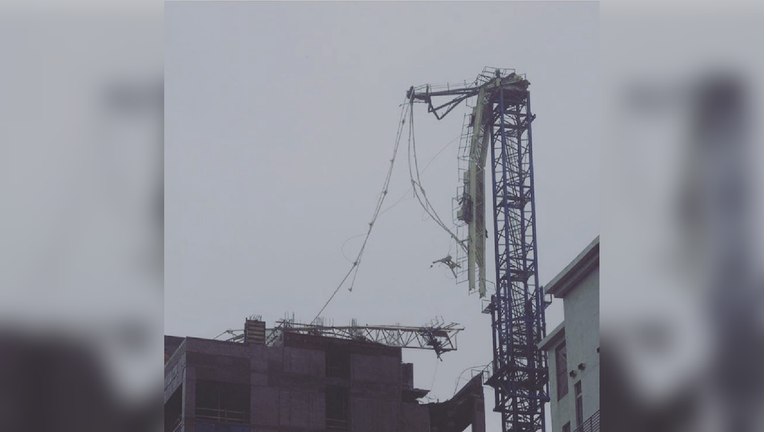 article
MIAMI (AP) - A monster Hurricane Irma roared into the Sunshine State with 130 mph winds Sunday, flooding south Florida streets, knocking out power to more than 1.8 million homes and businesses and snapping a construction crane over the Miami skyline.
The nearly 400-mile-wide storm blew ashore in the morning in the mostly cleared-out Florida Keys and then made a slow, ruinous march up the state's west coast, hitting the Naples and Fort Myers areas before making its way towards Tampa.
Streets emptied across the bottom half of the Florida peninsula, and some 116,000 people waited it out in shelters.
"Pray, pray for everybody in Florida," Gov. Rick Scott said on "Fox News Sunday."
By mid-afternoon Sunday, Irma's winds had dropped to a still-fearsome 120 mph.
Many streets were underwater in downtown Miami and in other cities. Roof damage and floating appliances and furniture were reported in the low-lying Keys, but the full extent of Irma's wrath was not clear.
A Miami woman who went into labor was guided through delivery by phone when authorities couldn't reach her in high winds and street flooding. Firefighters later took her to the hospital.
An apparent tornado spun off by Irma destroyed six mobile homes in Palm Bay, hundreds of miles away along the state's Atlantic coast. Flooding was reported along Interstate 4, which cuts across Florida's midsection.
There were no immediate confirmed reports of any deaths in Florida, on top of 24 people killed during the storm's destructive trek across the Caribbean. In addition, authorities were just beginning to assess the damage caused by Irma early Monday morning.
While the projected track showed Irma raking the state's Gulf Coast, forecasters warned that the entire state -- including the Miami metropolitan area of 6 million people -- was in extreme peril because of the sheer size of the storm.
Nearly 7 million people in the Southeast were warned to evacuate, including 6.4 million in Florida alone.
About 30,000 people heeded orders to leave the Keys as the storm closed in, but an untold number refused, in part because to many storm-hardened residents, staying behind in the face of danger is a point of pride.
John Huston, who was riding out the storm at his Key Largo home, was already seeing flooding in his yard before the arrival of high tide. "Small boats floating down the street next to furniture and refrigerators. Very noisy," he said by text message. "Shingles are coming off."
In wind-buffeted downtown Miami, one of two dozen construction cranes looming over the skyline broke with a loud crack atop a high-rise. There was no immediate word on any damage or injuries. City officials said it would have taken about two weeks to move the cranes.
Irma made landfall just after 9 a.m. at Cudjoe Key, about 20 miles outside Key West, forecasters said. By midafternoon, it was advancing at about 12 mph toward Florida's southwestern corner, which includes Naples, Fort Myers and Sarasota.
For days, forecasters had warned that Irma was taking dead aim at the Miami metropolitan area and the rest of Florida's Atlantic coast.
But then Irma made a more pronounced westward shift -- the result of what meteorologists said was an atmospheric tug-of-war between weather systems that nudged Irma and determined when it made its crucial right turn into Florida.
Meteorologist Ryan Maue of WeatherBell Analytics said the entire Florida peninsula will be raked by Irma's right front quadrant -- the part of a hurricane that usually brings the strongest winds, storm surge, rain and tornadoes.
The governor activated all 7,000 members of the Florida National Guard, and 10,000 guardsmen from elsewhere were being deployed.
Forecasters warned that after charting up Florida's west coast, a weakened Irma could push into Georgia, Alabama, Mississippi, Tennessee and beyond. A tropical storm warning was issued for the first time ever in Atlanta, some 200 miles from the sea.
"Once this system passes through, it's going to be a race to save lives and sustain lives," Federal Emergency Management Agency chief Brock Long said on "Fox News Sunday."
With FEMA still dealing with the aftermath of Hurricane Harvey in Houston, Irma could test the agency's ability to handle two disasters at the same time.
Florida Power and Light warned it will take weeks before electricity is fully restored.
Irma at one time was the most powerful hurricane ever recorded in the open Atlantic, with a peak wind speed of 185 mph (300 kph).
Given its size, strength and its projected course, it could prove one of the most devastating hurricanes ever to hit Florida.
The storm brought memories of Hurricane Charley, which blew ashore near Fort Myers in 2004 with winds near 149 mph. It caused $15 billion in damage and was blamed for as many as 35 deaths in the U.S.